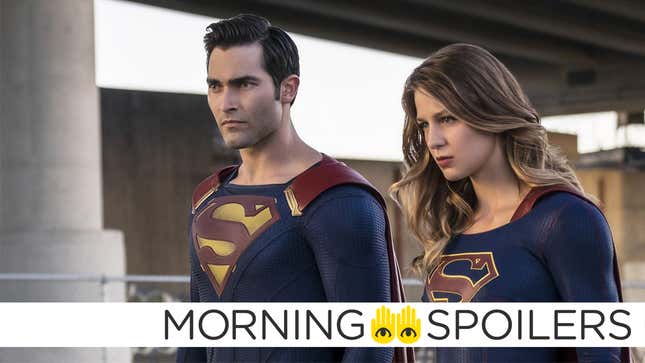 Sony's Mulan movie gets a director. James Gunn ponders the Guardians of the Galaxy spinoff he'd like to do most. Get a good look at Stephen Merchant's Logan character. Plus, new clips from Moana, The Flash, and Star Wars Rebels, and new set pictures from The Punisher. Spoilers Get!

Caleb McLaughlin Wants to Play Static Shock

The Batman
Ben Affleck's solo Batman movie aiming to shoot spring 2017, according to Deathstroke actor Joe Manganiello. [E!]
---
Mulan (Sony)
Alex Graves has been direct Sony's adaptation of the legend of Hua Mulan, which is of course not to be confused with Disney's live-acton version of their animated version of Mulan from 1998. [THR]


---
Spider-Man 2
Unsurprisingly, sequel talks are already deep underway, according to Tom Holland:
My next project, I can't tell you about, but we've just finished 'Spider-Man' and we're talking about the second one and who the villain is going to be and where we're going.
[WWD]
---
Guardians of the Galaxy Vol. 2
James Gunn is open to doing a Nebula solo film.
---
Rogue One: A Star Wars Story
Here are some pretty cool new character posters for the film, in which the heroes' faces are overlaid with what are presumably the plans to the Death Star.You can see more on the Star Wars twitter account.
---
Logan
New images of Stephen Merchant as the film's take on Caliban have been released.
---
Moana
Moana meets Maui in the first clip from the film.
---
Superman
Following Tyler Hoechlin's debut as the Man of Steel on Supergirl, Andrew Kreisberg says that there is a possibility in the future for this incarnation of Superman to get his own show on the network (after all, the CW still has one day of the working week that doesn't have a superhero show!). However, Kreisberg stressed that the current focus is on Supergirl, and Superman's future on that show, rather than another potential spinoff:
I'm not going to sit here and say that there's never going to be a world in which there is a Superman TV show and that Tyler's going to star in it. I don't know what the future holds. But right now, that's not our focus. Right now, we're working on Supergirl, which is the flagship, and working on a way for Tyler to reprise the role is really what our focus is on Supergirl right now.
---
The Walking Dead

In more unsurprising news, the show has been renewed for season eight. [TV Line]
---
Class
The BBC has released over 100 new pictures from the series. Episode one images are collected here, episode two here, character portraits here, and a few more ancillary ones here.
---
Westworld
Jonathan Nolan discusses whether or not Westworld is located on another planet:
In my memory I was conflated that hovercraft sequence when they arrive in the park with the space-hotel with 2001. And I said to J.J., "Is that park even on this planet?" The important thing for us was, when you come to the series you have no idea where you are. Disneyland is in a parking lot in Anaheim, but it's spectacular and you forget where you are when you're inside.

By the end of the first season, if you're paying close attention, you will know where it is. [There's some offline chat.] Lisa disagrees with that, by the way.
[EW]
---
Punisher
An immaculately disguised Frank Castle surprises Karen Page in new set pictures from the show. You can see more at the link. [Coming Soon]
---
The Flash
Julian lands himself in some trouble in a new clip from tonight's episode "Magenta."
---
Star Wars: Rebels
Finally, Rex and the Ghost crew discover a remnant of the Separatist army in a new clip from "The Last Battle."
---
Additional reporting by Gordon Jackson. Banner art by Jim Cooke.