In what appears to be a growing trend among animals these days, a seal was spotted riding on the back of a humpback whale off the coast of Australia's New South Wales.
Top image: ROBYN MALCOLM/DIIMEX.COM
The photograph was taken by Robyn Malcolm, who was on a whale watching trip at the time.

Image: ROBYN MALCOLM/DIIMEX.COM
"We'd seen some amazing whales coming out of the water, everything was happening so quickly," noted Malcolm in a Brisbane Times article. "And it was when I went back through the photos that I realised I had actually captured the seal on top of the whale."
G/O Media may get a commission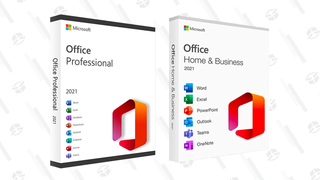 89% off
Microsoft Office Professional 2021 Lifetime License
Image: ROBYN MALCOLM/DIIMEX.COM
Image: ROBYN MALCOLM/DIIMEX.COM
Geoff Ross, who works with NSW National Parks and Wildlife, says this union of seal and whale is exceptionally uncommon, and he's only heard of one other instance of it happening, reports the Brisbane Times. In that case, the seal was trying to get away from an orca whale, and it leaped to the back of the pectoral fins of a humpback.

Image: ROBYN MALCOLM/DIIMEX.COM
Ross added that the Humpbacks were bubble feeding when the seal made its move.
As for the photo being authentic, Malcolm says she doesn't know how to use PhotoShop—and she still has the image on her camera to prove it's real.
So what's up with the animals? Earlier this year Martin Le-May captured this remarkable photo of a weasel riding a woodpecker in flight.
Last year, a camera trap shot this picture of a genet hitching a ride on the back of a wildebeest.

(Photo credit: Wildlife ACT)
And then there's this raccoon riding on the back of an alligator.

(Photo credit SFTV).
[ Brisbane Times ]
---
Email the author at george@io9.com and follow him at @dvorsky. Top image by Robyn Malcolm/Diimex.com