Almost too much spoilery goodness: Doctor Who says goodbye to an old friend in can't-miss set pics. There's a new Doctor Parnassus trailer. "Stone Cold" Steve Austin joins Chuck! Lesbionic Heroes clips! Plus Gentlemen Broncos, Lost, Smallville, Fringe and FlashForward.

Doctor Who:
Where to start? Today's set reports are almost too much to contain in one summary! First of all, it seems as though the "bachelorette party" thing was wrong — Amy Pond really is a policewoman, unfeasibly short skirt and all. There are some photos of her with her hair in a severe updo. And fans witnessed a scene where Amy tries to drag the Doctor to a black rover (not a police car.) The Doctor says there are just 20 minutes until the end of the world, and don't you know who I am? He also makes a comment about how you people are always trying to lock him up. In another take of the same scene, the Doctor stops and looks at something, and Amy shouts "Nooo!" and grabs him by the tie and drags him physically to the car. (And there's quite a striking pic of the tie-grabbing below.)
According to a call sheet, there's a man named Barney in the coma ward, and Dr. Ramsden bends over him and asks if he can hear her. Also, the guy in the hospital scrubs (played by Arthur Darvill) is named Rory, and according to the call sheet, the Doctor notices that Rory is taking pictures of the dog man. (And the dog is wearing a towel as a cape in one shot, oddly enough.) Also the dog gets a turn in front of the green screen (video by Mugimoe):
Click to view

There is a phone booth (a red one, not the TARDIS) which explodes. And we get to see the Leadworth fire brigade swing into action. And there are little weird touches of Leadworth everywhere, including postcards and fake street names. The Beeb has really gone to town this time around — I'm wondering if Leadworth is a fictional town for a reason?
G/O Media may get a commission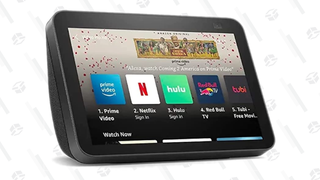 Amy runs through the front gate of a grand house, but the Doctor jumps over a flowerbed. Then later, he jumps out into that same flowerbed and runs away.
And then — and here's the really demented bit — the Doctor gives a speech about how he'll defend the human race once again, while Rory and Amy stare at something in the sky. The Doctor raises his sonic screwdriver up in the air, to do something heroic and dramatic — and then the sonic screwdriver explodes in a ton of sparks! The Doctor looks at the burnt-out screwdriver, looking distinctly perturbed.
Photos by Mugim0e, Alun_Vega, Thai Footsoldier, and others. You guys rule! [Gallifrey Base]
Lost:
We mentioned yesterday that Suzanne Krull, who played Hurley's fake fortune teller Lynne Karnoff, would be back this season. And now she's Tweeted that she has a scene with Terry O'Quinn (Locke). [SpoilersLost]
The Imaginarium Of Dr. Parnassus:
A new trailer came out yesterday, and though it's pretty similar to the psychedelic international trailer we ran a while back, it does have some new snippets:
Gentlemen Broncos:
Some new stills show Jemaine Clement in a bookstore, and teaching a dynamic, exciting writing class. [Fox Searchlight]

Daybreakers:
Ethan Hawke plays Edward, a "human sympathizer" who was turned into a vampire agianst his will by his his younger brother Frankie (Michael Dorman.) Now Edward hunts for a synthetic blood substitute, a "Tru Blood" if you will. Frankie, meanwhile, is a soldier in the vampire army, happily hunting down the remaining humans. And then Edward encounters a group of human survivors led by Claudia Karvan, and this sparks him to search for a rumored cure for vampirism — one which Edward's boss (Sam Neil) wants no part of, because it might reduce the demand for blood, and that's bad for business. As the vampires have become more powerful, they've built covered sidewalks and customized their vehicles for daytime commutes. There are also mutant vampires, Subsiders, who live in the subways and wear latex outfits. One Subsider attacks Edward in his home, and we see he was still wearing his wedding ring when he transformed. [Horror Squad]
Supernatural:
Episode eight of the season will show us what it would be like if Sam and Dean were trapped inside an episode of Grey's Anatomy. (This is the same episode that plays like a sitcom, complete with laugh track. I can't believe I'm saying this, but I think this show may actually be getting too metatextual. But I'm sure it'll rule in practice.) [EW]
Fringe:
The shape-shifting Charlie impersonator gets a bit desperate this week, because his new body is breaking down, and the Fringe gang is closing in. And of course, Olivia starts remembering more of her William Bell encounter. And finally, Olivia-Peter shippers will be thrilled by a scene where they discuss classic scifi movies, and in particular Invasion Of The Body Snatchers. [EW]
When we get more of the William Bell-Olivia meeting, Bell gives Olivia the name of the enemy, as well as very specific marching orders. [TV Guide]
Chuck:
Bryce Larkin may or may not be returning from the dead, but we'll probably see more of him in flashback sequences, says actor Matt Bonner. [ChuckTV]
"Stone Cold" Steve Austin guest stars in episode 3x05, "Chuck vs. First Class," playing Hugo Panzer, a master of close-quarters combat. And that's the episode that features Kristin Kreuk as a woman Chuck meets on an airplane to Paris, who winds up working at the Buy More. [ChuckTV]
In episode 8, "Chuck Vs. The Nose," Chuck has to impersonate Frankie, a sharpshooting chameleon and the worst kind of assassin. Chuck has some trouble convincing the Goodfellas-esque Matt and Scotty, two thugs, but finally wins them over. [ChuckTV]
Heroes:
NBC is really pushing this coming Monday's episode as the honest-to-gosh turning point for the series — they've sent out screeners, and want to make sure you see these clips, including Sylar's comeback and the famous Lesbian Kiss:

Also in Monday's episode, Peter falls for his deaf coworker, partly thanks to her amazing synesthesia powers. And the two of them even play a piano duet together, with the swooshy lights and stuff. But Peter must put his love on hold when an old friend (HRG, I'm guessing) shows up in need of his nursing skillz. [EW]
In Monday's episode, Claire thinks Gretchen is stalking her, but really there's a third party — another girl, who also has her eye on Claire — who is stirring things up. And even though they kiss, Claire doesn't really like Gretchen that way. [E! Online]
As you've probably gathered from the clips, a police detective questions an amnesiac Sylar, who has no clue why he has bullet holes in his shirt, or who he is. [TV Guide]
So now that Sylar has amnesia, what do we do with him? How about letting the Circus ringmaster, aka Fake Keith Richards, baptise him, in episode six, "Tabula Rasa"? And if that doesn't sell you on the episode, how about Hiro doing magic tricks in pajamas? Sold! Here are a ton of promo pics. [HeroSite]

And assuming the show is still on the air by then, here's what we'll see in the Nov. 2 episode, "Once Upon A Time In Texas":
HIRO GETS A SECOND CHANCE TO SAVE THE LOVE OF HIS LIFE – JAYMA MAYS RETURNS AS CHARLIE – When Hiro (Masi Oka) travels three years into the past, he has a second chance to save Charlie (guest star Jayma Mays) from the hands of Sylar (Zachary Quinto). However, Samuel's (Robert Knepper) presence serves to complicate Hiro's mission even further. Elsewhere, H.R.G.'s (Jack Coleman) past with his Primatech partner (guest star Elizabeth Rohm) is revealed.
Star Wars: The Clone Wars:
Here's what happens in Friday's new episode:
After outwitting his Jedi foes and escaping with the Holocron, bounty hunter Cad Bane sets into motion the next stage of his nefarious assignment: to find Force-sensitive younglings and take them to Mustafar for Sith training. But Bane is merely the instrument of evil, a deadly distraction to occupy the Jedi while the true source continues to plot from the shadows. While he has been glimpsed in previous episodes – and in his seemingly benevolent double-role as Supreme Chancellor of the Republic – Darth Sidious emerges in "Children of the Force" as a direct threat to the galaxy's future.
And here's a new clip from the episode:
And here's a new photo of Sidious himself. [Lucasfilm]

Smallville:
Oliver Queen will meet the evil version of himself, called (bwaaaa ha ha)... The Dark Archer. In episode 10 of this season. And seriously, this show needs Ambush Bug or Booster Gold and Blue Beetle to do a commentary track on every episode. [EW]
In tomorrow night's episode, when Clark gets the power of (bwaaaa haa ha!) thought-hearing, he hears all of the schmoopy things Lois has been thinking about him. And Clark reads Lois' mind and realizes she has a love of giant cars — and she's been dying to go to the Monster Truck Rally. So he takes her there, on their first official date. And fans will find her date-night ensemble "really funny," promises Erica Durance. But a threat to Oliver Queen's life will force Clark to put their date on hold. [TV Guide Magazine via SpoilerTV]
FlashForward:
Dominic Monaghan will finally turn up — briefly — in next week's episode. [EW]
And a casting call for episode 11 gives a few hints about upcoming plot lines:
[CASSIE] 30s-50s, open to all ethnicities. Earthy, off-beat, sharply intelligent. Witty, cuts straight through the bullshit. Involved in a revealing conversation with high stakes for a major player. Guest star.

[AGENT GALLOWAY] Female, 30s, open to all ethnicities. An FBI agent, she interacts with an arrogant expert, giving it right back to him when he condescends to her. Could recur

[GIANCARLO] 30's Italian, attractive. A professional photographer and solid family man who comes to recent renown. Gets caught up in his own hype and loses sight of his values. 3 scenes

[AGENT] Male, 50s, open to all ethnicities. Veteran FBI Agent whose light banter with a co-worker suddenly turns serious upon the discovery of some disturbing news sptv050769. 1 scene

[JONNY] Early 20's, Caucasian, boisterous and fun-loving to a fault. Gets in trouble for being careless and irresponsible. His saving grace is an underlying sweetness. 3 scenes.

[LIARNA KASSEL] Female, open age and ethnicities. NPR news reporter heard over the radio reporting standard daily news. Voice only, not photographed.

[DARNELL] Teenager. African-American. Good kid, future NBA superstar, wrestles with his conscience when he's asked to throw a championship game.