Mobile homes often look blocky and sterile, but these wooden houses look like gingerbread Victorian houses on wheels. Check out how people have hammered and sawed their own homes onto cars.
Above: A mobile advertisement for a Sacramento lumber and construction company consisting of a miniature house on the back of a car. Photo by Topical Press Agency/Getty Images.
A rolling home from France In The Year 2000
A paper card from the series En L'An 2000 (In The Year 2000, but also known as France In The Year 2000), made by Jean-Marc Côté and other French artists, issued in 1899, 1900, 1901 and 1910. The other postcards and paper cards from cigarette and cigar boxes are available on this Wikimedia Commons page. There are at least 87 of them.
G/O Media may get a commission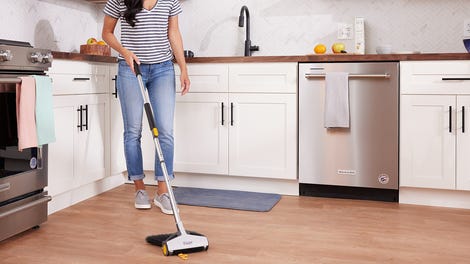 BOGO 50% Off
Flippr - BOGO 50% Off
Neverwas Haul, 2006
This 24 feet long by 24 feet high and 12 feet wide steampunk mansion on wheels was built by built by members of the Academy of Unnatural Sciences in 2006 for Burning Man Festival. Made from 75% recycled materials. More steampunk homes and businesses can be seen here.
(via Flickr/Scott Beale - Laughing Squid)
The superb bus of Ray Conklin, president of the New York Motorbus Company in 1915
A party of twelve with Conklin travelled in this from Long Island to the Panama-Pacific Exposition in San Francisco. The bus had a kitchen, beds, cold and hot water, bookshelves and a rooftop garden.
(via Just A Car Guy)
A fancy homebuilt motorhome, built on a Ford Model TT truck chassis in Ohio, 1924
(via The Old Motor)
A cute German country house on wheels in 1922
(via MTFCA)
W. M. O'Donnell and his family in their "bungalow auto", 1926
(via Library of Congress 1 – 2)

Dr. A. A. Foster and his family in an auto tourist camp, c. 1920
(via Shorpy)
A Ford Model T from the early 1920s
(via Reddit)
The homebuilt car of Charles Miller with a nice bit of lawn, Modern Mechanix, February 1930
(via Modern Mechanix and The Old Motor)
1931 Ford Model A Traveler
(via Ford Of West Memphis)
The Burn Family (June and Farrar) and their moving house
After their marriage, the novelist and journalist June and her husband started to travel around the United States until June's death in 1969. In 1941 she published Living High: An Unconventional Autobiography, which has been republished several times.
(via Shorpy)
Comfortable Cottage Touring Car that Sheltered Family of Four on Cross-Country Run, based on a Ford T Model
(via MTFCA)
On a Ford TT chassis
(via ellenm1)
Gospel Car No. 1, built by William Downer in Glassboro, New Jersey, late 1910s
"Aside from a kitchenette, running water and electric lights, the motorhome also boasted a pop-up pulpit and organ. The Downers began their cross-country trek in November 1919, stopped in Washington D.C. in 1920, where these photos were taken, and planned a five-year around-the-country trip with a second gospel car to start in August 1920. No word whether they actually built Gospel Car No. 2 or made that later trip."
(via Library of Congress 1 – 2, Shorpy and South Jersey Explorer)
1970s
(via From Moon To Moon)
Here are more unusual homebuilt motorhomes from the US...
(via Robmorg and Amy Merrick)
...but the people of New Zealand could create the strangest and cutest ones:
Bonus: A traveling minister with a tiny church car, with a tiny organ inside and a foldable rooftop steeple
(via New York Times)