It's the story of a lonely princess, a talking fox, and probably some Transformers or something. Anything is on the table when artificial intelligence is used to craft a Grimm's bedtime story.

Botnik Studios has teamed up with meditative app Calm to create a new Grimms-style fairy tale to add to its collection of audio bedtime stories. According to a press release, The Princess and the Fox was made using Botnik's predictive text program, with some actual humans smoothing out the edges and filling in the gaps to make it a cohesive story. You have to pay for the service to hear the whole story, but Calm did release a small snippet, which I've transcribed below:
Once upon a time, there was a golden horse with a golden saddle and a beautiful purple flower in its hair. The horse would carry the flower to the village where the princess danced for joy at the thought of looking so beautiful and good.

"It's magnificent!" she said to her father, the king of bread and cheese. "Will you give it something to eat and drink if I finally marry the prince?"

You see, the king had long since urged his daughter to marry the only eligible prince in the land. The problem was she did not love him, and so she had continued to refuse his proposal.

Delighted, the king replied: "Come with me into the cellar of the castle, where I've got a piece of cake and juice for the strange thing that is your horse."
You can definitely tell some real people had their hands in the cookie jar for this one, because it actually sounds like a real story—unlike some of Botnik's previous work, like that time where Harry Potter dipped Hermoine in hot sauce or Worf's dad was repeatedly disgraced. No sir, in this case we've got a simple story of a boy and princess who fall in love... with the help of a golden horse and some weird-talking fox. Sounds like a legit fairy tale to me.
[via Entertainment Weekly]
G/O Media may get a commission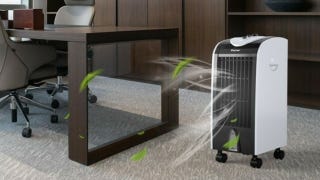 Save $10
Evaporative Portable Air Conditioner Cooler with Filter Knob