Ai Weiwei makes his acting debut in a dystopian short secretly filmed in China. Plus, there's a new volume of Tank Girl, an Australian audio-comedy inspired by Doctor Who, an improved Morbid Anatomy Museum and more, all looking for a bit of crowdfunding help.
Top image: Tank Girl and Booga by Brett Parson.
How do you shoot a film when your lead actor is under government surveillance? Very quickly. Jason Wishnow wrote and directed The Sand Storm, which stars dissident artist Ai Weiwei as a smuggler in an arid future contending with a global water shortage. The film was shot in secret by cinematographer Christopher Doyle, and currently Wishnow is raising funds for visual effects, sound design, music, mix, color correction, subtitles, festival submission fees, and other post-production costs. He's offering backers an early peek at the film for an $11 pledge.
G/O Media may get a commission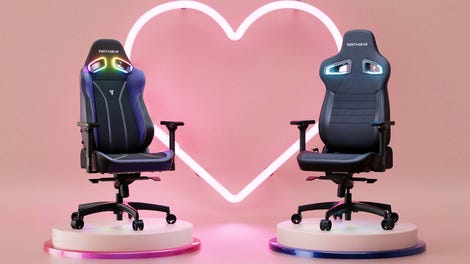 Up to $150 off
Vertagear Gaming Chairs
Writer Alan Martin teams up with his Tank Girl co-creator Jamie Hewlett as well as a number of other artists for a brand-new 100-page, hardcover Tank Girl book. It will include the story "The Name of Tank Girl" in which we will learn, well, Tank Girl's real name. Martin is offering backers a copy of the book with a Kickstarter exclusive cover drawn by Hewlett and other goodies for a £23 pledge.
If you don't already follow Morbid Anatomy online, you should. Their blog—and the museum—is a treasure trove of medical and cultural history with a somewhat macabre bent. The Morbid Anatomy Museum is moving into a thee-story building in Brooklyn, which the team will be renovating. Want to help out with their costs and preserve offbeat aspects of our cultural legacy? They are offering admission for a $10 pledge, admission with a gift for a $15 pledge, and admission with the Morbid Anatomy Anthology for a $25 pledge.
What happens when facial recognition technology becomes sentient? Nightmare Code is a feature-length thriller about facial recognition software that begins to modify human behavior—with horrific results. This is the last day for this campaign, so if you'd like to help out these filmmakers, do it quickly. Director, co-writer, and producer Mark Netter is offering backers a download of the finished film for a $25 pledge.
Like so many of us, the folks behind the acclaimed Doctor Who podcast Splendid Chaps have wanted to see the adventures of a female Time Lord, and they've helped create the audio-comedy Night Terrace in that spirit. The eight-part series stars Neighbours actress Jackie Woodburne as Anastasia Black, a reluctant traveler through time and space:
Anastasia used to save the world for the government, but now she just wants a quiet life. So when her house abruptly starts travelling in time and space she's understandably miffed. She's also not exactly thrilled about Eddie Jones, who happened to be on her doorstep at the time and is now her unlikely fellow traveller. University hasn't prepared Eddie to cope with other worlds or time paradoxes, but he still thinks they're a step up from selling electricity plans door-to-door.

Together Anastasia and Eddie will face alien invasions, hideous monsters, and a shadowy figure known only as "Sue". All the while hoping the house will eventually take them home…
The writing team includes the co-creators of the TV series Outland, The Bazura Project, and Project Nerd. For a $25 AUD pledge, they're offering backers a digital download of the full series of Night Terrace.
Any fan of webcomics is bound to lose quite a few days reading through the massive and diverse archives of Study Group Comics, which collects the works of numerous talented creators. Publisher Zack Soto is getting ready to release Study Group's spring collection of books: the second volume of Farel Dalrymple's It Will All Hurt, Sam Alden's Haunter, and the latest issue of the anthology Study Group Magazine. Backers can nab PDFs of the books for a $12 pledge and various combinations of print copies at various pledge levels.