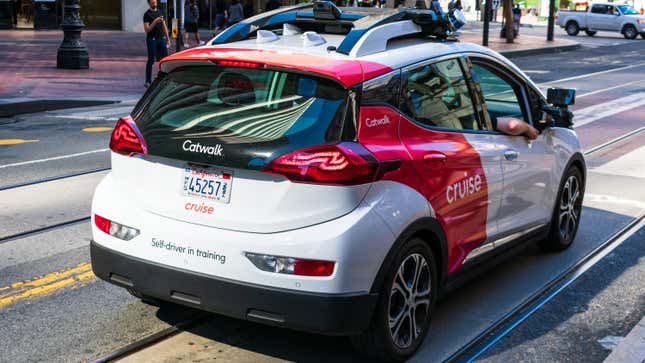 Self-driving cars are one of the funniest broken promises of the modern age. Far are we from the fantasy of The Jetsons and Total Recall, self-driving vehicles may be some of the dumbest creatures to roll across planet Earth. One such car found itself stuck in wet cement while cruising through San Francisco on Tuesday.
Cops Pull Over Self-Driving Car
SFGate first reported that a self-driving car from the company Cruise found itself stuck in a patch of wet concrete while traveling through the city's Western Addition neighborhood yesterday. Paul Harvey, a resident of the city, told the outlet that there were no passengers in the car as it remained lodged in the pool of cement at a construction site. The car was reportedly rescued later on by a group of Cruise workers.
"I can see five different scenarios where bad things happen and this is one of them," Harvey said, as quoted by SFGATE. "It thinks it's a road and it ain't because it ain't got a brain and it can't tell that it's freshly poured concrete."
A Cruise spokesperson confirmed to Gizmodo via email that the company retrieved the car.
Last week, Cruise ran into some trouble with some of its other vehicles. Around a dozen of the company's cars came to a standstill on a busy San Francisco street with hazard lights flashing, creating a traffic jam as seen in many videos posted to Twitter. The company replied to one tweet, claiming that a local music festival was hogging up the mobile bandwidth the cars needed to operate.
"A large festival posed wireless bandwidth constraints causing delayed connectivity to our vehicles," Cruise wrote in a tweet. "We are actively investigating and working on solutions to prevent this from happening again. We apologize to those who were impacted."
Hiccups are inevitable on the path to innovation, but those hiccups can be a major issue. Cruise's self-driving taxis caused a reported 12 incidents involving San Francisco's Municipal Transport Authority between September 2022 and March 2023, including one incident in which a car came to a complete stop in front of a city bus. While most of the incidents of this nature are just serious inconveniences, some have fatal consequences. TechCrunch reports that Waymo—a Cruise competitor owned by Alphabet—hit and killed a dog in San Francisco in May. Even worse, the backup driver in an autonomous Uber just pled guilty to endangerment after a pedestrian was struck and killed by the vehicle in 2018.
Update August 16, 6:45 p.m. ET: This article was updated to include confirmation from Cruise that the car was received.