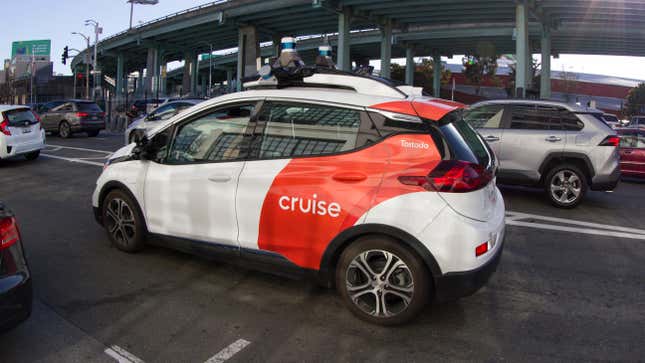 In San Francisco, tech "disruption" is often framed as good. It's the goal of "move fast, break things" start-ups and Silicon Valley entrepreneurs: innovation, paradigm shifts, etc.... But, so far, it's in the original sense of the word that self-driving taxi companies Cruise and Waymo are disrupting San Francisco's streets.

Cops Pull Over Self-Driving Car
The driverless vehicles have caused numerous delays for the city's public transit system. Dashcam videos show the orange and white branded cars interfering with bus and light-rail routes via unexpected stops, ill-advised turns, and other illogical actions, as first reported by Wired on Monday. The report follows a recent collision involving a Cruise car and a SF public bus that led to a software-based recall earlier this month.
Cruise's driverless cars, operated as a subsidiary of General Motors, and similar robotaxis from Alphabet-owned Waymo caused at least 12 reported incidents involving San Francisco's Municipal Transport Agency (nicknamed Muni) in the less than seven months between September 2022 and the beginning of March 2023. Eight of these were captured on video, per Wired. In total, the documented interactions between transit and the high-tech taxis resulted in more than 80 minutes of delays for Muni passengers.
The true number of incidents and delayed minutes may be much higher, the report noted. Between May and December 2022, driverless cars in San Francisco reportedly made 92 unplanned stops, more than 80 of which were along roads that serve as transit routes.
In one video obtained by Wired, a Waymo car stops in the middle of a street on March 5. The AV is facing a public bus with its dashcam recording. The bus has nowhere to go. The Waymo vehicle stays where it is, stopped between parked cars, until finally one of the company's human, roadside assistance crew members arrived. "This one not smart yet. Not smart. Not good," the bus driver reportedly said over their radio to Muni management.
In another video from September 30, 2022, a Cruise vehicle drives into an intersection and only narrowly stops before fully crossing into the direct path of a light-rail train. Still though, the Cruise car blocks part of the light-rail track. If the transit operator hadn't also managed to stop in the nick of time, a collision clearly would've taken place. Inside the car, simultaneous footage shows riders thrown sideways by the abrupt braking. Other videos also capture the AVs blocking light-rail lines for minutes on end until eventually human drivers are called in to re-locate the self-driving cars away from the scene of their errors.
One other recording shows a Waymo car making a left turn at an intersection where it has a stop sign while a bus approaches the same intersection, where it should be able to progress without stopping. The bus drivers slows down to accommodate the Waymo vehicle—though Waymo told Wired this slow wasn't necessary, based on the company's after-the-fact virtual simulation. According to Waymo, the bus could've kept going at its usual speed and no accident would've occurred. Personally though, watching the video, I am glad the bus didn't take the risk and opted to slow down.

"Safety is our mission and top priority as we develop and deploy this technology. We treat every event seriously by investigating it to understand what happened and identify ways to do even better as we safely scale our technology and operations," a Waymo spokesperson told Gizmodo via email.
In an email to Gizmodo, Cruise re-iterated a claim it's made elsewhere before, including to Wired. The company says that their tech errs on the side of caution and stops when there's no clear, safe other option.
"Improving road safety is our chief mission – not only for Cruise passengers, but for everyone we share the road with," wrote Hannah Lindow, a company spokesperson, in an email to Gizmodo.
Yet, though safety may be the goal, it's clearly not always the reality. On March 23, a Cruise vehicle crashed into a Muni bus. The company has said no one was injured, and described the incident as a "fender bender," in a subsequent blogpost. In response, last week, Cruise instituted a voluntary software recall on 300 of its vehicles in the aftermath of the collision, to update how its cars react to double-length, articulated buses.
Cruise began its driverless, commercial rides in San Francisco in June 2022, getting the city's greenlight to pick up paying passengers during nighttime hours in certain areas. The fleet started out with 30 vehicles, but the current number of cars it has in SF is unclear, and the company declined to offer details on fleet size. Cruise was the first AV company to get such driverless approval, and remains the only operator in the city with its particular California Public Utitlities Commission designation. Waymo also operates driverless vehicles in San Francisco for money, as of November, but following a slightly different permit trajectory and can't yet charge for rider-only trips. The company says it has a few hundred AVs circulating SF's streets. Waymo is currently undergoing the review process for the full CPUC Driverless Deployment Permit, a Cruise spokesperson specified.
Since last summer, actual accidents involving Cruise and Waymo vehicles seem to have been rare, but there've been multiple incidents of the cars behaving erratically and clogging up streets. And the companies have done their best to obscure the true toll of their tech. Waymo successfully sued to be able to keep hiding its autonomous vehicle safety and crash data.
Obviously, human drivers make lots of mistakes too. Far too often, the results can be deadly. But the introduction of AVs to SF's (and Austin's and Phoenix's) streets have yet to make a dent in road safety. Instead, for now, the vehicles appear to be complicating things—adding yet another potential cause for hold-ups into the already congested city grids.
"We are always improving our technology and apologize to anyone inconvenienced by these incidents –– but it is important they are viewed against the deeply troubling status quo of injuries and road deaths in San Francisco," Lindow told Gizmodo. "AVs are still novel and certain behavior understandably attracts a lot of attention, but we're proud of our safety record and remain committed to doing everything possible to make roads safer."
But maybe, the thing that would make the roads safer, isn't autonomous cars. Perhaps it's still just fewer cars, overall.
Update 4/10/2023, 2:50 P.M. ET: This post has been updated with additional information from Waymo and Cruise spokespeople, and to clarify the specific difference in the two company's permitting situations.