"Cyclops" was just one of the new and fantastical prototypes from a group of young designers being showcased as part of the Leading Edge Design exhibition in Tokyo last weekend. Taking the form of a towering pillar of metal, Cyclops — now having been in development for a few years — is a robot that scans the area in front of it and detects movement. Its "eye" constantly adjusts its focus and attention on different moving objects in the vicinity, giving it an almost curious, humanoid nuance even though it looks anything but. A computer screen showed us what the robot was seeing, complete with a red marker on each human object in the scene, picked out by the robot's software.
The designers weren't on hand to say specifically what the intended use of the robot would be, but I'm betting if you strapped a brain-melting raygun to this thing you would have a pretty devastating killing machine. I, for one, welcome our new mono-eyed overlords.
Also at the exhibition was an interesting prototype from Docomo, which had a screen you could tilt on its side, making it more suitable for watching TV/movies, yet you could still hold it in the style of a regular phone. The phone, whilst innovative, shamelessly violates all kinds of iPod patents by having a silky-smooth scroll wheel to scrub through video, meaning that watching pirated movies on this thing could possibly be the most illegal thing you could ever do in the history of mankind.
G/O Media may get a commission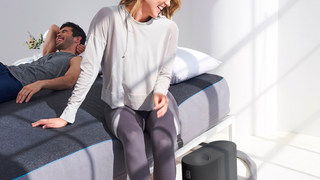 Eight Sleep Pod Cover
The Leading Edge Design Exhibition [L.E.D.]