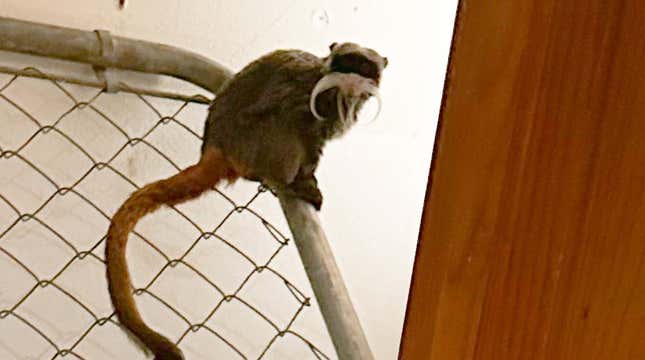 Dallas Zoo officials set the internet at ease this week when they shared that their two missing emperor tamarin monkeys had been found safe and unharmed by police one day after they were taken. The story isn't done yet, though. The Dallas Zoo wants justice, and it's offering a $25,000 reward for information that leads to the arrest of the people wreaking havoc on its animals.
Police in Dallas located the monkeys, named Bella and Finn, on Tuesday evening in the closet of an abandoned home in Lancaster, a suburb outside the city, after receiving a tip that the animals might be there. Notably, police found Bella and Finn just hours after they published a surveillance photo of a man they wanted to speak to about the monkeys. No arrests were made, though, and police later told The Dallas Morning News the man was not a currently a person of interest.
In its first update on the monkeys' health Wednesday, Dallas Zoo officials said the animals showed no signs of injury, although they had lost a bit of weight.
"Emperor tamarin monkeys, Bella and Finn, were so happy to snuggle into their nest sack here at the Zoo last night!" the Dallas Zoo said in a tweet. "Both started eating and drinking almost immediately once the team completed health exams on Tues."
The organization also increased its reward from $10,000 to $25,000 for information "that leads to the arrest and indictment of the person(s) responsible for these incidents."
The Dallas Zoo has had a rough couple of weeks. In mid-January, one of its clouded leopards, Nova, escaped from her mesh enclosure, which had a tear. The incident led the zoo to shut down while it searched the grounds the clouded leopard, which are much smaller than other leopards and are not a danger to people.
Nova was found near her habitat later that day unharmed. However, the day after she escaped, Dallas Zoo officials found a similar cut in the enclosure of its langur monkeys, although none of them had escaped. Police believe that Nova and the langur monkeys' enclosure was purposefully cut, the Morning News reported.
Tragedy stuck the zoo shortly afterwards when one of its endangered lappet-faced vultures, Pin, was found dead in his enclosure. The vulture's death was described as "unusual" from the beginning, and a necropsy conducted by the zoo's veterinary team discovered a "wound" on the animal.
Pin had been at the zoo for 33 years.