Neil Blomkamp adds another awesome actor to Elysium. How big a role does David Tennant have in Fright Night? Plus we may now know precisely when the second half of Doctor Who's current season will air.
Spoilers from here on out!
Top image from Green Lantern.
Green Lantern
Marc Guggenheim explains how he became a co-writer on the project:
"Greg Berlanti wanted to do a Green Lantern movie, which, looking back on it, seems crazy that he even had that ambition, because at the time the three of us were working in TV. A lot of people had tried to adapt Green Lantern and failed, so there was no reason to think Warner Brothers would take us seriously. But Greg had a real vision for the way Green Lantern should be done as a movie; he'd always seen it as this sort of combination of Star Wars with superheroes.

"I vividly recall Greg and I casting the pilot for our show, Eli Stone, and on the flight back he said, "Listen, there's something I want to talk to you about. I have this idea for doing the Green Lantern movie," and he pitched me this thing that was part space opera and part superhero movie and we just started talking and talking. By the time we landed, I think he thought this was something he really wanted to do, so we went to Warner Brothers and pitched not just the first movie, but a trilogy of movies."
You can read the rest at the link. [Comic Book Movie]
And here's a new TV spot, showing off a lot more of Hal's ring constructs.

---
Captain America
Chris Evans explains that, as much as he thinks the movie is good, he won't feel too confident about the audience's reaction until the movie is actually released:
"I've seen quite a good amount [of the movie]. You know, I like what I saw. I like everything I've seen. But, you know, I'm always apprehensive. Until the movie comes out, until the final product is really cut together, you know, I'm nervous. But, like I said, everything I've seen, I really love."
G/O Media may get a commission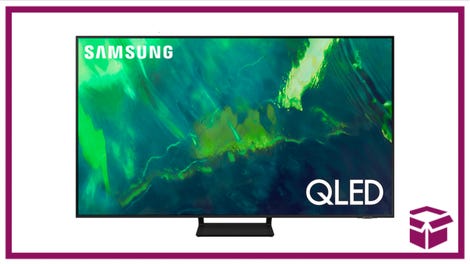 35% off
Samsung Q70A QLED 4K TV
Save big with this Samsung sale
If you're ready to drop some cash on a TV, now's a great time to do it. You can score the 75-inch Samsung Q70A QLED 4K TV for a whopping $800 off. That knocks the price down to $1,500 from $2,300, which is 35% off. This is a lot of TV for the money, and it also happens to be one of the best 4K TVs you can buy right now, according to Gizmodo.
---
Super 8
The MTV Movies Blog has provided some helpful primers for the various kids:
Joe Lamb, played by Joel Courtney
This doe-eyed, sweet and sensitive youngster is our protagonist. He's reeling over the recent death of his mother, and spends all his free time making model trains and helping his best friend Charles make a movie in order to keep his mind off his grief.

Charles, played by Riley Griffiths
An ambitious, if slightly bossy aspiring filmmaker, Charles starts the film as the ringleader of the group. He knows what he wants and how to get it, in large part due to the fact that he comes from a large family where strongly voicing your wants and needs is the only way to be heard.

Alice Dainard, played by Elle Fanning
Although angellic in appearance and demeanor, Alice has an edge on the boys because she's just a tad older and wiser. Plus, she drives without a license, which the boys think is super cool. She also turns out to be quite the actress. Oh and her dad's an alcoholic with a sad, guilty chip on his shoulder, which makes for a rocky father-daughter relationship.
Check out the link for the rest. [MTV Movies Blog]
---
Elysium
Y Tu Mama Tambien star Diego Luna is reportedly in talks to join Neil Blomkamp's science fiction epic. He would play Julio, the best friend of Matt Damon's protagonist. [Variety]
---
Looper
The time travel movie starring Joseph Gordon-Levitt and Bruce Willis as the same hitman at different points in his life has announced a release date of September 28, 2012. [Collider]
---
Noah
Now that his flirtation with The Wolverine is officially behind him, Darren Aronofsky is reportedly shopping around a new project called Noah, which is - what else? - "an edgy re-telling of the Noah's Ark story." He reportedly wants $130 million for the budget, which is more than triple any of his previous budgets and is more than ten times what he usually works with. He also wrote the script himself, although reportedly John Logan is working on a rewrite...because apparently when the dude behind Black Swan can't quite make his script perfect, he calls in the guy who wrote Star Trek: Nemesis. (To be fair, Logan has also written other, much better stuff.) Anyway, despite Hollywood's history of big-budget Biblical epics, this would actually be pretty much the first attempt at telling the Noah's Ark story on a grand cinematic scale... well, unless you count Evan Almighty, I guess. [Deadline]
---
Fright Night
There have been some rumors that David Tennant's part in the movie is relatively small, especially compared to the size of his counterpart Roddy McDowall's role in the original, and his short appearances in the trailers so far might support that idea. However, that apparently is not the case, according to someone who has both read the script (and says Tennant actually kicks quite a bit more ass than McDowall did in the original) and heard from advance screenings that Tennant's part is "epic." [TV Overmind]
---
Doctor Who
The rumored transmission dates for the second half of series six are as follows:
September 3, 2011 - Let's Kill Hitler by Steven Moffat
September 10, 2011 - What Are Little Boys Made Of? by Mark Gatiss
September 12, 2011 - The Green Anchor by Tom MacRae
September 24, 2011 - The God Complex by Toby Whithouse
October 01, 2011 - Episode 12 by Gareth Roberts
October 08, 2011 - Episode 13 by Steven Moffat
Apart from "Let's Kill Hitler", those are all still just tentative titles and haven't been confirmed yet. Also, that "September 12" date seems like it's probably a typo, with the actual transmission date most likely being September 17. It should also be pointed out that these are BBC America's dates, but they're supposed to be the same as the BBC's original dates. [Life, Doctor Who, and Combom]
---
The Sarah Jane Adventures
Speaking of transmission dates, the final three stories (comprised of six episodes total) are rumored to air in October, presumably in the weeks after Doctor Who finishes up. [Life, Doctor Who, and Combom]
---
Fringe
Jasika Nicole answers fan questions in this video. [Fringe Television]

---
Game of Thrones
Sophie Turner discusses her character, the not exactly beloved Sansa Stark:
"She makes a lot of mistakes that lead to some really bad consequences. I think the fans of the books and of the television show are angry at her. People who haven't dug deep enough into the character can't really see the good intentions in Sansa's decisions... Sansa is naive and quite vulnerable at the start. She's a complete romantic and lives in a fantasy world. She just wants to be the girl that her father and her mother expect her to be. She just wants to make her family proud, and her good intentions can be manipulated, mainly by Joffrey. I think she's very immature for her age and she needs a wake-up call... Sansa completely disapproves of everything that Arya does. She finds her sister a complete a nuisance. Sansa is so different from Arya she can't relate to her."
[TV Guide]
---
True Blood
Here are two interviews with star Alexander Skarsgård.

---
Terra Nova
Here's another new trailer. [Den of Geek]

---
Sanctuary
Here are some promo photos for episode 19, "Out of the Blue." [SpoilerTV]
---
Additional reporting by Gordon Jackson and Charlie Jane Anders.