Dear Instagram,
I hear facebook wants to pimp you guys out in search of "profit." Bravo! So hey, wanna sell my photos to some faceless corporation? No problem! I know you've gotta pay the bills. In fact, let me help. Here are some choice snaps I think you'll be able to unload, like, tomorrow. No, silly gooses, I'm not looking for a cut! (I just wanna be famous. Follow me on Instagram.)
---
Porkslap is a delicious beer made by Butternuts Beer and Ale. Butternuts really wants hipsters to buy its beers, and this photo could be an amazing ad in some Brooklyn-based quarterly devoted to vinegar-making and macrame digital camera bags. It's got everything: A single-speed bike. With a basket. And a cupholder. (Don't knock it till you've tried it.) Oh, and did I forget to mention the pair of six-packs, glistening in the weekend sunshine? So hip. I'd ask for like $10,284.33 for this baby.
---
G/O Media may get a commission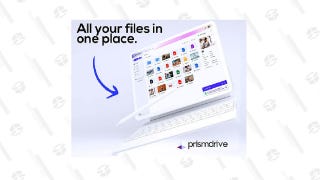 Save 97%
Prism Drive Secure Cloud Storage: Lifetime Subscription
Check it out! The top three finishers of the US Grand Prix in Austin. I haven't seen this photo anywhere else. (Except on TV, which is where I got it from. I like to take pictures of the TV. I think it's gonna be a thing soon.) You know what I do see? At least a dozen brands, prominently displayed: Pirelli, Verizon, Red Bull, Infiniti, etc. One of those corporations must surely be in the market for some grassroots marketing. Hell, you could maybe even sell this to the FIA—might be a nonprofit, but it's got TONS of money, and Bernie's serious about getting a foothold in the US. $33,651
---
Sam and I were visiting SF when the Giants won the world series, and you know what we did? We rioted with the rest of the town. The spirit was that contagious. It was beautiful. Here is Sam, illegally setting off some illegal pyrotechnics. Maybe the Giants organization would like to pay $5,000 for this wonderful piece of art? Yes, I think it would.
---
That's Tucker. Mostly we call him Tuckie because look at that face! He's 11. He should be a spokesmodel for something. Like Clairol. Or a carpet-cleaning company, because when he got up from this little don't-call-it-a-cat nap, there was a foul-smelling wet spot on the rug. One milllllllion dollars.
---
Did you know there were fools out there who used not one, but TWO Sous Vide Supremes to cook their Thanksgiving dinners. I knew that, because I am one of them. Sous Vide has fallen off the radar a bit ever since Top Chef started sucking so hard, so maybe the company would like to pay $17,111 for this artful shot. (Turkey was amazing, btw.)
---
This summer I was in Northern California on vacation, and I rented a motorcycle from Dubbelju so I could spend a day cruising around some of my favorite twisties. Epic time, and just look at this shot! The sky in the mirrors! The filter! I think it was lo-fi! If you sell to Dubbelju, have a heart—that's a small business. Maybe a grand? If you sell to Triumph, however, you could easily clear 30 large on this one.
---
Whoa, that's a strong bike lock! Is it a Kryptonite? I don't know, but honestly, Kev (can I call you Kev? No? OK, my bad) you can't see shit in this photo. I think I took it in HDR, then hit it with Camera+'s clarity filter, then like Valencia or something. You could scrutinize this with a microscope and not get a definitive answer about what lock this is. So check it out: Let's just say it's a Kryptonite lock, and sell the photo to those jokers for like $22,998.76.
---
You know what market Bernzomatic really needs to hit up? Pussies. Like me. I use my torch (the one with the sissy trigger that costs more) to crisp up my hipster meat products. Other well-heeled weaklings can do so as well—but only if a certain torch-maker shows them how. $ky's the limit on this one, guys.
---
It's a one in a million shot that makes a Porsche Panamera (aka The Porschewagon) look this hot. There's not a fat guy anywhere near the thing, and the car looks downright at home with nature. The dudes in Stuttgart are gonna love this shot for the Panamera Hybrid's new ad campaign. And they're so rich! Let's call it an even hundred-thou.
---
So this is just a start, but I've got literally hundreds more photos. Sell them. Get money. And don't go out of business because then my friends and I will have to talk to each other instead of competing to take pictures of particularly ironic garbage.
Photos courtesy me
.
.
.