When Google introduced Chromebooks in 2011, its "always in the cloud" philosophy made these machines seem like starter kits for the lite laptop user. But Google's incredible Pixel line upped the game. Now Dell's followed that top-of-the-line thinking to make a powerful Chromebook you can actually afford.
Dell's Chromebook 13 isn't meant for the ChromeOS beginner. It's starting price at $400 means you're getting much more than just a low-resolution machine that connects to the internet. Dell's new 13-inch (13.3 actually) Chromebooks are a true successor to the absolutely wonderful $330 11-inch model (the previous update was geared more toward education). It also comes with an updated 1080p screen, and a collection of options you can pick and choose to get the features and the price you want.
Chromebook 13 (right) next to the old Chromebook 11 (left)
Here are a few different options you can choose from:
Processors: Celeron, Core i3, Core i5

Memory: 2GB, 4GB, and even 8GB

Storage: 16Gb or 32GB

Touchscreen: Yes and no
A lot of Dell's more successful products, whether the XPS or Latitude series of laptops, converged to help make the new Chromebook 13. For one, the top casing has a carbon fiber weave design that Dell's used on XPS laptops in the past. The palm rests are magnesium alloy, and the bottom is all aluminum—only the thin bezel around the screen is plastic. Even the precision touchpad is cribbed from Dell's XPS 13.
G/O Media may get a commission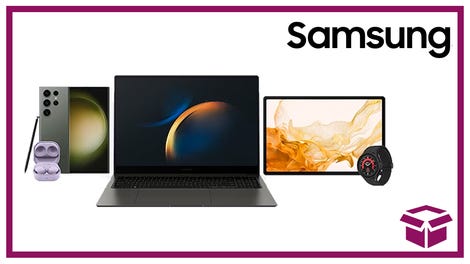 24 hour deals
Discover Samsung - Daily Deal
All this metal adds a bit of weight, making the Chromebook 13 anywhere from 3.2 to 3.5 lbs. It's not back breaking, but it's no Macbook Air either.
The two most noticeable attributes of the new Dell Chromebook are its solid build quality and that screen. It's creates the same jaw-dropping reaction I had when I saw a Pixel 2 in person (though the Pixel still wins out in the resolution department). Dell built in a 1080p IPS LCD display, which for some laptops may not seem like a lot, but in the context of a Chromebook, it looks stunning—it's a major upgrade to the Chromebook 11's 1366x768 TN panel, which often displayed washed out colors and had other brightness issues.
As for ports, you're looking at one USB 3.0, one USB 2.0, and an HDMI port. And of course, an AC port so you can charge the damn thing.
The keyboard doesn't feel like a crap piece of plastic, and the glass touchpad (the only other one on a Chromebook outside of Pixel) is responsive and easy-to-use. Dell is also claiming that you'll get a clean 12 hours of battery life out of the Dell Chromebook 13, though we won't know for sure until we spend some quality time with it, which will most likely around its on-shelf date— September 17.
The touchscreen option seems a little frivolous at this point. ChromeOS isn't nearly as touch optimized as say Windows, but Google is constantly updating its web-based OS, so if you want a little bit of future-proofing, it may not be a terrible idea. Also, the touchscreen's glass panel stretches all the way to edges, and looks a little nicer than the plastic version on the non-touch models.
Chromebook w/ touchscreen (left), Chromebook w/o touchscreen (right)
Dell's Chromebook 13 starts at $400 and goes up from there. With all the maxed out specs, you'll be looking somewhere in the $700 range. Pricey but not Pixel's $1,000, and worth it if you're ready to get serious about ChromeOS.