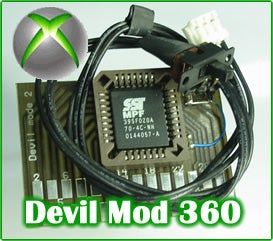 We're patiently waiting for the day when modchip makers announce that they've finally cracked Microsoft's Xbox 360 wide open, but until that day comes we'll just have to settle for baby steps. The DevilMod 360 is a dual firmware mod that allows users to have their Xbox 360's optical drive run unofficial third-party firmware. Of course, this unofficial firmware permits users to run 1:1 backups, but—and this is key, and why we're still waiting for proper modchips—not unsigned code, like the popular Xbox Media Center.
The DevilMod360 features an external switch to allow users to alternate between the official and unofficial firmwares. Also of note is 256kb of flash memory, presumably allowing for software updates to the chip. Installation of the chip will be fairly difficult, requiring would-be installers to cut a trace on the Hitachi-LG board. Not exactly pogo pins here.
One final caveat is that users with the Samsung-Toshiba board will need to run a special bios to dump 360 discs within Windows. You can find it online from numerous retailers, with prices hovering around $25.
DevilMod 360 Home page [GRmods via Xbox-Scene]