Google Home Hub: Hands On
The Home Hub appeared at this week's Made by Google event like a dessert you forgot to order. Sure, there were plenty of rumors that Google would announce its own touchscreen-enabled Home device. But after spending just a few minutes with the thing, I realized what a treat it might be. This little hub might be the thing that ties the whole smart home concept together.
Meet Microsoft's New Surface Laptops
In a sense, the Home Hub is a central console for your entire suite of connected devices as well as a portal into Google's suite of artificially intelligent services. It's also downright attractive with clean, curving lines, a surprisingly compact footprint, and a curiously advanced display. The touchscreen itself measures 7-inches diagonally, and the rest of the device hides handily beneath it, while housing a speaker that doesn't sound like garbage. The front also features two microphones to beckon Google Assistant and something called an Ambient EQ sensor that gives the display a photorealistic quality that adjusts based on lighting conditions.
That Ambient EQ sensor is located in the place where you'd expect to find a camera, except the Home Hub doesn't have a camera. Google says it made this decision in order to offer better privacy. Without the camera, you can't use the Home Hub for video chats. But you can also feel confident that Google or hackers aren't watching you walk around your house. I like this idea because it lets a truly paranoid person turn off the microphone and just interact with the touchscreen without worrying about privacy.
The touchscreen experience also felt delightful in my brief time with the Home Hub. From the lock screen, I could just swipe down from the top to get a simple menu of available connected devices—like lights, thermostats, cameras, media players, and so forth. At the Google event, the company set up several rooms with a variety of gadgets, and in about two taps I could do anything from adjusting the color and brightness of lights to unlock a door. You can also use voice commands to do these things, just like you'd be able to on any other Google Home device. But the fact the screen adds a welcome level of control over everything that's going on. Also using voice commands for stuff can be annoying and not always appropriate! I like to see what's happening with connected devices in my home, and I like to touch an interface to feel like I'm the boss of my gadgets. And I don't always want to pull out my phone to do stuff.
Google seems to be banking on the idea that there are more privacy-loving, screen-touching weirdos like me in the world. The Home Hub almost feels like a step sideways from the march towards totally voice-activated assistants that's been happening for the past for years. In my opinion, it's a fork down a more familiar road. And that element of familiarity and dependability is something that's held a lot of people back when it comes to filling their houses with connected light bulbs and smart locks and whatnot. We've been using light switches and keys for ages, so the idea that we might not want to abandon a visible, touchable interface altogether makes some sense.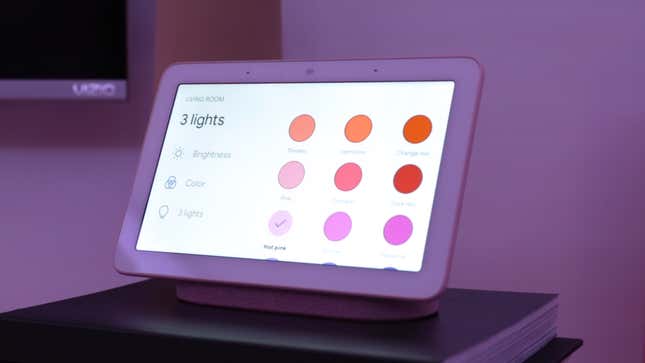 Of course, the Home Hub is not the first touchscreen home console to be invented. It's not even the first time Google has been involved. A few private companies have been doing custom installations of these things for rich people for years, and more recently, Wink tried to sell little Android-powered tablets that would replace your light switches. (I tried these, and it was an awful experience.) Then along came Amazon with the Echo Show, which was kind of fun but not altogether functional. Lenovo then released a Google Assistant-powered touchscreen device earlier this year, a $200 gadget that we really liked and that happens to work an awful lot like the Home Hub. And this week, Amazon is releasing the Echo Show 2.0 that comes with some (clunky) home controls on the screen. It costs $230.
It's so far unclear how much better Google's new touchscreen command center will fare than the rest of these funny little internet TV thingies. What it does have working in its favor is deeper Google Assistant integration and deeper integration with Google-made Nest devices. What the Home Hub lacks is Zigbee and Z-Wave support which means you might need additional hardware to set up certain devices. We can also wonder, if this Google-made hardware will simply work better not only Google-native Nest devices but also with connected devices made by the 1,000-plus companies that work with Google Assistant. These are questions that will require further testing.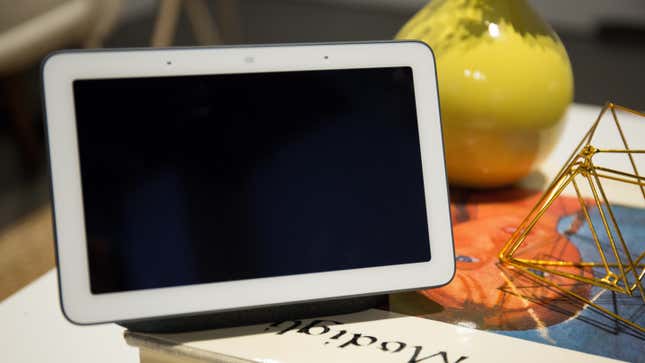 At the very least, having spent a little bit of time with the device, it's clear to me that Google's design team made the Home Hub handsome as hell. I wouldn't mind putting one of these on my countertop. The Ambient EQ effect is also extremely cool—something you have to see to believe. In effect, it makes a digital screen blend in to your house full of analog objects in a very neat way.
The other big perk is price. Google will start selling the Home Hub for $150, just $20 more than a regular Google Home. It's the kind of new gadget that you never asked for. But after spending some time with it, I started thinking about all the ways that I might want to use it. After spending several frustrated years dealing with connected homed devices, the Home Hub also seems like it might be the solution I've been looking for. I'd add a heavy emphasis on "might" there, because I still don't know how well it works outside of Google's highly controlled, fancy event atmosphere. I can't wait to find out, though.