Despite Amazon having a two-year head start versus Google in the smart speaker wars, earlier this year, sales of Google Home devices surpassed all of Amazon's Echoes for the first time ever. And while Amazon still holds the overall lead in market share, it's not hard to see why Google is catching up fast. Compared to Alexa, the Google Assistant is simply smarter, better sounding, and an all-around more helpful AI. However, even with new additions to the Google Home family in 2017 by way of the Home Mini and Max, there are some holes in the Google's smart speaker lineup—like smart screens. But thanks to the new Lenovo Smart Display, Google now has an answer to the Echo Show, and it's a damn good retort at that.
Somewhat confusingly, the term Smart Display is both the name of the product and the name for a new category of Google Assistant-powered smart home devices that enhances the traditional smart speaker experience through the addition of a built-in screen. And while that might not sound like a big deal, it completely transforms the way you use the device from a simple question and answer machine into something that feels more like your home's central command.
At launch, Lenovo is leading the way with the first Smart Displays on the market. Its initial offering is available in two sizes: an 8-inch model with a 1280 x 800 resolution touchscreen for $200, and a larger 10-inch version with a 1920 x 1200 display. Later this year, more Smart Display devices will be available from other companies include JBL and LG. But even as the pioneer in a brand new category, there's a lot to like about Lenovo's first go.
Aesthetically, the Smart Display sports, slick, clean lines that clowns on the Echo Show and makes it seem like an ugly relic of the 90s, even though in reality, it's only one year old. Lenovo's Smart Display isn't pure style without practicality, because it also has some simple, but handy security precautions, which include a physical shutter that slides over the 5-MP webcam and a toggle for turning the Smart Display's microphones on and off. But the real gem is that screen, which especially on our 10-inch review unit makes the Show look and function like an inferior product.
G/O Media may get a commission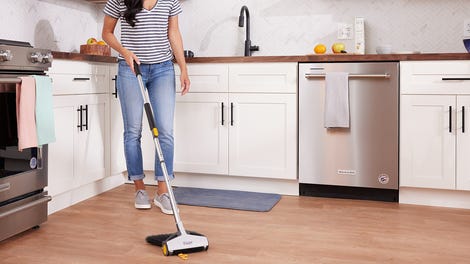 BOGO 50% Off
Flippr - BOGO 50% Off
The best example of this is simply comparing the way the two devices handle a request. When asked to show the current MLB standings, the Echo Show comes back a text heavy screen while Alexa drones on in the background, reading everything aloud for nearly a minute. The Smart Display opts to simply say that the Red Sox are in first place while throwing up a graphic showing the wins and losses for all the teams in the AL East. By combining graphics highlighted by brief audio snippets, the Smart Display gives you more info with additional context faster than Alexa. It's hands down the winner.
But what about the rest of the league you say? While it's true Google didn't show the top team in every division (possibly because Google knows I'm a Yankee fan), finding out is as simple as asking it for a little more specificity, or better yet, tapping on one of contextual info buttons at the bottom of the screen.
And isn't something that happens just with baseball either, because the Smart Display's superior presentation carries over to other requests as well. Even easy stuff like telling you the weather Google does better, because instead of having to sit through multiple slides to see the temp, highs and lows, and the hourly forecast on the Echo Show, the Smart Display gives you all that info on a single screen. And when you're looking up recipes, not only does the Smart Display return with more accurate results, it gives you extra info like what site the recipe came from, how many ingredients it has and sometimes even the calorie count alongside basic stuff like star ratings and prep time.

When you actually do get to cooking, following a recipe step-by-step is a lot better too, as the Smart Display breaks everything down into bite-sized tasks, that can be sped along either by pressing one of those contextual buttons or simply saying "Hey Google, next step." And again, recipes are just one small thing the Smart Display does better.
With support from Google Maps directions are more detailed, while Google Podcasts integration and music streaming via Play Music, YouTube Music, Spotify, and Pandora means you'll never run out of stuff to listen too. Even controlling other smart devices like Hue Lights or a security cam is easier, with the Smart Display even providing options for adjusting brightness or color or your lights anytime you ask about them. Thanks to the Smart Display, I just recently discovered I can set my lights to colors like lemon chiffon or ultramarine.

Interestingly, with the Smart Display's newfound capabilities, sometimes it seemed like certain requests really tested the Google Assistant's ability to understand more complex questions. For example, when I used more natural language to ask "Hey Google, show me shrimp recipes by Serious Eats," the Assistant responded by saying it didn't understand the request. But if I played things a bit more like robot and said "Hey Google, Serious Eats shrimp recipes," I got exactly what I was looking for.
And there's the big issue regarding streaming video. Because Amazon and Google have yet to settle their feud, the Show still lacks proper YouTube support. The Echo show gets native Prime Video and Twitch instead. Yet the Smart Display has integrated Chromecast support, so you can basically watch anything you want on the Smart Display, just so long as you don't mind pulling out your phone first. That said, I still feel like to get the full value from the Smart Display, you kind of need a subscription for YouTube TV, so you can easily watch live TV or recorded shows just by asking nicely. That's a $40 a month charge.
My biggest gripe about the Smart Display though is how hidden its myriad of functions are. I get that this isn't meant to be like a tablet or smartphone, but for something based on Android—Android Things to be exact—it seems weird that there aren't really any apps to speak off. Yes, you can ask the Google Assistant to open up YouTube, but when you do, what you get is a super streamlined UI that only shows a handful of videos at a time. And despite my best efforts over the course of the week, I couldn't really find a proper web browser to speak of, which means you are largely reliant on what comes up via search.
Another small concern for a device that will likely find itself in or near the kitchen is the Smart Display's lack of an official water-resistance rating. However, when asked, Lenovo told me that the device is securely sealed, the display is coated with an anti-fingerprint and water repellent coating, and was specifically tested to ensure that it would survive just fine in the vicinity of soapy dishes or a little humidity. I'm not entirely sure the device was designed to handle this, but when I threw a cup of water at the Smart Display, it shrugged off the splash without a hitch. Forgive me for not dunking the thing in the sink though, that seems like a bit too much to ask.
At least more mundane tasks like adding events to a calendar or setting an alarm are easily handled via voice requests or handy shortcuts on the Smart Display's home screen, which is also exceedingly easy to use. You can tap on the screen to wake the device up if it's been sitting idle for a while, swipe right to discover more functions and abilities, swipe left to go back, or swipe up from the bottom to adjust the brightness or access the settings menu. That's it.
One strange quirk of the Smart Display is that even though its designed to function in two orientations, the only thing it can really do in portrait mode is make or take video calls using Google Duo. However, because you'll need to physically walk over to the device and tilt it on its side anytime someone calls, doing so is often more hassle than it's worth. You're better off just asking whoever is on the other end of the line to not record vertical video, which is probably a lesson they should apply to the other filming duties anyways.
In the end, the most shocking thing about the Smart Display is how much better it is than the Echo Show overall. In fact, I don't think I've seen such a thorough trouncing in tech anytime in recent memory. And while neither device sports amazing sound quality, the Smart Display beats out the Show there too.

What's more, is that normally, trying to decide between an Echo, a Google Home, or even a HomePod is often decided by how deeply you're invested in a particular ecosystem. But when it comes to the Smart Display versus the Echo Show, unless you are the most die-hard Amazon fanatic, the Show simply doesn't make sense, and in a lot of ways it feels incomplete. Don't get me wrong, looking back to when it was released, I have a greater appreciation for how the Echo Show provided a good reason for why you'd want to put a screen in a smart speaker. But with the Lenovo Smart Display, Google has taken that screen and made it something fantastic.
README
Unless you are a die-hard Amazon fanatic, the Google Assistant-powered Lenovo Smart Display is the superior product in almost every way.

To truly get the most out of the Smart Display's video streaming capabilities, you kind of need to have a YouTube TV subscription.

Software updates will be managed by Google, so there shouldn't be any delays in get new features or update versions of Android.

The Smart Display doesn't have an official water-resistance rating, but it was designed with the hazards of the kitchen in mind, and when I threw a cup of water at it, it survived just fine.

Lenovo's Smart Display goes on sale July 27th for $200 for the 8-inch model, or $250 for the 10-inch version, with other Smart Display devices from companies such as JBL and LG slated to arrive later this year.

SPEC DUMP
Smart Display powered by Android Things • Qualcomm Home Hub Platform using a Snapdragon 624 • 2GB of RAM • 4GB of storage • 8-inch 1280 x 800 display/10-inch 1920 x 1200 display • dual 1.75-inch 10-watt speakers + two passive tweeters/dual 2-inch 10-watt speakers + two passive tweeters • 5-MP camera • 802.11ac wifi • Bluetooth 4.2 • available in gray/bamboo