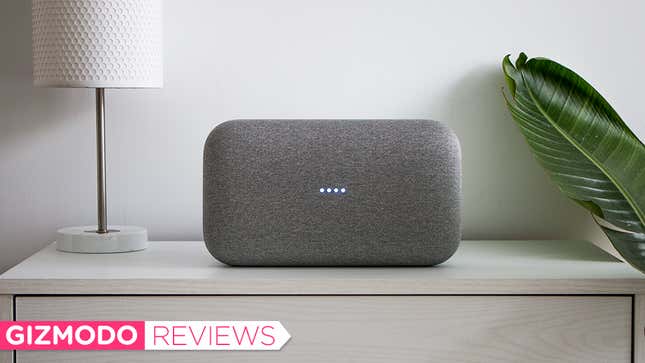 The weird thing about picking up the Google Home Max is the weight. It's only 11 pounds, but it feels heavy, the way speakers used to feel. So I feel like I smirked when I plugged it in, thinking, "This thing's gonna be loud." At top volume, the Google Home Max did not blow me away. I could, however, have a conversation with it.

Vizio's Latest TVs Go All Quantum
As the name implies, the $400 Google Home Max is a larger version of the Google Home smart speaker. The wireless audio device presents a curious compromise, though. It's purportedly more powerful than Apple's yet-to-be-released HomePod, and it has the voice-control capabilities that the beefier Sonos Play:5 lacks. You get the magic of Google Assistant in a boombox huge enough for a house party. Although as I would later learn, you probably want to buy two if you want to have a good party.
It could be a classy affair. The Google Home Max is just as sleek and beautiful as the Google Home and Google Home Mini. The extent to which it is designed to disappear is especially noteworthy for a fairly large device. A little over a foot long and seven inches tall, the speaker takes up some counter space when laid flat. The Home Max can also be positioned vertically, which would look nice in a corner. The front of the speaker is also a fine, "acoustically transparent" fabric that can't be removed, so be careful about spills. On the back, you've got a USB-C port, a headphone jack, and a reset button. That headphone jack is a key feature I'll come back to.
What deserves extreme emphasis in this review is the fact that you should want to buy the Google Home Max for the audio experience. The gadget's smaller siblings can also serve as an artificially intelligent assistant and play music. But the Google Home Max? This thing is a wireless sound machine.
It's not an extravagant wireless sound machine, however. If you want that, there's a French company called Devialet that will sell you one for $2,000. The Google Home Max is still—without a doubt—superior to other smart speakers on the market. The Amazon Echo has never been known for its audio fidelity, and all of the smaller speakers simply can't deliver decent bass. And if there's any reason to buy the Google Home Max over a smaller speaker, it's got to be the bass. Whereas smaller smart speakers tend to sound somewhat one-dimensional, the Home Max's two 4.5-inch woofers really complete the room. Though those woofers are too small to move enough air to really BOOM. Then again, that might be too much to ask from something that's the size of a large shoebox.
I did think the Google Home Max would be louder, though. I thought at full volume, I'd have to warn the neighbors. I thought the thump of the bass would knock pictures off the wall. I guess, to Google's credit, I though the marketing language would actually be reflected in the product. Diplo was featured in the damn announcement, after all. That dude love bass! And when I played "Revolution," my favorite bass-heavy Diplo track, the bass was there. It didn't rattle the windows, and I couldn't hear that very low, low note I've heard on other speakers which was disappointing considering the promotional video Diplo made for Google. It's weird that Diplo looks like Mickey Rourke's character in Academy Award-nominated film The Wrestler, but nice effort all around.
Looking back, that was a nice marketing move. Google must have decided that its new Google Home big speaker could set itself apart by delivering decent bass. It does that. It's doesn't deliver great bass by any means. It feels like the weight of the thing emphasized this talking point.

The sheer power of the Google Home Max also brings to bear whether it really makes sense for loud speakers to house microphones. Like its progenitor, this smart speaker struggles to hear voice commands when the speaker is playing audio at a high volume. I'd venture a guess and say that any time the speaker is at 60-percent volume, voice commands are a gamble. So I'm a little confused why Google didn't do some sort of microphone sorcery that ensures the Google Home Max can hear all voice commands at all times. This internal debate makes me feel more sure of my opinion that Google built the Home Max to be a speaker first and a smart speaker second. All that said, the device does all that voice-control stuff better than an Echo, though I'm not sure anyone really needs those features.
Even still, as a wi-fi speaker that stands to compete with both the AirPod and the Sonos Play:5, the combination of decent sound quality and a voice-controlled assistant is unique. The fact that the Google Home Max also sports a headphone jack is particularly unique, since it's the only big smart speaker that has one. That means you could connect it to, say, a record player and use it like a more traditional speaker. That's neat enough.
I'd be remiss if I didn't report on a couple of gripes with that just-a-speaker functionality. First of all, the Home Max's equalizer sucks. The Google Home app lets you only tweak the treble and the bass. That's limiting. And second, I also noticed that playing music sometimes limited your volume-control options. Asking the speaker to play a song with my voice sometimes meant that I could only control the volume by talking to the speaker, touching the speaker, or adjusting it through the Google Home app, which required tapping through a couple screens. This isn't the end of the world, but I would love it if this extra loud speaker could become less loud more easily.
In spite of any gripe, I like the Google Home Max. It's a good smart speaker. It's also $400 which means you could buy two Alexa-enabled Sonos One speakers for the same price. The older $200 Sonos Play:1 in my kitchen has the same audio guts as the Sonos One but lacks Alexa. They're also just about as loud as the Google Home Max. They lack too nice bass, but saving money is fun.
If you have $400 to burn and want a decent smart speaker, the Google Home Max is a great candidate. You might get better sound quality with a $500 Sonos Play:5, but you won't get the voice control. You might get comparable audio fidelity as well as Siri with the $350 HomePod, but Apple still hasn't released the product. We don't know how good it is. The Google Home Max is pretty good for now. I'd go so far as to say that it's the best smart speaker on the market. That accolade might not last long, though.
READ ME
Supremely decent sound quality will satisfy most people who don't self-identify as an audiofile
Bass is present and also fine but won't blow your mind away
Google Assistant features are cool for weather updates, less so for controlling volume
$400 is a steep price