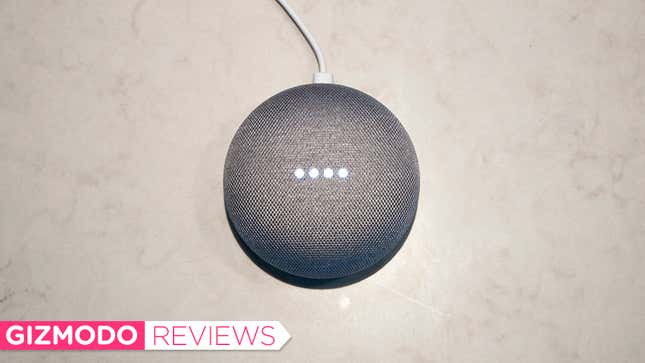 It's almost unfair that most of the world met our voice-controlled future in the form of an Amazon Echo. Sure, the gadget works, but damn is it ugly. The Google Home was better but still sort of silly-looking. That's why the sleek, minimalist Google Home Mini feels like a revelation.
The Boogeyman's Sophie Thatcher Reveals What Draws Her to Dark Characters | io9 Interview
This donut-sized device does almost everything its uglier older sibling does. It offers near-instant access to Google Assistant, making it easy to ask what's on your calendar today or how bad the traffic will be on the way to work. You can yell Google searches, like "When was the last time the United States missed the World Cup?" (Until this year, it was 1986.) And perhaps most usefully, you can control the connected devices in your home with the Google Home Mini. You could say, "Hey Google, turn on the TV." And it would happen like magic.
The original Google Home is a solid competitor to the Amazon Echo, a device I'd describe as the gold standard of voice-powered home-control devices. The Google Home Mini is an obvious competitor to the Amazon Echo Dot, a device that looks like a can of chewing tobacco and offers a lot of the same capabilities as grandaddy Echo. Both devices cost about $50. Both are small.
The big difference is that the Google Home Mini is a handsome little thing. The device actually looks nice, like an eccentric decoration that connects to the internet and does things. You'd almost never know it was there, either, because the fabric-covered device (available in chalk, charcoal, and coral colors) practically disappears on your countertop.
The hardware design is simple—almost too simple. There are four indicator lights on the top of the little wafer and a single speaker inside. The device is also touch sensitive. You can adjust the volume by tapping on the sides and play or pause music by tapping the top. (UPDATE: Google has permanently disabled all touch functionality on the top of the Home Mini, after a blogger spotted a bug that recorded all audio after using that functionality. You can still adjust the volume by touching the sides, however.) The only semblance of a physical button is a small switch on the bottom to mute the far-field microphone. That microphone is pretty good but not amazing. It will pick up your voice from across the room, but not if there's a lot of noise in the background.
The speaker itself is also pretty good but definitely not amazing. Then again, the Google Home Mini is not meant to be a home audio system. That's what the Google Home Max is for. There is also no input for a 3.5-millimeter audio cable, which frankly sucks since you can't connect a bigger speaker directly to the Google Home Mini. You'll need Chromecast Audio to do that. It's also worth noting that Google Home will not work with Sonos Play:1 or Sonos Play:3 speakers at all. You can connect a Sonos Play:5 speaker using Chromecast Audio.
On the software end of things, the Google Home Mini also excels. Set up takes approximately six seconds with the Google Home app—which you won't really need to use afterwards since you program all of the actions with the separate Google Assistant app. Here, you can link your Assistant to third party services like Spotify or to home control systems like Logitech Harmony or Philips Hue. You can also program so-called shortcuts that makes interacting with the Assistant more natural. So, for example, you don't have to say, "Hey Google, turn on the Philips Hue lights." You can just say, "Hey Google, turn on the lights."
The Google Assistant and Google Home experience feels intuitive, and it should. Google has a ton of experience when it comes to natural language processing and machine learning as well as software that involves voice control, thanks to decades of building out its search capabilities. The ability to easily customize your experience also harkens back to Google's experience building a flexible platform like Android. The Amazon approach is much less flexible. Compared to the Amazon Echo—a bumpy boat ride that gets you to your destination—the Google Home experience feels like a luxury cruise. But even luxury cruises can be flawed, weird, and unsatisfying at times.
The vast majority of my time with the Google Home Mini has been functional and fun. It's great to find a YouTube video on my phone, turn on my TV with a voice command, and cast the video on the bigger screen. This seemingly simple action—and many others—work best if you do everything in the Google ecosystem. For instance, if you don't have a home control system already set up, you need a Chromecast that's plugged directly into the wall to turn on your TV with Google Home. I have the Logitech Harmony system, so I routed the Google Assistant actions through that to turn on the TV. In doing so, I set up a shortcut in the Assistant app that saved me from telling my Google Home to tell Harmony to turn on the TV. I just have to say, "Turn on the TV."
It's worth highlighting that Google Assistant does struggle a bit with added layers of complexity. My lighting setup is slightly unusual, since I use Philips Hue bulbs in three lamps, one of which is plugged into an internet-connected Lutron switch. I like the switch because it comes with a little remote I can use to dim the lamp without getting out of bed or touching my phone. Google Assistant struggles with this setup. Basic commands like, "Brighten the lights," work, but every time, the Google Home Mini would remind me that it doesn't know what to do with the lamp that's plugged into the Lutron switch. Attempting to turn on specific scenes, like the Philips Hue nightlight, doesn't work at all. It's possible some tinkering might solve this problem, and because the Assistant app is so easy to use, I won't even mind doing it.

This example might be specific to me, but it illustrates how using Google Assistant to control home devices still lacks some sophistication. The problem could be easily solved if Google added some hardware to Home devices and turned them into smart home hubs. Apple did this with the HomePod, as did Amazon with the Echo Plus. It remains to be seen how much this will improve the user experience and customization options, however, because neither of these products will ship until later this year. In the meantime, you can connect the Google Home Mini to a hub—in my case, it was a Harmony Hub—and gain some new functionality. It might not work 100 percent of the time! That's kinda part of the fun, though.
In the end, the Google Home Mini is just that: fun. It's fun to set up. It's fun to use. It's even fun figuring out what the device can do that you haven't already thought of. And while you can do similar things with any Amazon Echo device, the experience feels less personal. Maybe that's the ugly hardware or clunky software imbuing me with a negative feeling, but I just don't enjoy the Echo as much as I enjoy the Home.
The best part about this whole equation is that $50 price tag. That makes it easy to buy multiple Google Home Minis and put them in multiple rooms. The little smart speaker might even add a little design flair, too, since they're so damn good-looking. (You absolutely cannot say the same for the Amazon Echo Dot.) What I believe is even more attractive is the idea that you can experiment with the idea of having a well designed smart speaker and then not feel awful if you don't end up using it. For the price of a decent dinner for two, the Google Home Mini is a conversation piece at worst. At best, it's your new best friend.
README
Better looking than an Amazon Echo Dot but does all the same tricks
Elegant software design makes it easy to customize actions
Struggles with some complex tasks and lacks a headphone jack
A ton of fun for $50