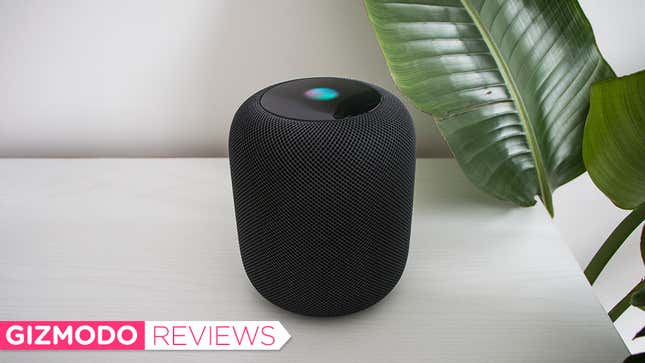 Sometimes, years pass before Apple creates a completely new product like the HomePod. During that parade of iPhone redesigns and MacBook upgrades, it can be easy to forget that when Apple enters a new space, the company does it with swagger. The products are beautiful. They work well. But they are also usually exclusively designed to work with other Apple products and services. The $350 HomePod is all of these things, and it drives me crazy.
Apple's Vision Pro Seems Powerful, But Who Is It For? | Future Tech
The story of the HomePod is about as Apple as it gets. As it had done with mp3 players and smartphones in the past, the Cupertino company watched every tech company in the world build a voice-controlled smart speaker, and just when it seemed like it was too late for Apple to throw its hat in the ring, Phil Schiller announced the HomePod in June 2017.
After several delays, the HomePod finally started to ship last week. Not only would it work as a Siri-powered voice control assistant, but the new HomePod would also serve as a hub for smart devices. Unlike so many shockingly exciting iPhone launches of years past, however, it feels like the HomePod has landed with a thud.
The HomePod just isn't very useful for most people. I've been testing the Siri-powered speaker for four days, and it certainly looks like a work of art in my apartment. It works like a dream, with sound quality that rivals speakers nearly twice the price. Heck, it even made me sign up for Apple Music again, because' well, Apple forced me to. You can only use Apple Music, iTunes, or Beats 1 radio for voice-controlled music on the HomePod. You can listen to music from other services like Spotify or Google Play by using Airplay on a separate device. The HomePod does not have Bluetooth.
This just boggles my mind—but it's not like I'm surprised that Apple's new audio hardware is firmly rooted within the walled garden that the company has been building for decades now. I just can't believe there is a human who is so committed to the Apple ecosystem that they would spend perhaps thousands of dollars to outfit the rooms of their house with HomePods, only to be stuck shoveling more money at Apple so that they can actually play music with those speakers. It feels so backwards! If you've been a Spotify user but really want to be getting the most out of your HomePod, you'll find yourself firing up iTunes and making new playlists like it's fucking 2006 all over again.
That's the first thing I did with the HomePod. Actually, the first thing I did was get really frustrated. The HomePod's set up process is slick and not dissimilar to using AirPods. You get your phone close to the speaker, and set up begins. I learned after much frustration, however, that if you've deleted the Apple Music app from your phone, the HomePod doesn't know what to do. After I reinstalled the Music app, my phone invited me to sign up for an Apple Music trial, and I did. Then, for a solid hour or so, I was fumbling through iTunes and Apple Music on my phone, wishing I could just tell Siri to play my Release Radar playlist on Spotify. If you're an Apple Music subscriber or an iTunes loyalist, you won't need to worry about any of this. Apple products work great with the HomePod.
Now let's talk about sound. The HomePod is, first and foremost, a speaker designed to play music in your home. It could be described as a Sonos-killer, except that one HomePod cannot actually connect to other HomePods, meaning that stereo sound and multi-room capabilities do not currently exists. Apple says these features will be pushed out in software updates later this year. In terms of audio fidelity, I'd also argue that the Apple HomePod gets closest to the Sonos One in producing truly excellent sound in a small speaker. Yet depending on your taste, you might like the HomePod a lot more.
To describe the sound quality of the HomePod requires a basic understanding of the how the speaker is built. The star of the show, in my opinion, is a downward facing woofer that travels an impressive 20-millimeters to move air out of the speaker and produce best-in-class bass. It's not ear-rattling bass, though. The electric bass on "Flashlight" by Parliament sounds, for instance, distinctly crisp and clean on the HomePod. Meanwhile, the low cello notes on "Eleanor Rigby" by the Beatles sound deep and textured.
Below that big, heavy woofer, there are seven tweeters that handle the mids and highs. Since we're already talking about the Beatles, hearing the first couple minutes of "Let It Be" made me feel like I was in the studio with Paul, the sound seemed so pure and unadulterated. I could say the same thing "When You Say Nothing at All" by Allison Kraus and Union Station. These songs are both largely acoustic, and I'd say that songs from this genre perform particularly well on the HomePod.
It's not all praiseworthy, however. Given the attention Apple paid to producing excellent bass and terrific treble, it's no surprise that the HomePod leaves something to be desired in the mid range. Certain songs actually sound like they don't have mids at all. As an electronic music fan, I noticed this with some of my favorite artists. "Archangel" by Burial just sounds muddy. While "The Wilhelm Scream" sounds like James Blake is standing in an empty garage with a bass drum, singing into the void. Which is sort of how he always sounds, but the HomePod overemphasized the bass and made Blake sound especially whiny.
To put all of that into context, the HomePod just might be the best-sounding smart speaker I've tested. Big emphasis on the "might" in that sentence. The Sonos One sounds almost as good as the HomePod on most songs and, actually, slight better on others. Which is saying something since it's only $200. The Sonos Play:5 sounded better than the HomePod to me in side-by-side tests. But it really should for $500.
As a smart home hub, the HomePod is desperately lacking. As with Apple Music before it, the HomePod's smart home capabilities are limited to Apple's software—in this case HomeKit. And unlike the backwards compatible standards that enable Amazon Alexa and Google Assistant to do smart home tricks, Apple HomeKit actually requires new hardware to work. So even if you have, say, a Philips Hue connected light system, you might not have the latest HomeKit-enabled hub. This happened to me. I have an older hub, so I can't control my lights with HomePod, unless I spend $60 on a new Philips hub. The same turned out to be true for my security cameras, my smart switches, and actually all of the other smart home devices I have. I can't use any of them with HomePod because I haven't bought the special new Apple-approved hardware.
And I haven't even gotten to how bad Siri is! Not only is Apple's artificial intelligence dumb—a recent test showed she only answered 52 percent of questions correctly—but her functionality is extremely limited. Siri is only really supported in stock Apple apps like Stocks, News, Messages, Weather, and Reminders. You can also ask about the weather, sports scores, and traffic, as well as set timers and alarms. That's it. I tried to get Siri to call my mom. "I wish I could," Siri said "but I can't help you make calls on HomePod." (I can, however, start a call on my phone and then send it to my HomePod.)
What all this comes down to is a case of a great piece of hardware, hampered by some seriously restrictive software. In other words, the HomePod is the ultimate Apple product. If you agree to all of Apple's rules and do everything just like the company wants, you might have an amazing experience. The HomePod really is a nice speaker! However, most people won't. Most people want the flexibility of setting up a Sonos system in their house and playing whatever music service they want. Others want to use an Amazon Echo or a Google Home to turn on their lights because those devices don't require them to go out and buy new lights.
I honestly wonder what Apple's end game is here. Will the first HomePod be like the first iPod and iPhone, where you have to use Apple software or go buy crappier hardware? And will Apple also open up the platform like it did with iOS, enabling developers to build apps in its once restrictive sandbox and making the HomePod truly useful. Time will tell. With the future days of this particular device, all of its delays, and all of its quirks, Apple is as predictably frustrating as ever.
README
A nice-sounding speaker that works nicely for $350
But it only works well if you use only Apple services like Apple Music and HomeKit
Beautiful crisp bass and treble, but mid-range is lacking
Siri seriously can't do anything