The Mad Max sequel added some cast members - and plot details. Also, Star Wars delves into the Mandalorians, and Lost's Jacob/M.I.B. duality gets complicated. Stargate does Cloverfield? Plus: Resident Evil, Doctor Who, Fringe, Supernatural, Smallville and True Blood spoilers!

Mad Max: Fury Road:
This post-apocalyptic sequel has cast Nicholas Hoult (Skins) as the new character Nux, and we're wondering if this is a new villain, given the sort of rough-and-tumble name. Also in talks to join the cast are Zoe Kravitz, who would play a character named Five Wives, plus Teresa Palmer and Adelaide Clemens. The three women would be in a convoy being chased by bad guys. Also, apparently the new movie takes place relatively soon after 1985's Mad Max: Beyond Thunderdome, which means that Max is still relatively young. (And was it clear that this movie was a straight-up sequel? Apparently it definitely is.) [The Hollywood Reporter]
Resident Evil: Afterlife:
Shawn Roberts explains his character:
I play Albert Wesker who is head of the Umbrella Corporation who is responsible for the outbreak of the T-virus, or the Uroboros virus. It was nice to be in a position of sitting back playing with my puppets as they were.
G/O Media may get a commission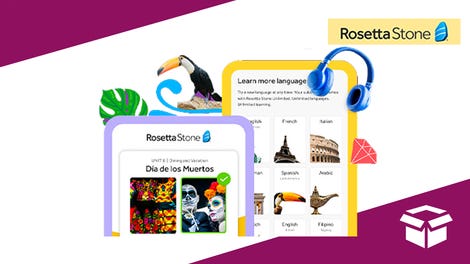 Extra 20% off
Rosetta Stone Lifetime Subscription - All Languages
He also says some fight scenes are taken directly from the game. [ShockTillYouDrop]
Scott Pilgrim:
Anna Kendrick (Stacy Pilgrim) says this movie is like a fusion of Kill Bill and Ferris Bueller. [MTV]
Lost:
First we got promo pics of Sawyer in the cage, now it's Kate sitting on a Dharma crate. What does it all mean?? [Doc Arzt]


Jacob seems to be the protector of the island. "And if the protector of the island is dead, what does that mean for everybody left on it?" asks Damon Lindelof. [Doc Arzt]
Michael Emerson has just filmed a scene (in episode 12?) where there's a giant explosion and he and other characters are showered with debris and ash and stuff. And don't expect the show's ending to become clearer by about 10 episodes in — if anything, it gets more crazy and confusing and inventive, says Emerson. [The Phoenix]
"It's possible to mistake God for the Devil, and the Devil for God," Terry O'Quinn says in relation to Jacob and the Man In Black. [TV Guide]
There's a huge shocker coming up involving Locke, Ben and the Smoke Monster, who we'll learn is also someone else. When you discover this shocking twist, you'll be gobsmacked. The more people learn about Flocke, the more fear he inspires, says O'Quinn. Also, when we see Locke reunited with his old flame Helen at a scene in a house, it's not the same old Locke — things have happened to him and he has a bit more backbone. Also, O'Quinn hasn't let go of the hope that the old John Locke will be back. [TV Guide Magazine via SpoilersLost]
More Hurley-related filming, involving Hurley in a suit and someone in a military uniform doing some type of ceremony on the golf course. Also present were Locke and Desmond, and possibly Sayid. The plane set was under construction, but filming is expected there soon. [SpoilersLost]


Doctor Who:
Someone posted a spoiler/speculation roundup for episode six, "Vampires Of Venice." Rory and Amy are engaged, and it's Rory's stag night. A giant cake is wheeled in at the stag night, and out bursts... the Doctor! Amy, Rory and the Doctor go to 1600s Venice and run into some unsavory aliens pretending to be vampires. Rumor has it they're actually canal monsters, and the story may revolve around the sinking of Venice. Oh, and there's speculation that the season ends with the wedding... and Amy may wind up being a widow in the following season. [GallifreyBase]
Fringe:
When will we learn more about Peter's deal? Apparently a lot will be fleshed out in the Feb. 4 episode, but we'll really get the scoop in an April 1 episode called "Peter." Says Akiva Goldsman:
It's a window into the mysteries of Peter that have been promised since the first season. It's an episode that's fundamentally about his relationship to Walter and the truth of where they are right now, which is pretty revelatory to the characters and hopefully the audience.
Those two episodes will give us a pretty good set of answers to questions about "Peter's identity and mortality." Also, the Peter/Olivia "courtship" (buh?) will take another lurch forward on Feb. 4, and continue to develop throughout the season, says Goldsman. Meanwhile, we haven't seen the last of Special Agent Jessup, and there may be some Charlie-related developments too. [EW]
Some random news from Twitter: There are car crashes and gunfighting in a street scene coming up, as well as scenes filmed at an old library. The Observer known as December will be back in episode 2x14, "Jacksonville," and Thomas Jerome Newton will be back in an upcoming episode too. [SpoilerTV]
Supernatural:
A quick sneak peek at tonight's episode:

Star Wars: The Clone Wars:
Tomorrow night, while you're busy watching Dollhouse (right?) Clone Wars will be revealing the mysterious Mandalorians. Says Lucasfilm:
Sent to look into troubling rumors surrounding Duchess Satine of Mandalore, Obi-Wan Kenobi discovers the truth behind the whispers of a mysterious conspiracy. But his investigation uncovers more than he'd originally anticipated, pulling back the shadowy shroud from a long-rumored splinter group and bringing to light a deadly threat to the Republic.

Originally introduced as concept art that ultimately became the basis for bounty hunter Boba Fett, the Mandalorians have been favorites within the Star Wars fan community for years, even though much remains to be discovered about their culture, their history, or their in-universe origins. With only glimpses into the true nature of these mysterious warriors, they have long been the subject of rampant fan speculation and discourse. And now they are making their Clone Wars debut.
The leader of the Mandalorians is voiced by none other than Jon Favreau, which is pretty sweet. Here's a clip and some images.



Stargate Universe:
The fifth episode of season two will be called "Cloverdale." Is this going to be a giant-monster story told through the lens of a kino? Or something else? [Gateworld]
True Blood:
Ryan Kwanten says that falling in "his version" of love will cause trouble for Jason, and so will the repercussions of the fact that "he committed a small crime" by killing Eggs. (I love that he describes it as a small crime, like jaywalking.) Also, Jason starts the season in bed with two girls. And meanwhile, Arlene freaks out because she doesn't think vampires should be around children, and she feels the need to protect herself. She may do something drastic as a result. [EW]
Chuck:
Brandon Routh has a shirtless scene in the March 1 episode, and he's worked out like crazy to prepare for it. So, you know, you'd better appreciate it and stuff. [EW]
Smallville:
Justin Hartley explains what's up with the Dark Archer, whom we meet on Friday in "Disciple":
This Dark Archer, this guy from Oliver's past comes back to kind of claim what's rightfully his. They were both members of this underground society and one of the deals of this society is, when you get older, your apprentice is supposed to take your life so that you don't watch yourself decay and all that stuff. So he comes back to claim that, and people around Oliver are kind of mistaking him for Oliver.
And Hartley says Oliver and Hawkman (Michael Shanks) don't see eye-to-eye politically or in any other way, but they're forced to work together. Also, he's definitely contracted for season 10. [Newsarama]
And here are a couple pics of Ollie from Friday's episode. [SpoilerTV]


In episode 9x16, "Conspiracy," the Kandorians are trying to integrate into human society, but they start to go missing, and Clark and Zod work together to investigate their disappearance. [KryptonSite]
Heroes:
Here's the synopsis for the season finale, airing Feb. 8:
In the Season 4 finale, Peter joins forces with an unlikely ally to rescue Emma. Elsewhere, Noah and Claire fight for survival while trapped underground with depleting oxygen; Hiro reviews his past choices and takes action to stop a catastrophe.
Insert your own joke about it being way too late to stop a catastrophe. [TV Guide]
Additional reporting by Mary Ratliff.