X-Men: Apocalypse will bring back the Beast/Mystique relationship. Robert Downey Jr. explains the surprising condition for him making Iron Man 4. And will Ray Palmer have any superpowers on Arrow? Plus Walking Dead, Gotham, Agents of SHIELD, Sleepy Hollow and The Originals. Spoilers now!
Top image: Arrow
Star Wars
A passel of Star Wars rumors for today. Get out the saltshakers and let's go:
First up: Making Star Wars says they've seen concept art of a cloaked figure/cyborg character carrying what looks like a burned Darth Vader helmet. There's an image of Daisy Ridley's "Kira" running from that character, who is doing the Force choke hand gesture. The site claims that more art (none of which is online) shows further developments with those characters:
The black figure sits on a throne. He's cloaked. We see him from the side. His boots are not unlike Anakin Skywalker's from Revenge of the Sith. He is approached by "Kira." The light from outside the shrine emanates from the door way and she walks through it. The cloaked figure sits in darkness, a natural red/yellow fiery light behind him, almost like amber backlights the figure.
According to a source, "Kira" believes she is there to meet Luke Skywalker, but instead she finds the monster. In another depiction, she is facing the camera, the cyborg character is embracing her and the look on her face is one of resignation and defeat. We are looking over a character's shoulder, of what is believed to be Boyega's character.

There is a rumor she is evil. I think the film might leave off with the revelation she has joined the figure's faction. Her in-progress romance with her companion is clearly halted in this moments and shelved for the next films. I believe this is the interior of the Michael Skellig set. There is a giant castle on that island area and this is interior "throne room" if you will. It is like a cave but mechanical and dark. Think of McQuarrie's lava throne for Darth Vader concept if you've seen it. It is similar in idea.
Making Star Wars is pretty convinced that the evil cyborg character actually is Luke Skywalker, and Mark Hamill's new beard is actually covered up by the cyborg half-face mask. And they believe that this revelation breaks "Kira," so she joins him. Of course, they fully admit that it could very well be that Adam Driver is playing this character, and that Hamill's beard is included in no concept art. [Making Star Wars]
And Comic Book Movie points out that sites like Badass Digest and Slashfilm have verified the legitimacy of at least some part of the above. [Comic Book Movie]
G/O Media may get a commission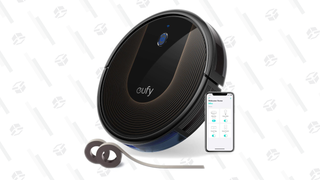 48% Off
Eufy BoostIQ RoboVac
More concept-art-based news from Making Star Wars (concept art is going to be the source of most of today's rumors): "Kira" has a junker ship with cables to haul junk across her sandy home planet. There's a cockpit with room for two pilots and there are four engines: two large and two small. Another version of the concept art has four same-sized engines. Another has a bulkier design.
There's also a description of some art that shows a crashed Star Destroyer with gravity wells and Kira directing the pig creature to salvage an X-Wing we've seen before. [Making Star Wars]
And again, the site says they've seen concept art of Ridley with John Boyega's character igniting a lightsaber and everyone being shocked by this. Included are two new characters:
The droid is smaller than R2-D2 and Chopper. His head is just above the knee, but not quiet to the hip, he's tiny. His head is silver like Artoo-Detoo but his markings are red orange (Note: I originally reported the droid's markings as being red, but I should have said orange). He has a single eye and two antennas on the top of his head. His neck has a black covering that kind of accordions when he looks around and connects to his body. He is similar to something you might see in Wall-E mixed with one of the senate cams in Star Wars: Episode I: The Phantom Menace. He has a holographic projector in the same place as Artoo-Detoo as well. His head looks up.

He's cute but kind of sad looking in a way.

Standing next to him we have an alien. He's slightly taller. His face reminds me of Station from Bill and Ted's Bogus Journey. His eyes are just black and tiny, his mouth is almost a round snout which is sort of like an armadillo. His skin is a darker brown color but in this image it appears blue from the light. He has a towel on his head and his costume appears to be similar to a kimono.
And finally, the chrome stormtroopers reportedly have a leader, who may be Gwendoline Christie's character. The commander's look includes a helmet that looks "not unlike a TIE-Fighter/AT-AT driver helmet" and has "a communication type device that moves down" on the left side.
They've also seen more art of a lightsaber made of a wampa claw, which is clipped to the chrome stormtrooper commander's belt. [Making Star Wars]
---
X-Men: Apocalypse
Simon Kinberg says that the Beast/Mystique relationship that was all over First Class and largely missing from Days of Future Past will get more time in Apocalypse. Along with, of course, more on the Charles Xavier-and-Erik Lehnsherr front. Because this is still X-Men.
Kinberg also talked about the way the film would look, saying:
We're having a lot of fun with the idea of the 80s. It's a decade that Bryan and I both grew up in and so the music, the style, the aesthetic, the legacy of 80s movies is something we're really having fun with.

... There are some very big set pieces. I don't know what the budget's gonna be because we're still a ways away from budgeting the film, but I can say that Fox has a lot of creative confidence in the team that made Days of Future Past—myself, Bryan, Lauren Shuler Donner, Hutch Parker. All of those people are coming back so in terms of a sandbox they're definitely giving us a lot of room to play creatively and take chances the way that we took some chances on Days of Future Past, and do some radical things just as I think we did some radical things in Days of Future Past.
[Collider]
And James Marsters commented on the possible recasting of Cyclops, Jean Grey, and Storm:
Who knows what's happening [with 'X-Men']? It's all just speculation at this point. If [recasting] does happen, it was because of a timeline issue. I know so little about that whole world.

Most of the time, the actors are the last to know.
[Yahoo!]
---
Iron Man 4
Here's Robert Downey Jr. answering, again, the question about continuing on as Tony Stark for another Iron Man film:
That's all being talked about on a bunch of different levels right now. To me, it comes down to what's the half-life of people enjoying a character? It's different on TV, where you expect the longevity over seasons while movies get a two or three year break. Marvel keeps stepping up its game, and I appreciate the way Kevin Feige and all the creatives there think. They are as in the creative wheelhouse as any great studio has been at any point. So it becomes a matter of, at what point do I cease to be an asset to what they're doing, and at what point do I feel I am spending so much time either shooting or promoting these films that I'm not actually able to get off the beachhead and do the kind of other stuff that is good for all of us. Each one of those movies is spread over two years and some people fit other things in. But I'm not 42, I'm turning 50 and now I'll have two small kids instead of one grown one, and eight Team Downey projects with people who are imagining I'm not just spending Warner Bros' money out of vanity, but that I'm taking it seriously. It all has become this thing that has to be figured out. It has come to a head, right now, where the points of departure will be.
And here are some lies about him doing it if Mel Gibson directs it:
DEADLINE: True, but the year he made Apocalypto, I didn't see a better movie and he was ignored and hasn't directed since. Marvel badly wants Iron Man 4 and you've said you aren't doing it. How about the idea you'll do that movie if Mel directs it?

DOWNEY: Correct.

DEADLINE: Is that our headline?

DOWNEY: Why not? That movie would be bananas.
[Deadline]
---
Star Trek
Life of Pi's cinematographer Claudio Miranda will be the director of photography for the next Star Trek film, which will shoot digitally. Also joining the crew is Kim Winther as the first assistant director, as the one from that last two films has joined J.J. Abrams on Star Wars. He's been an assistant director on Stargate, Independence Day, The Day After Tomorrow, X-Men First Class, and Edge of Tomorrow. [Trek Movie]
---
Arrow
TV Line has some teasers for the season three premiere, including that Roy is a major part of Team Arrow, Diggle's "terrified" of fatherhood, Sara makes a "memorable" entrance, and a fight scene featuring Stephen Amell and Stephen Amell. Here are some more:
* Brandon Routh makes his entrance not at Queen Consolidated, but at a location that may make you think of his previous gig, Chuck. Also, his interaction with Felicity? It doesn't go as expected.

* Some things to know about Oliver and Felicity's "explosive" first date: Ollie pulls a reverse Superman with his outfit; both parties are more than a little nervous; Oliver recounts the day he met Felicity (including an incredibly small detail about that encounter).

* If you were worried that "Olicity's" hospital lip-lock would get interrupted by any number of emergencies, fret not. "I'm very happy with the circumstances under which they have their first kiss," Guggenheim teases. "I hope it plays as unexpected. I hope it plays as emotional."

* Laurel has a nice surprise for Oliver that brings yet another smile to his face. (Seriously, so much smiling in this episode!)
[TV Line]
EP Marc Guggenheim is very excited about the Arrow/Flash crossover:
It's so frigging awesome. It really is. I have to say, I've never had so much fun writing a script before, maybe, in my life. It was such a blast to work on. We're filming the Arrow half of it - the Arrow episode - right now, and it's just so much fun.

I kept telling everyone 'we should try for Avengers.' Like, these two heroes together - big production value - we're blowing out the doors on this. The opportunity for inside jokes, and seeing all of the characters together. Like what happens when Cisco gets his eyes on Thea? Stuff like that. Moments you just can't do in a normal episode. It's just so much fun. It's really going to be a blast. Jesse Warn is directing [the Arrow episode] and he is just crushing it. Those dailies are really, really insane. Nick Tarabay plays Boomerang, Digger Harkness... he's amazing, and that weapon [of his] is a whole new visual language in the show, and a whole new visual language for our stunt guys to work with. Watching Grant and Stephen together - it's magic.
He also said that Brandon Routh's Ray Palmer is unlikely to show powers this season:
I think anything is possible. My instinct is that if Ray Palmer's going to shrink, he'll probably shrink on another show. With The Flash in existence, there's no real compelling reason for us to do super powers on Arrow. We can bring characters to Flash to have super powers. We have plans for Ray that don't involve shrinking, but our plans for Ray are actually really cool.
At the link is a clip of Felicity rushing from her new day job to help Team Arrow. [The Hollywood Reporter]
Here's a sneak peek of the premiere. [Buddy TV]
---
The Walking Dead
Andrew Lincoln explained how Rick will spend this season:
This has been by far the most fun season for me to play. It's the most difficult as well, because it's a man who's very single-minded, very determined, very much in control of whom he is, every aspect of his life. He's gone through the soul searching and he's come out on the other side. He's in this new place, which is incredibly dynamic and dangerous. I think this is very much the season that he's back. You stand alongside your family. You stand in front of me, you're a problem. And that goes for people within the group, and also the world, the people you come across.

It feels like we're moving to a new area now. It feels like we've got this incredible journey, and this incredible family of people with us. And we've gone into this room, and it's a very dark room and it's a very scary room, and we've locked the door and you're not allowed out. We're going to the other side now. And I do think it's worth stressing— we're really earning our rating this season. There are families that watch it together, but just so it's on record, guys: It's a grown-up show this season. And some of the violence is moving into a territory where it's human violence, the most scary aspect of this show. In fact, some of the most lifelike moments are the zombies now. And I think that that's a huge change. It feels real after these people have been inhabiting this world for two years, you know? The people left are going to be just as equally pragmatic and brutal, and tough, and resilient. So the clash in this season, and the conflict and the fear and the terror comes directly from the humans.
More at the link. [Entertainment Weekly]
Executive producer Gale Anne Hurd spoke about the quest to get to Washington D.C.:
We've been on the move before, obviously. There've constantly been seeking out a safe haven. And then the first season, even though it wasn't in the comic book, they did go to the CDC, they were in Atlanta anyway, so that made a great deal of sense. But now with Eugene potentially holding the key to what the crisis is all about and potentially solving it, now they have goal that's larger than themself, and even more ambitious.

I know we're going to go back inside the city, where you guys haven't really been since season 1. Tell me about that.

The show has spent a lot of time in primarily rural settings. But you're never going to find the cure to the zombie apocalypse in the sticks. Now with them embarking on a mission, they have to reenter what we call the City of the Dead. There are many cities of the dead that they'll have to encounter to complete their mission. So not only does it make it more difficult because the number of walkers, but also there are more hiding places in which their human antagonists can lurk. So however stiff and difficult the stakes have been up until this season, now they've been raised even further.
She also briefed on Beth and Gareth:
Well, she's on her own now, The good news is that she has a huge desire, unlike she did when we first met her, to live, to survive, and to rejoin the group. But that may not be what the people she's encountered have in store for her. Clearly, she's got her hands full, as you can tell from the very last shot of the promo. She's in a place where it's not all sweetness and light.

What can you tell me about Gareth? What makes him dangerous, and what sort of role is he going to play?

Obviously, we made Andrew J. Wast a recurring player this season. His role as Gareth is essentially the leader of Terminus, and to be bolted into that position when you're as young as he is shows that not only is he a very adept survivor, but he's someone that has engendered the trust of people much older than he is. So clearly he's perceived as someone who can keep them safe, who can be tough, but also someone who is going to protect the interest of the original Terminus survivors. And that means that he may easily come into conflict with Rick, who's reassumed the mantle of our group of survivors. As well as the rest of our original team, given that they're all very adept at survival now, too, and they're not going to put the needs and desires of another group in front of their own. So how they'll coexist I'm sure is going to be the crux of the drama.
Here's a season 5 featurette. [via SpoilerTV]
---
Sleepy Hollow
Sakina Jaffrey talked about the background of Sheriff Reyes:
I don't know if it'll come out, but the history of Reyes is that she grew up in Sleepy Hollow, and her father worked at Sing Sing or one of the prisons around there. I think she was very close to him and he was a wonderful guy and I think he always believed - There's a line that she has in the very first episode, ["Good people, bad luck?"], but it's as if basically people are very good and I think that that's an idea that her father had. Then he is actually wounded or actually killed in prison, so I think it twists her thinking a little bit and makes her maybe trust people a little bit less than she had been raised to do.

So I think she comes into Sleepy Hollow with a real agenda. I think like her father, she always wanted to protect people and believed really strongly in doing that and would die for that, and I think she has to come to town to save the day. She sees body parts strewn in the streets, and I think she's really on a mission. She's stressed out. There's so much going on and she's got to bring it under control. She wants the chaos to end and the hysteria to end.

... Reyes just felt the whole [department] was incredibly badly run. It was inefficient. There wasn't enough money. ...I feel like she's really, in a weird way...a mother, and the show has so much to do with mothers, and she's like the one who believes that the more you discipline your kid, the better off they're going to be. She's there to get money for the department. She's there to just get the best people working for her who she can get to work for her, and I think she thinks it's in the best interest of the town and the department. We're all mothers, right? You have Katrina, who's a mother. You have Abbie, who has mother issues and has lost her mother. I've lost a father. I find the mother theme of the show really interesting, and I think of Reyes as being really protective, maternal and protective in her hard-ass way.
[Buddy TV]
---
The Vampire Diaries
Executive producer Caroline Dries says that we'll find out where Damon and Bonnie are in episode two, and that Alaric deciding to grant Elena's request will be central to the plot. She also promises that romance will still be a part of the whole season:
We definitely keep the love stories alive. They may not play out in a traditional way, but they will feel very satisfying. … I think it's done in a way that feels fresh for a show that's in Season 6 and has had these same characters in this love triangle for a long time. I don't really call it a triangle because Stefan has become more of like a soul friend of Elena's. He's dealing with his own stuff, but these two are still very connected. It's more of, 'How do we maintain Elena and Damon's love story while he's not present?'
As for this season's new villain, Dries describes Kai (Chris Woods) as "just like a crazy person" and "Very charismatic and charming and psychotic. Likeable and unlikable in all the right ways. He's going to stick around for a while." [TV Line]
Dries has outlined a fair bit about what's coming up for some characters:
What's the deal with Tripp (Colin Ferguson)?

Dries: He came about because we wanted to show Matt thriving in Mystic Falls without supernaturals. Every episode Matt is having his life in jeopardy or someone is threatening to kill him. So, what's Matt's life like when he can not have a death threat every five minutes? We wanted to give him a father figure, so that's where Tripp came out of. But it's Mystic Falls: Not everyone is who they say they want to be, but he'll ultimately become an interesting, layered character that's not necessarily a good guy or a bad guy, but represents a normal person's point-of-view unlike the whole vampire world.

Where is Enzo and what's his role now that he's a a series regular?

Dries: We'll answer that in the next episode, but he is up to something that's on point with what's going on in the Damon-Stefan story. Damon is his best friend. He's Damon's soul mate, so Damon dying obviously took a toll on Enzo, which we never actually saw. We saw Stefan has given up — [Enzo] won't give up on [Damon]. His view on Damon is in direct conflict from Stefan's view, so it's going to continue to be this love triangle with Damon, Enzo and Stefan, where Enzo and Stefan continue to be at odds. [As for Caroline], Enzo is super charming. We'll continue to have that dynamic between the two.

What will we learn about Stefan's new lady Ivy (Emily C. Chang)?

Dries: Ivy is a potential love interest and she opens the door into this world of Stefan's we've never seen before. We get to learn his process ... of starting over and living a different identify because we've only seen him as Stefan Salvatore, high school student-turned-Elena's boyfriend. This is Stefan Salvatore as a guy who works as a mechanic in Savannah. So, that will open us to a new world for a little while.
[TV Guide]
---
The Originals
EP Michael Narducci talked a bit about Nina Dobrev's appearance as Tatia in episode 2.05:
[Nina Dobrev] got to be in scenes with both of our leads, both Daniel [Gillies] and Joseph [Morgan]. We tell a story that will make you understand her fate, what happened to her, her relationship with both brothers and why what happened between her and the two brothers is so beautiful but also tragic.
Narducci added that a true Originals/Vampire Diaries crossover isn't likely because it's difficult for either show to figure out a way to have a character drop out of an ongoing plot to travel to a different city. And Dobrev described Tatia this way:
I feel like she's the purest of them all because she is the original original doppelganger. She doesn't have anyone that proceeded her that affects her life and that she has to live up to or whose history will haunt her in the future, so she has no preconceived notions. She doesn't have all the vampire drama before her existence, so she's just pure love and hope and innocence in a way … until things get complicated, as they always do.
Joseph Morgan said that it's difficult to say one villain is stronger than another this season:
[His parents are] both threatening in different ways. I couldn't say because his father was very physically imposing… And his mother is incredibly emotionally manipulative. So they each have their tools that they use to try and get what they want, which, in fact, is where Klaus has learned that. Seeing a little more of the parents and how they to intend to get what they want, we can learn a lot more about Klaus. But I'm not sure which one is the more threatening. It depends which day of the week you catch them on.
He also talked about the relationship of Klaus with Rebekah and Elijah:
The three of them are like strangers when we find them. They very much feel the absence of Hope since evacuating her with Rebekah. There's definitely a frustration there for Klaus, being around her, because she reminds him of what he's lost. These are two people who really shouldn't be in each other's lives, but they have to be because they have a child. Because of that, they're family, whether they like it or not. They have to learn to find some sort of equilibrium. Elijah and Klaus and Hayley work best when they're on the same team, but it's just very hard to get them to that place where they all agree on what should be done. It's a struggle for him and for her to deal with the shared responsibility of this new being.

TVLINE | Could Klaus and Hayley ever turn romantic? Or are Klaus and Elijah so over being in love with the same girl?

No, I don't think that will ever happen.
[TV Line]
He did say that Klaus and Marcel will continue to butt heads:
There will always be an interesting push and pull because they are both alphas ... but Marcel took the city from the wolves back in the day, so he has the inside track on how that worked before," Morgan says. "Marcel is a great leader. Honestly, he's a better leader than Klaus, he gains the respect of his men rather than creating this world of fear so I think Klaus could learn a lot from him."
More at the link. [TV Guide]
And here are a bunch of character posters. [SpoilerTV, SpoilerTV, SpoilerTV]
---
American Horror Story
Here's a video of the cast talking about the new series. [via Huffington Post]
---
Gotham
Here are a few teasers for tonight's episode, from SpoilerTV's review:
The dynamic between Selina and Gordan [sic] is electric, and while their time is short it definitely has the underlying allure of the cat who is playing with the mouse knowing how this ends.

Harvey getting tossed around like a ragdoll by a very buff and brawny prostitute.

Robin Lord Taylor serving up major mojo and creep factor as usual. (He's my episode MVP, the guy is perfection as Cobblepot)

Some pretty intense chemistry from two former lovers on opposing sides.

Death by falling corpse. (Has this ever been done? It was pretty awesome)

The final scene.

I repeat, THE FINAL SCENE! It has me anxiously anticipating the follow-up episode, because I most certainly did not see things escalating this quickly.
Robin Lord Taylor explained why meeting Oswald Cobblepot's mother is so important to understanding him:
"Oswald was raised — though they didn't have much money — from a sort of aristocratic background. They came from Europe, and there's a sense that they had a lot of money there and then fled so it went away," he said. "But the traditions keep through. Carol Kane is bringing that to her character, and when you see more of her, you'll understand why he speaks the way he speaks and where he's coming from as a person. Again, it's something relatable in this fantastic character. I love the sort of heightened way that he speaks because it sets him apart from everybody else. It shows where he comes from and what it is about him that's different and just sort of off about him."

Speaking of off, viewers can expect a very different kind of mother/son relationship when the pair meet up on screen. "They have a remarkably close relationship. Looking at the comic book history, he was a bullied kid who didn't have any friends. He was alone and didn't have peers he could rely upon. So he found a lot of that in his mother. I feel like their connection and closeness — it's not so much creepy as it is an insular connection that they have."
Head to the link for more photos of the show filming at Staten Island's Bayley Seton Hospital. [SILive]
---
Agents of SHIELD
Here's the official synopsis of the October 21 episode:
"A Hen in the Wolf House" - Coulson's team is up against the beautiful and deadly Bobbi Morse—Security Chief for Hydra. Meanwhile, Skye's father forces Raina to reunite him with his daughter at any cost, on "Marvel's Agents of S.H.I.E.L.D.," Tuesday, October 21 (9:00-10:00 p.m., ET) on the ABC Television Network.

"Marvel's Agents of S.H.I.E.L.D." stars Clark Gregg as Agent Phil Coulson, Ming-Na Wen as Agent Melinda May, Brett Dalton as Grant Ward, Chloe Bennet as Skye, Iain De Caestecker as Agent Leo Fitz, Elizabeth Henstridge as Agent Jemma Simmons and Nick Blood as Lance Hunter.

Guest starring are B.J. Britt as Agent Antoine Triplett, Adrianne Palicki as Bobbi Morse, Henry Simmons as Alphonso "Mack" Mackenzie, Ruth Negga as Raina, Reed Diamond as Daniel Whitehall, Kyle MacLachlan as The Doctor, Simon Kassianides as Sunil Bakshi, Adam Kulbersh as Kenneth Turgeon, Dale Waddington as Dr. Lingenfelter, Chase Kim as waiter, Caleb Smith as bartender, Amir Talai as Schneider, Valorie Hubbard as Aunt Cindy, Jessen Noviello as lead tac agent, Adam Dunnells as Brick, Ronnie Blevins as Deacon, Charles Fathy as head chef and James Hutchison as tac agent guard.

"A Hen in the Wolf House" was written by Brent Fletcher and directed by Holly Dale.
[Marvel]
Here's a cast interview. [via SpoilerTV]
Here's Henry Simmons on Mack and Fitz's friendship:
Here's an interview with Iain De Caestecker and Elizabeth Henstridge on the future of FitzSimmons:
---
Haven
Go here for photos from episode 2.06, "The Old Switcheroo Pt. 2," which is described thusly:
Mara capitalizes on the fallout from the latest trouble, forcing Nathan and Duke to make a desperate and dangerous gamble to get Audrey back before they lose her forever.
Here are the titles and descriptions for episodes 5.07 and 5.08:
Episode 5.07 - Nowhere Man

A paranormal trouble tears Audrey and Nathan apart just after they were reunited.

Episode 5.08 - Exposure

Audrey must call in outside help as she is no longer immune to the troubles.
---
Supernatural
Go here for more photos from episode 10.03, "Soul Survivor." [SpoilerTV]
---
Doctor Who
Here's the promo for "Mummy on the Orient Express." [via Blogtor Who]
---
Constantine
Here's a new poster and preview. [Hero Complex]
Additional reporting by Charlie Jane Anders and Abhimanyu Das