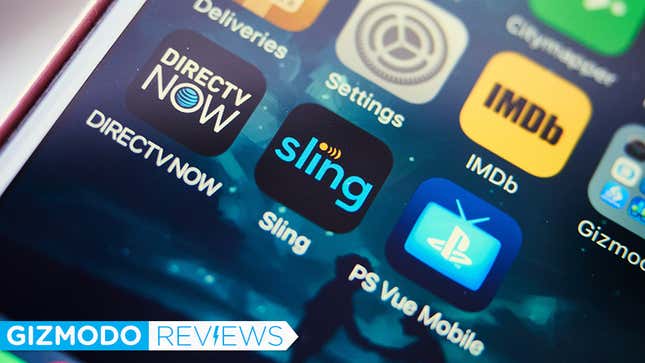 Watching Turner & Hooch and crying, because I'd completely forgotten the dog dies, I came to a conclusion. Not about the film I'd been streaming on my laptop for the last two hours—but about the service I'd been streaming it from. AT&T's DirecTV Now is currently an adequate streaming service, but it is not the best, and in the streaming world, where there aren't blackout areas or exclusivity deals or giant cable and dish monopolies, that actually matters.

Vizio's Latest TVs Go All Quantum
DirecTV Now is AT&T's answer to the upstarts SlingTV and PS Vue, which have brought streaming TV off of the cable box and onto phones, laptops, and set-top boxes. Depending on the plan you pick, you pay $35 to $70 for access to 60 to 120 channels of live TV. The low end of that costs significantly less than cable—which has plans that might start at $35, but also includes lots of taxes, and the monthly rental fee for a cable box. On the high-end, DirecTV costs roughly the same as a small 100-plus channel cable package (annoying fees included).
The benefits of going all streaming are having contract-free same day access to traditional cable channels, avoiding price-inflating fees, and perhaps more importantly, a supremely flexible way of watching television. It means you can watch from your TV, or your laptop, or from your phone no matter where you are.
In testing, DirecTV streamed just fine to my laptop, but when I tried to cast the content from my laptop to my TV it choked—much as Chromecast does when I try to stream Sony's streaming competitor, PS Vue. The service faired well on my iPhone, though, it only streams via AirPlay from there. There are also apps available for Apple TV and the Amazon Fire Stick (with apps for other devices expected next year).

The Android app, theoretically, lets you stream to a Chromecast without the bugs of streaming from a browser. Unfortunately the app, which currently has a rating 2.9 stars out of 5, repeatedly crashed on my Android tablet. The service has been live for just two days and already already the support forum on AT&T's website has nearly 1000 threads, with close to 600 of them being found in the streaming subforum. Many of the other threads were complaints about how barebones DirecTV Now is. (We reached out to AT&T for comment on the bugginess of its product, and we'll update if it responds.)

And at launch, DirecTV Now simply doesn't offer enough to overcome its problems. It's buggy as hell and its barebones. Dish Network's SlingTV has similar problems, but it costs just $25 per month. And, in fact, you get less with DirecTV—it's a no show on the Roku, Playstation and Xbox platforms.
But really the problems with both services reflect the glaring reliability problem streaming live TV faces. When you're plopping you rear on the couch to catch the Cowboys game you're paying for the privilege of watching, you don't want to have to worry about whether the app will time out or stutter or suddenly develop a critical log in error. You want to watch the game. So the bugs present in streaming systems like DirecTV Now and SlingTV feel exacerbated. They're untenable versus a bug you might find in a social platforming app on your phone or some game on your computer.
Bugs on a streaming platform are death even without considering the service's final flaw: DirecTV Now's costlier tiers don't even have DVR or good on-demand content (though DVR is in the pipeline for next year the company says). This is an overpriced variant on SlingTV instead of a true competitor to the current streaming champ: PS Vue. PS Vue starts out more expensive (currently $40, but normally $50). For the money you get a service that's reliable, lets you record episodes, and even has a library of videos on demand is much more extensive that DirecTV Now's.

Which leaves the DirecTV Now service feeling almost...insulting. DirecTV, and its parent company, AT&T, have been in the TV game a very long time. Both companies know the ins and outs of the business just as well as Dish, who wisely brands its streaming platform, SlingTV, differently to avoid confusion or negative association.
Throwing the DirecTV name onto a new streaming service is DirecTV and AT&T making a statement. "We're here to play," is what they want to say. Unfortunately "we're here to ruin your night of TV" is all I, and many frustrated users, have heard. If you haven't cut the cord don't let DirecTV be the service to entice you, and if you have cut the cord and need a good live TV streaming service then run towards Sony's inviting embrace. As it stands there's three live streaming TV service, but only one good one: PS Vue.
README
Cheap
Buggy
PS Vue is better