As expected, Indiana Jones 5 has now officially been moved to a 2021 release date. But that's just one of several premiere shifts Disney announced today, which include a Marvel movie, live-action adaptations, and more.
Mary Poppins Returns has moved up a few days, from December 25 to December 19 of this year, while Jungle Cruise, which stars Dwayne Johnson and is currently in production, will be released October 11, 2019. Maleficent 2 is now set for release on May 29, 2020. An untitled Marvel movie has been moved up a bit from July 30, 2021 to February 12, 2021, while an untitled live-action movie originally set for July 9, 2021 will take that July 30 slot. Two untitled live-action movies slated for November 8, 2019 and February 21, 2021 have been removed from Disney's schedule entirely. And finally, the ridiculously titled Ralph Breaks the Internet: Wreck-It Ralph 2 is now officially just called Ralph Breaks the Internet.
The Indiana Jones film, reportedly getting some new script developments, moves from July 10, 2020 to July 9, 2021. Really, outside of the Indiana Jones move, most of this release date information isn't of much major consequence. We knew Jungle Cruise and Maleficent 2 were in production so those getting dates makes sense. The other shifts feel fairly simple. There probably just aren't projects ready for those dates yet.
That untitled Marvel movie going from July 2021 to February is interesting though. Right now, for 2020, there are untitled Marvel movies scheduled for May 1, July 31, and November 6. The next one after that was supposed to be May 7, 2021—but now the company is slotting something into that first quarter slot which Captain Marvel has lined up for next year, and Black Panther rode to great success this year. Maybe this will be a similar new hero origin story or maybe even Black Panther 2.
Though we probably won't know until next summer what that movie is, the move suggests Disney already has something in mind and is excited about it.
G/O Media may get a commission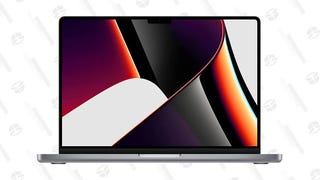 Save $300
2021 14" 1TB MacBook Pro