Could Melinda May quit SHIELD on Agents of SHIELD? We know the names of two new characters coming to Star Wars. Michael Shannon teases his role in Batman v Superman. Plus, Jessica Jones details, how The Flash could introduce Killer Frost, and a look at The Bastard Executioner. Spoilers Now!
Star Wars: The Force Awakens
Poster artist Drew Struzan is (perhaps unsurprisingly) pleased by what he's seen of the film:
I got to read the script and subsequently I've seen half of it and I can tell you and the fans this, Honest to god, it is far and away probably going to be THE BEST Star Wars you've ever seen. … Well it's beautifully made and it's a wonderful story.
[/Film]

Meanwhile, Disney has trademarked two names related to the franchise: "Valara" and "Mon Destra". No other information has been found about the characters, but speculation links Mon Destra to Rebel Alliance leader and former Senator Mon Mothma, while "Valara" could be a possible (but unlikely) reference to Expanded Universe character Valara Saar. Saar was a character created as an archetypal version of the "Force Adept" character class from the Wizards of the Coast Star Wars Roleplaying game. [/Film]
G/O Media may get a commission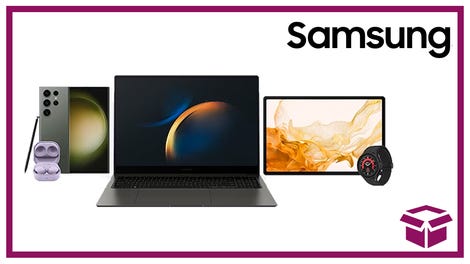 24 hour deals
Discover Samsung - Daily Deal
---
Skull Island
Jurassic World scribe Derek Connolly has been hired to write last-minute changes to the film's script. [CBR]
---
Batman v Superman
Heroic Hollywood alleges that Lex Luthor will commit a "heinous" act during the film: Kidnapping Martha Kent. How or why is not explained, but as ever with rumors like this, have that salt pinch at the ready.
Michael Shannon shares a humorous anecdote to the set that inadvertently tells us that he may have a larger role in the movie than previously thought:
I was in my costume, and I couldn't use my fingers because in the sequel I have flippers instead of hands. So I had these wax flippers on my fingers, and I couldn't open the door, and I could hear Zack [Snyder, the director] being like, 'Where's Shannon? Where the f—k is he?' and the whole crew was standing around. I was like, knocking on the door with my flippers, 'Let me out of here!'
Since the beginning of the year, rumors have been floating that Shannon's deceased General Zod may somehow be resurrected and transformed into the DC Comics villain Doomsday. Although the "flippers" Shannon mention could be a hint to a recently rumored scene featuring Doomsday fighting Wonder Woman with bladed "bone swords" for hands. [Vulture]
---
X-Men: Apocalypse
Here's director Bryan Singer giving you a guided tour of Storm's apartment in the film, courtesy of his Instagram page. [Coming Soon]
---
Doctor Who
A set report from fan site BlogtorWho has offered a wealth of new details about the next season of the show. Such details include the fact that the opening two-parter features a cliffhanger so major that the BBC decided against a cinematic premiere of the story as they did for "Day of the Doctor" or "Deep Breath" in order to preserve the twist. Also, the 9th episode of the season—allegedly penned by Mark Gatiss—will be a "controversial" found-footage episode, and the penultimate episode of the season will feature just a single actor: Peter Capaldi, all by himself. Much, much more at the link. [Blogtor Who]
Speaking of Capaldi, the actor shares how the Twelfth Doctor is becoming a little more like himself in the upcoming season:
I think they write for me much more now and I think it's more expanded into aspects of my personality possibly that they are more familiar with. There are various things we do and he does in the TARDIS that are more sort of personal to me. He's more like me I guess, in his stupider aspects [laughs] and less like me in his heroic aspects. Because he's much more heroic and braver than I would ever be.
Here's some pictures from current filming, taking place in an American Diner on Cardiff Bay's waterfront (the diner was previously featured in the season 6 episode "The Impossible Astronaut"). The scenes being filmed allegedly featured The Doctor rocking out on a guitar, and Clara serving as a waitress.
---
Agents Of SHIELD
Ming-Na Wen teases that Melinda May faces a tough decision in season three: whether or not to leave SHIELD:
In any situation when someone is so devoted to their work as May was, but then realizing over the last two years that S.H.I.E.L.D. isn't really what she dedicated her life to. That there was definitely a lot of corruption to S.H.I.E.L.D., as well as uncertainty now with the Inhumans being brought in by Coulson. It's going to be figuring out her final decision in Season 3 and I think Andrew will probably play a part in it.
[TV Guide]
---
Incorporated
The Syfy show about a man infiltrating a sinister near-future corporation to save the woman he loves has cast Dennis Haysbert, David Hewlett, and Ian Tracey. Haysbert plays series regular Julian, a Security Chief who is "the most feared person at SPIGA headquarters." Hewlett will play Chad, an executive at SPIGA who has "reached his position by appeasing his superiors and taking credit for the achievements of his subordinates", and Tracey will play Terrence, a corrupt businessman.
---
Jessica Jones
Alleged episode titles for the series have been posted online:
1x01 - AKA Ladies Night (52m)

1x02 - AKA Crush Syndrome (52m)

1x03 - AKA It's Called Whiskey (54m)

1x04 - AKA 99 Friends

1x05 - AKA The Sandwich Saved Me (50m)

1x06 - AKA You're a Winner (54m)

1x07 - AKA Top Shelf Perverts

1x08 - AKA WWJD?

1x09 - AKA Sin Bin

1x10 - AKA The Kumbaya Circle Jerk

1x11 - AKA I've Got the Blues

1x12 - AKA Jewel and the Power Man

1x13 - AKA Smile
As with all online rumors, take this with all the grains of salt. [Reddit]
---
Arrow
Producer Wendy Mericle briefly discusses the addition of Curtis Holt—DC character Mr. Terrific—to the show in season 4:
He's just a genius. I don't think we'll see him morph into Mr. Terrific this season, but he's somebody who brings a different tone and element, more in keeping with the lightness that we're bringing into this season. He also is one of our only other LGBT characters, and we're excited to have that on the show to explore those things, particularly through the prism of that character and with his relationship to Felicity and the team.
[Collider]
---
The Flash
Executive Producer Gabrielle Stanton on how the show will build up to turning Caitlin Snow into the supervillain Killer Frost:
It's going to be a slower burn on that. That was just to keep people guessing. Who knows when Killer Frost is going to turn up? We did the helmet. We try to drop little Easter eggs. What I really like about 'The Flash' is that I am a comic book fan, so I know a lot of this stuff, but my husband is not a comic book fan at all, and he still gets everything.
[CBR]
Here's a brief new promo for season 2, giving us our first look at the show's take on DC comics superhero Atom Smasher (who, in the show, is a villain):
---
Fear The Walking Dead
Robert Kirkman touches on how the show differs to The Walking Dead [Comic Book]
We're focusing on different people in a different location, telling new stories, getting into new trouble. We're going to see zombies unlike we've ever seen before. Very early on in the zombie-apocalypse, learning how to survive is something that is really going to hit these characters hard. You're going to be on the edge of your seat.
---
Ash vs Evil Dead
Here's a new poster for the show. [Coming Soon]
---
The Bastard Executioner
Finally, here's a new promo for the series as the cast and crew tease what's to come.
---
Additional reporting by Gordon Jackson and Charlie Jane Anders. Top image: Doctor Who.