Rumor has it our first glimpse of the new star of time-traveling epic Doctor Who, Matt Smith, will be as part of a 15-minute special episode starring all eleven incarnations of the alien super-wizard. Too good to be true? Maybe.
The Daily Mirror, a British tabloid which is somewhat more reliable than the Sun, but not so's you'd especially notice, is claiming that Smith and the first ten Doctors will all appear in a special 15-minute episode filmed for the BBC's Children In Need charity night. The episode will air in November, and the first three Doctors, the late William Hartnell, Patrick Troughton and Jon Pertwee, will be represented by footage from their old stories. A BBC source supposedly tells the Mirror:
This is a momentous episode for all Doctor Who fans. Never before have all the Doctors been in the same room, let alone in the same show. It's been a logistical nightmare getting all the actors together and available for shooting on the same days. But the script has already been started and it's classic Doctor Who – really witty and very sharp. Viewers will see the Time Lords regenerating and emerging one by one from the Tardis, each with their own quirky opening line. David Tennant is the central character in the episode. He's trying to hunt down some special time travel apparatus. What he's actually lost has not yet been decided, but the idea is for all the other Doctors to club together to help David find it. The actors who are no longer with us, William, Jon and Patrick, will make special cameo appearances, with footage from original shows being flashed up on screen. It's a really exciting project – and all for a good cause.
I have to say, it sounds incredibly naff, and yet probably a lovely bit of fan service.
There's certainly some precedent for this. A couple years ago, David Tennant's Doctor met Peter Davison's, in a brief Children In Need skit. And back in 1993, all of the Doctors got together for the eyeball-bleeding awful episode "Dimensions In Time," also for Children In Need:
Top image from IDW's Doctor Who comic "The Forgotten," via Publishers Weekly. [The Mirror]
G/O Media may get a commission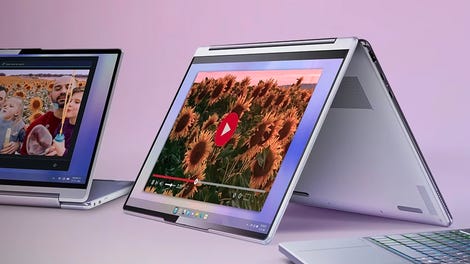 up to 70% off
Lenovo Spring Clearance