There's being into video gaming and there's identifying as a hardcore gamer. Both are fine! But the latter group has developed a well-earned reputation for being rife with bigoted jerks, from the whole mess over Gamergate to more recent instances like PewDiePie's repeated instances of racism. It's also not a coincidence that hardware manufacturers have long learned to appeal to hardcore gamers with branding exercises that could be described as Mountain Dew with an extra spoonful of cringe.

On Saturday, gaming giant Razer waded directly into the latter territory by reposting a "De Wey" meme, apparently unaware the punchline is making fun of Ugandans.
Razer, WYD? If your brand is gaming, you should probably know to be extra cautious around gamer memes, because half of the time they're horrible.
The "De Wey" meme has evolved into a racist joke for reasons our sister site Kotaku accurately called "excruciating to explain," but it's a mashup of two memes. One is a completely harmless, if dopey, drawing of Sonic the Hedgehog franchise character Knuckles by a YouTuber using the name Gregzilla. The other is making fun of a Ugandan action movie titled Who Killed Captain Alex, which contains the line "He knows the way of using a gun":

Fans of the PUBG streamer Forsen brought the meme to new heights by mobbing him in-game during his Twitch broadcasts and quoting the movie at him, while also playing as black characters.

The movie's original quote has now been bastardized into the phrase "do you know the way," and it's often followed by racist jokes that have nothing to do with Captain Alex, like exaggerated imitations of the clicking from Khoisan and Bantu languages, or cracks about the Ebola virus outbreak in West Africa. Meanwhile, Gregzilla's cutesy drawing of Knuckles, so often used as a mouthpiece for other popular memes, has become the primary mouthpiece for this exaggerated Ugandan caricature.
G/O Media may get a commission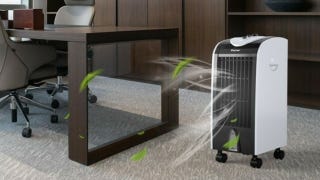 Save $10
Evaporative Portable Air Conditioner Cooler with Filter Knob
"De Wey's" racial connotations became so explicit that, as Kotaku reported, some Overwatch League teams stopped engaging with fans that posted it or publicly distanced themselves from its use.
So at some point, this meme transitioned from in-joke to something much less palatable—the exact kind of racist meme one might want to avoid if they were, say, tweeting from a major brand account. Yet when other Twitter users suggested tweeting out the meme was "a misstep," it responded with this:
Numerous other Twitter users called out the company in the replies below the post, though it didn't respond to any of them directly bringing up that the meme is racist.
As colleague Alex Cranz noted in 2016, Razer's previous juvenile antics have included things like tweeting "You call yourself Pro? S my D." So while this appears to be yet another example of a brand getting itself stuck in the social media race to the easiest joke, there's precedent for Razer being kind of dumb in its gamer branding.

A Razer spokesperson told Gizmodo that they would try to "figure out the particulars of this situation," and we'll update this post if we hear back.
Update January 28th, 2018 at 3:30pm ET: Razer has taken down the original post and tweeted, "We shared a tweet from a member of our community. It was highlighted to us that the meme shared may have negative undertones."
"We reached out to the user who clarified he was unaware of the connotations and had no ill-will," the company added. "Both parties decided it best to remove the content."