We defrosted action icon Dolph "F—k You Spaceman" Lundgren and got a chance to chat about He-Man's leathery undies, the state of today's action films, and why he almost didn't reprise his role in Universal Soldier: Regeneration.
Lundgren is back as super-soldier Andrew Scott, and fighting Jean-Claude Van Damme with the high kicks of death. Their latest flick Universal Soldier: Regeneration brings both super-soldiers, face to cloned-cryo-borg face. But how can that be, since Scott died in the first film? Because of science. Now shut up and eat your awesome.
A lot of people are going to want to know how your character ended up alive. Can you explain to fans that maybe haven't seen the film?
Because I was killed off the first time? Well, look, I guess it's because the producers wanted me to be in the movie. I was extremely busy working on another movie in Canada [and] also preparing to work on another movie. So I ended up not being in it for that long. But the director John Himes, he came up with a pretty interesting take on the franchise, especially with my character. I think these days, people don't question these things, it's not like back in the old days. Whereas now, if the movie is entertaining, if the character works, you could bring him back 100 times, even if he's killed every time. It doesn't matter, people don't have time to think about this stuff anymore.
G/O Media may get a commission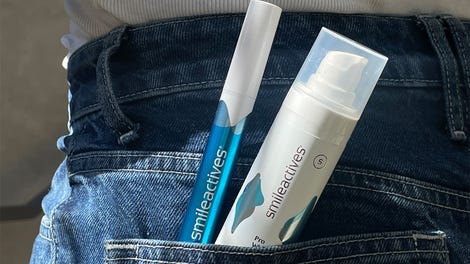 58% off
Whitening Powerhouse Pen & Gel Duo
When the producers approached you about bringing back this character what did you think?
I wasn't too excited about it to start with, because I haven't done any sequels, and the guy was killed off 15 years ago or more. Then I was very busy. So I turned it down many times, about six times. But John, he had an interesting take on the character. I thought it was a bit different, and something I wanted to try. So I decided to do it, though it took me a little bit of convincing...
Roland Emmerich, who directed the [first Universal Soldier] picture that I was in — it was a little bit over-the-top comedic, and violent but in a funny way. And John's take was a little different. He's a little bit more serious director in a way, he wanted to make a little more existential. He wanted this character to sort of voice the dilemma of all the Universal Soldiers they've done over the years, there's a little bit of a Frankenstein myth behind his idea of the film. These are monsters, but do we root for the monster or the creator? Because the monster kills his creator, you see. I thought that was interesting, and there was something to work with as an actor, instead of running around killing people. I don't think I kill too many people in this movie, I think it's just two. It must be a new record.
I noticed that, your kill ratio is pretty low in this film, what was that like for you?
Yeah, I could hardly sleep at night, because I only killed two guys. I was unfulfilled or something. [Laughs] I'm just kidding. I've had my fair share of body counts in other movies, so it's okay.
It's so great that this film is coming out because we really need more big action heroes, do you feel like this will reawaken that big action hero?
Well I hope so, so I can be in a few of them. It's anybody's guess, I suppose. But sometimes people get tired of certain things. Maybe some people will get tired of the CG-driven films, and maybe they want a little more blood and guts, a little more muscles, a little more reality. If you want those type of stories, then you need to put people in those roles who are believable. I guess you gotta reach out to some of the old guys. Because there's something about the so-called 80s action hero. People were more physical in those days, a lot of them were real fighters like Seagal and Van Damme. Arnold was very physical and Stallone, it was a different era. I think now with MMA being so big, and a lot of action fans watch these cage fights and so forth, where you see real violence. It gives you some sort of reference, and I think filmmakers are realizing that. Of course they're still making a lot of CG pictures but I feel like there's a feeling that real action is coming back. ,
So what do you think is that status of action movies right now?
I'm not such an expert because I don't watch that many movies, to be honest with you. There's such an outpouring of superhero movies, that I'm not really interested so much in — guys flying from building to building, in funny looking suits. I think it's more for little kids, and that's obviously a very CG-driven film, where you can take anybody off the streets and make them a superhero, and that's what the common man likes, because they can dream about being a superhero.
Whereas in my day, when I started, the kind of movie Stallone, for instance, makes, it was more of a role model. You were more like a role model as a person. If you were an action star, you were expected to be physically fit. To show up looking good, and actually be able to live up to your image to some extent. Where, that's not the case anymore. And that's why I think Stallone puts all these guys together in a movie [The Expendables], there's a certain energy that's different. Than if you just throw money at something and make everyone do fantastic things. But if you have guys like [Jason] Statham and and Jet Li that can actually fight, it's different. I kind of miss that a little bit. So that's what I think is happening with action movies, in some areas.
But people loved you as He-Man! What about your role in Masters of The Universe, I hear there's a script being shown around Hollywood, think you'll ever pop up in a new He-Man movie?
Yeah I was wearing leather underwear. It was very cold on the set, I remember. That was a bit of a superhero, you're right. That was the only one I've done, that was a fun movie, it was a kids' movie. There's nothing wrong with it, that was 25 years ago. There's nothing wrong with those movies, they're fun... I heard about that [remake] a couple years back. They said that Brad Pitt was going to play the role or something. But no I haven't heard about it. There's a new Conan being made, there's been plenty of Punishers, I think there's been two or three after I did mine. There are too many superheroes to keep track of, I'm a little bit lost. But I think it's cool. There's an appetite for the escapism.
Would you do a cameo, if they made a new He-Man movie and you were offered a role?
Yeah, why not. Why not. [Laughs] Even if I had to put the suit back on, I'd do it.
What was it like preparing for the epic fight between you and Van Damme?
I'm always training quite a bit in my life, doing karate and weights, so I'm usually in pretty good shape. The stunt guys, they talk to you a little bit before, want you like to do, what don't you want to do. Then they decide the big fight, and you look at it. They show it to Jean-Claude and to me, you change some of the moves. Then we rehearse it together, simplify it together for the camera. And then when you're shooting you change it up, and it's quite a long fight too. I think we shot for 5 or 6 days that one fight. Jean-Claude is very smart when it comes to fights, he has very good ideas. I haven't worked with him in a while. Of course I've known him for a long time, but I remember he was clever even the first time I met him. He has very good ideas.
Universal Soldier: Regeneration is out on DVD.