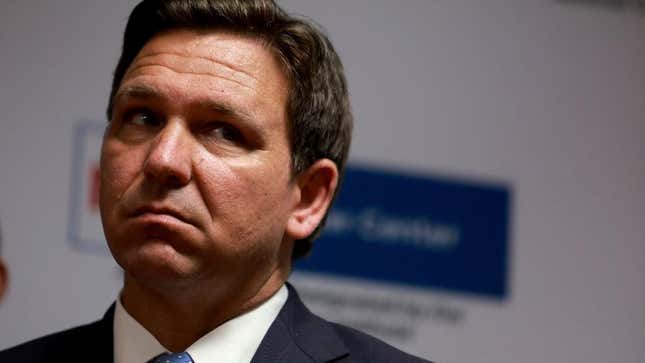 Former President Donald Trump appeared to accuse Gov. Ron DeSantis (R-Florida) of "grooming" and partying with underage high school girls in a Truth Social post on Tuesday. Trump "reTruthed" the photo from a post by Dong-Chan Lee who is a self-described "paleoconservative" and a supporter of Trump, who had attached a photo of DeSantis at a party with what's alleged to be three underage girls.
Twitter Is Shifting Right | Future Tech
The photo shows DeSantis at a party with the young women, which was first shared by Hill Reporter, a Democratic PAC, in 2021 showing the girl's faces blurred out while one holds a beer. DeSantis was reportedly 23 years old and teaching at Darlington, a private boarding school in Rome, Georgia, in 2001 when the photo was reportedly taken.
The photo Lee posted on Truth Social said, "Here is Ron DeSanctimonious grooming high school girls with alcohol as a teacher." Trump reshared the photo, writing, "That's not Ron, is it? He would never do such a thing!"
Two of DeSantis' former students at Darlington told The New York Times that DeSantis had attended two parties, and although there was alcohol at the events, both had occurred after graduation. Another former student told the outlet under the condition of anonymity, "As an 18-year-old, I remember thinking, 'What are you doing here, dude?"
DeSantis did not immediately respond to Gizmodo's request for comment.
Trump's recent attack on DeSantis follow a series of comments in which the former president has called him "disloyal" and labeled him as "Ron DeSanctimonious" on his Truth Social app. He claims to have rebuilt DeSantis' career, and in a post wrote, "Ron DeSanctimonious, who I made Governor in BOTH the Primary and the General, is also a globalist, and so are his donors," RollingStone reported.
In another post, The Hill reported Trump wrote, "The real Ron is a RINO [Republican In Name Only] GLOBALIST, who closed quickly down Florida and even its beaches, loved the Vaccines and wasted big money on 'Testing.' How quickly people forget!"
DeSantis responded to Trump's recent barrages against his character during a press briefing saying he faces "defamatory stuff every day I've been governor." He told reporters, "I'd just say this. I spend my time delivering results for the people of Florida and fighting against Joe Biden [...] I don't spend my time trying to smear other Republicans."
Trump's no stranger to name calling and bullying those who pose a political threat to him. In 2016, he nicknamed Senator Ted Cruz "Lyin' Ted Cruz" and hurled insults at his wife, making comments about her looks. He called fellow Florida man, Sen. Marco Rubio, "Little Marco." He also mocked the way Rubio awkwardly drank water while giving the GOP's State of the Union response. Oh, and let's not forget all of the times he threw jabs at "Crooked Hillary."