Donald Trump is still convinced that former president Barack Obama ordered wiretapping of Trump Tower last year, despite a congressional investigation and multiple intelligence agencies stating unequivocally there is no evidence of his claim. But that didn't stop our Cheeto-in-Chief from reviving this old, tired fantasy during a television interview that aired this morning. This time around, however, Trump did not want to elaborate on what he believed.
The President abruptly ended an interview with CBS reporter John Dickerson when pressed on his unsubstantiated claims that his Manhattan skyscraper was wiretapped ahead of the 2016 presidential election. The encounter, which was filmed on Saturday to coincide with Trump's 100th day in office, started with a very simple question about President Trump's relationship Obama.
Things get juicy around the 8:30 mark:
"[Obama] was very nice to me, but after that, we've had some difficulties. So it doesn't matter. You know, words are less important to me than deeds, and you saw what happened with surveillance," Trump said.

Dickerson asked the president to clarify his comment. "I think our sides been proven very strongly and everybody's talking about it, and frankly, it should be discussed—I think that is a very big surveillance of our citizens. I think that's a very big topic. And it's a topic that should be number one, and we should find out what the hell is going on," Trump answered.
Dickerson pressed the president to explain his remarks again, and whether he stood by his unproven claims. Trump became visibly frustrated, and ended the interview. "OK, it's enough. Thank you. Thank you very much,"he said, before shooing Dickerson out of the room.
G/O Media may get a commission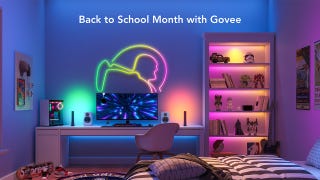 Back to School
Back to School Month with Govee Sale
To recap, the absurd and unsubstantiated claim of wiretapping all started about two months ago, when Trump fired off a series of early morning tweets:
Trump did not present any evidence of the supposed wiretapping, and also notably misspelled the word "tap." It was a sad day for democracy, and also for anyone who has ever wanted a president who can spell.
About a week later, senior counselor Kellyanne Conway tried to broaden Trump's claims during an interview with Meet The Press when she said, "You can surveil someone through their phones, certainly through their television sets—any number of ways." She later added that monitoring could be done with "microwaves that turn into cameras" and that "we know this is a fact of modern life."
That, of course, is bullshit, as were the initial claims themselves. Former Director of National Intelligence James Clapper outright denied them during his own interview with Meet The Press, one day after Trump's false accusations. "There was no such wiretap activity mounted against the president, the president-elect at the time, as a candidate or against his campaign," he said.
Keep shuffling those papers, Don.