President Trump finally admitted that "this is Nixon/Watergate." But in his view of the circumstances Obama is playing the Nixon role and... someone else functioned as the "White House Plumbers." At least, that appears to be the analogy. Thus far, White House aides have refused to clarify the metaphor.
In an early morning tweet storm, Trump sent out a series of livid messages from his Mar-A-Lago vacation home via an Android device which is generally believed to indicate he's doing the tweeting himself. In addition to claiming Obama had his "wires tapped" at Trump tower, he asserted that a request for the "wire tapping" was "turned down by court earlier."
That last part about courts turning down a wire tap request has led many to speculate that Trump's tweets are related to a Breitbart News article recounting conservative radio host Mark Levin's assertions that the Obama administration is working on a "silent coup" against Trump. Levin cited a Heatstreet report that claims the FBI sought a FISA warrant that was eventually granted. From that report:
Contrary to earlier reporting in the New York Times, which cited FBI sources as saying that the agency did not believe that the private server in Donald Trump's Trump Tower which was connected to a Russian bank had any nefarious purpose, the FBI's counter-intelligence arm, sources say, re-drew an earlier FISA court request around possible financial and banking offenses related to the server. The first request, which, sources say, named Trump, was denied back in June, but the second was drawn more narrowly and was granted in October after evidence was presented of a server, possibly related to the Trump campaign, and its alleged links to two banks; SVB Bank and Russia's Alfa Bank. While the Times story speaks of metadata, sources suggest that a FISA warrant was granted to look at the full content of emails and other related documents that may concern US persons.
G/O Media may get a commission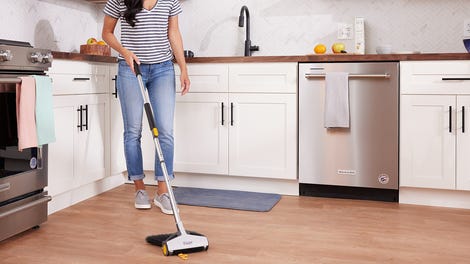 BOGO 50% Off
Flippr - BOGO 50% Off
The New York Times reported in January that law enforcement and U.S. intelligence agencies had intercepted communications between members of the Trump campaign and Russia as part of an ongoing investigation into the country's interference with the 2016 U.S. election. In February, the Times spoke with "four current and former American officials" who claimed that the Trump campaign had "repeated contacts with senior Russian intelligence officials." So far, it has been revealed that both General Michael Flynn, Trump's National Security Advisor and Jeff Sessions, Trump's Attorney General have falsely stated that they had no contacts with Russia. In Flynn's case, he was speaking to the FBI. In Sessions' case, he was speaking to congress under oath. Both situations are theoretically illegal.
Theories about nefarious intentions by the Obama administration have also been fueled by a Times report that aides scrambled to preserve evidence about the alleged Russia investigation by getting into the hands of as many intelligence agencies and members of congress as legally possible.
But the implication of Trump's tweets is, presumably, that something illegal went down here. No official evidence has been made public that an investigation of Trump's campaign even exists. Members of his team are repeatedly caught falsely denying their own contacts with Russia and many are asking, "why?" Trump has repeatedly denied any wrongdoings and attempted to discredit the conclusion of 17 intelligence agencies that Russia wanted to tilt the election in his favor. What made Trump's tweets this morning remarkable is that it appears the pressures of scandal are getting to him. Rather than sticking with denials, he's moving into offensive mode with a "I know you are but what am I"-style attempt at changing the conversation.
CNN reports that an anonymous former official from Obama administration has categorically denied the accusations saying, "This did not happen. It is false. Wrong." Obama's former foreign policy advisor, Ben Rhodes, was willing to go on the record and tweeted at Trump, "No President can order a wiretap. Those restrictions were put in place to protect citizens from people like you." An Obama spokesperson, Kevin Lewis, went further in his denial, "Neither President Obama nor any White House official ever ordered surveillance on any U.S. citizen. Any suggestion otherwise is simply false."
The fact that Trump chose to make such an accusation via Twitter, the fact that he offered no evidence of support, and the fact that his aides have refused to clarify what he meant, all indicate that he isn't really taking this seriously. Matthew Miller, former Director of the Office of Public Affairs for the Department of Justice, tweeted this morning that, "By confirming it publicly, Trump has also pretty much guaranteed no one can be charged for leaking the existence of this FISA warrant."
Ironically, secret FISA courts were one of Edward Snowden's core targets of criticism about our national security apparatus. Donald Trump has stated that Snowden should be executed.
And just this week, Reuters reported that the current White House wants to renew FISA laws including Section 702 which allows for broad collections of online messaging and traffic data from tech companies like Google, Facebook Inc, Microsoft Corp, and Apple. "We support the clean reauthorization and the administration believes it's necessary to protect the security of the nation," an anonymous official said.
If it's true that a court authorized the surveillance of a Trump server, that means he's under criminal investigation for a matter related to national security. We might just see Trump become a Snowden fan after all.