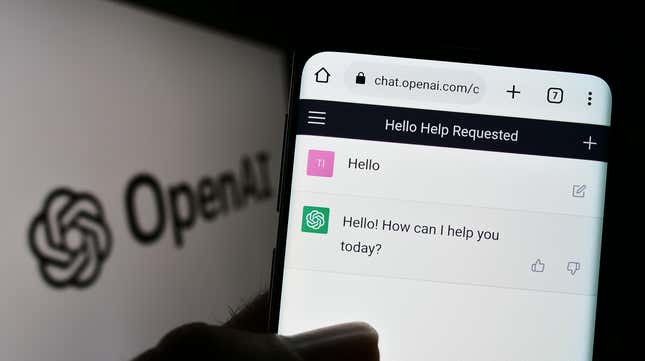 Can an artificial intelligence go head-to-head with human lawyers in the highest court in the land? A legal services company says it's willing to pay $1 million to fuck around and find out.
On Sunday, DoNotPay CEO Joshua Browder made a wild proposition to any lawyer slated to argue an upcoming case in front of the U.S. Supreme Court. Let DoNotPay's AI lawyer, which is built on OpenAI's viral GPT-3 API, argue the case before the court, Browder said, in exchange for $1 million. All the human lawyer would need to do is wear AirPods and repeat to the court what DoNotPay's robot lawyer argues.
"DoNotPay will pay any lawyer or person $1,000,000 with an upcoming case in front of the United States Supreme Court to wear AirPods and let our robot lawyer argue the case by repeating exactly what it says," Browder wrote on Twitter on Sunday night. "[W]e are making this serious offer, contingent on us coming to a formal agreement and all rules being followed."
As explained by Browder, DoNotPay is proposing this wacky—and possibly illegal—idea to prove that its robot lawyer can handle complex legal cases. Although DoNotPay's robot lawyer is set to make its debut in a U.S. courtroom next month to help someone contest a parking ticket, Browder wants the robot to go before the Supreme Court to address hypothetical skepticism about its abilities.

"We have upcoming cases in municipal (traffic) court next month. But the haters will say 'traffic court is too simple for GPT,'" Browder tweeted.
DoNotPay started out as a simple chatbot back in 2015 to help people resolve basic but infuriating scenarios, such as canceling subscriptions or appealing parking tickets. In recent years, the company used AI to ramp up its robot lawyer's capabilities, equipping it to dispute medical bills and successfully negotiate with Comcast. But arguing before the Supreme Court and fighting a traffic ticket are, obviously, two very different things.
From a technological perspective, it's also not entirely clear if AirPods would even be allowed in the Supreme Court. Bringing any electronic device into the Supreme Court while it's in session is prohibited, according to the court's website.
Browder told Gizmodo via Twitter DM on Monday that there were accessibility rules that allow for exemptions to the court's electronics policy in order to provide for reasonable accommodations. In addition, the DoNotPay CEO clarified that $1 million would be a donation to the lawyer and would only be done if the Supreme Court allowed it.
"We would never do anything against the rules," he told Gizmodo.
Gizmodo reached out to the Supreme Court on Monday morning to ask if AirPods and AI lawyers were allowed in court but did not hear back by the time of publication.
Browder said he had not heard from any lawyers interested in partnering up for Supreme Court cases but had received "very serious offers" from several lawyers involved in Federal and Appeals Court cases.
"We just want to make it work. I think the use of technology to help people access their legal rights is important. We are doing this because it sends an important message to other courts to allow assistive AI in their courtrooms," he said.