If you received an email from "hackers" claiming they recorded you watching porn and will send all your data to your loved ones if you don't promptly pay up, take a beat. It's probably a scam.

A Dutch journalist first spotted the sextortion scam in the Netherlands on Thursday, reporting that scammers had already made €40,000 from the ploy. SecGuru, a security researcher in the Netherlands, then found a similar sextortion scam targeting people in English, Bleeping Computer reported.
Victims of the scam receive an email from what appears to be their own email address, with the subject line also stating their email address plus "48 hours to pay." In the English version of the email scam, senders allege they are part of an "international hacker group" and tell the targets that they have 48 hours upon reading the message to send them $800 in bitcoin or they will automatically send all of the user's messages and videos to all the contacts in their device.
"We are aware of your little and big secrets... yeah, you do have them," the scammers write in the English version of the email. "We saw and recorded your doings on porn websites. Your tastes are so weird, you know.."
Sextortion scams specifically target victims by alleging that they recorded a user visiting adult websites. Bleeping Computer reported that the English version of the scam has received four payments since Wednesday, making about $2,353.
G/O Media may get a commission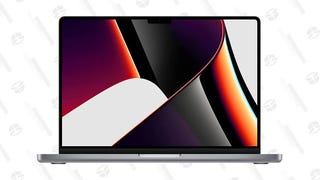 Save $300
2021 14" 1TB MacBook Pro
Bleeping Computer further notes that if you did receive this type of email, you should delete it and do an antivirus scan of your computer.
This scam echoes a similar scheme that popped up over the summer. In that version, the scammers claimed to have targets' passwords and had recorded videos of them masturbating. The fraudsters demanded payments of as much as $2,900 to stop them from releasing the non-existent video.
A trick like this is a understandably easy way to scare people—preying on people with some of their most intimate information—but it's hardly a new type of scam. And again, in this case, is an illegitimate threat.