Still have a few firing synapses after trying to wrap your head around Grant Morrison's unified theory of DC that is Multiversity? Then you'd best not miss out on Annihilator, in which fiction and non-fiction collide — and a struggling writer must keep his mind and the universe from imploding!
---
New Issues
Annihilator #1 (Legendary) — A down-and-out Hollywood screenwriter must team up with his own fictional character in order to save the universe in a tale that could only come from Grant Morrison. Frazer Irving (A).
Batman: Future's End #1 (DC) — A new gaggle of Future's End #1 issues hit today, all set five years in the future, led by this issue. Batman uses dangerous new tech in his fight against crime, but why? Scott Snyder and Ray Fawkes (W), Aco (A).
G/O Media may get a commission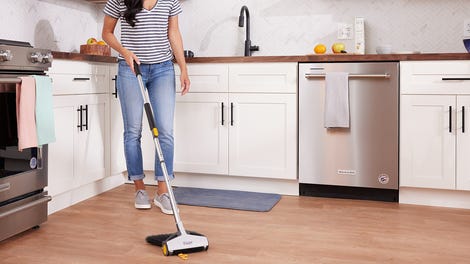 BOGO 50% Off
Flippr - BOGO 50% Off
Copperhead #1 (Image) — A single mom takes over as sheriff of a small mining town on a far-off planet, but immediately runs into trouble from… well, everybody. Jay Faerber (W), Scott Godlewski (A).
Dawn/Vampirella #1 (Dynamite) — A demon summons Dawn and Vampirella for a catfight, but the two supernaturally gifted women begin a story-telling contest instead. Joseph Michael Linsner (W/A).
Edge of Spider-Verse #1 (Marvel) — Spider-Man Noir, the web-slinger of the 1930s, gets drawn into a battle with Mysterio as well as a cosmic event affecting Spider-heroes everywhere. Fabrice Sapolsky (A), Richard Isanove (A).
George Romero's City of the Dead: Act Two #1 (Marvel) — Tears after Act One, the survivors of NYC are horrified to discover the zombies are growing smarter. Dalibor Talajic (A).
Hawkeye #20 (Marvel) — The final issue of Kate Bishop's Hawkeye adventure. As Marvel puts it: "THE FINAL SHOWDOWN FOR ALL THE MARBLES! THE MARBLES ARE A METAPHOR! " Matt Fraction (W), Annie Wu (A).
Prometheus: Fire and Stone #1 (Dark Horse) — A new ship is sent after the missing crew of the Prometheus, but what awaits them on LV-223? Paul Tobin (W), Juan Ferreyra (A).
Rot & Ruin #1 (IDW) — Bran Stoker award-winning writer Jonathan Maybery's post-zombie-apocalypse adventure continues as Benny, Nix, Lilah and Chongchase after a mysterious plane. Tony Vargas (A).
Prophet Strikefile #1 (Image) — A who's who of the Prophet universe, for aliens to gods. Brandon Graham and Simon Roy (W), Giannis Milonogiannis and various (A).
Stumptown #1 (Oni) —Greg Rucka's private eye is back in an all-new ongoing series, where he investigates a soccer riot that threatens to turn not just ugly but deadly. Greg Rucka (W), Justin Greenwood (A).
Whedon Three-Way (Dark Horse) — A collection of Buffy Season 10 #1, Angel and Faith Season 10 #1, and Serenity: Leaves on the Wind #1, all for $1. Various (W/A).
Wild's End #1 (Boom) — A rural English village of anthropomorphic animals changes forever when brutal aliens invade. Dan Abnett (W), I.N.J. Culbard (A).
'68 Homefront (Image) — While Vietnam rages, a new war begins back in the America between the dead and the living. Mark Kidwell (W), Kyle Charles (A).
---
Trade Paperbacks and Hardcovers
All-Star Future Shocks (2000AD) — A collection of self-contained short stories for the annals of 2000 AD by Neil Gaiman, Grant Morrison, Mark Millar, and many more of comics' biggest writers and artists. Various (W/A).
Cringe: An Anthology of Embarrassment (Birdcage Bottom) — A collection of indie cartoons about shame and awkwardness. Various (W/A).
Dave Dorman's Wasted Lands Omnibus (Magnetic Press) — A complete collection of Dorman's cult favorite scifi spaghetti western stories. Dave Dorman (W/A).
Legal Drug Omnibus (Dark Horse) — Get ready for the 2015 sequel with this complete collection of the hit manga. Drugstore employees by day, Kudo and Rikuo investigate paranormal mysteries for their enigmatic boss by night. Clamp (W/A).
Legion of Super-Heroes: The Curse Deluxe Edition (DC) — Three of the LoSH's greatest adventures. Paul Levitz and Keith Giffen (W), Keith Giffen and various (A).
The Man Who Laughs (Selfmadehero) — Overthrown and disfigured as a mere infant, a former prince returns to bring true justice to Britian's 19th century justice system in this graphic adaptation of the classic Victor Hugo story. David Hine (A).
Shoplifter (Pantheon) — Numbed by her dull work and her failure to realize her dreams, Corinna Park begins shoplifting to feel some kind of small thrill. Michael Cho (W/A).
Showcase: Captain Carrot And His Amazing Zoo Crew (DC) — Get the back-story of DC's animal heroes as the Captain takes center stage in Grant Morrison's Multiversity. Roy Thomas and various (W), Scott Shaw and various (A).
Springheeled Jack (Titan) — Sir Jack Rackham searches for the monstrous creature who kidnapped his love in the steampunk necropolis of London. David Hitchcock (W/A).
Winter Soldier: Complete Collection (Marvel) — Freed from his Soviet programming, the soldier formerly known as Bucky battles his fellow former sleeper agents and Doctor Doom himself. Ed Brubaker (W), Butch Guice and Michael Lark (A).
X-Men: The Asgardian Wars (Marvel) — The X-Men, the New Mutants and Alpha Flight battle Loki in this classic '90s adventure. Chris Claremont (W), Paul Smith and Arthur Adams (A).
---
As usual, here's the list of everything being released to comic stores tomorrow, and you can find your nearest comic retailer here.