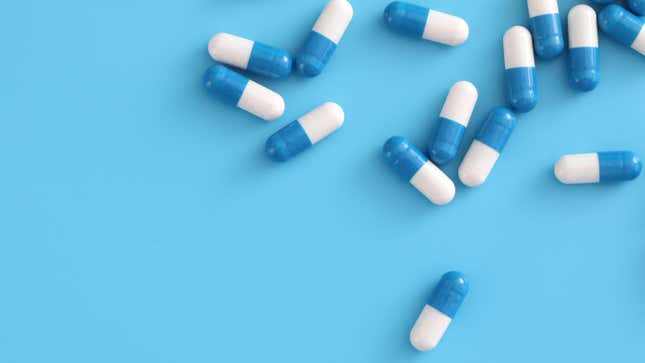 Ed Cara has been covering the health and science beat at Gizmodo for five years, which has often included diving deep into important drug approvals and monumental medical breakthroughs. You can send him tips at ed.cara@gizmodo.com.
Mental Health Apps Are a Privacy Nightmare
The top story:
In July 2021, the Food and Drug Administration approved Novo Nordisk's Wegovy, the first new obesity treatment in nearly a decade. The drug is part of a relatively novel class of medicines called incretins, which mimic the hormones that help regulate our appetite. More than one expert has heralded these drugs as "game-changers" that will revolutionize the field of obesity treatment, with average weight loss results approaching the success seen with surgery. So far, they appear to have lived up to the hype, but not without complications. Novo Nordisk has experienced widespread shortages of Wegovy and Ozempic (a lower dose version of the same active ingredient, though only approved for type 2 diabetes) for the past year and a half. These shortages have led to a slowdown in new and recurring prescriptions, including for patients who have taken Ozempic to manage their diabetes.
The supply problems are supposed to finally be alleviated this year. But Wegovy will remain a luxury item for many people who want it, since the drug isn't currently covered by Medicare and many private insurers. Without insurance, it can cost upwards of $1,500 a month.
Another upcoming storyline in 2023 is the emergence of Eli Lilly as a competitor to Novo Nordisk. Phase III results released last year indicate that their drug tirzepatide can provide even greater weight loss on average than Wegovy (over 20% from baseline for those on the highest doses). The drug was approved for type 2 diabetes in May 2022 under the brand name Mounjaro. And with the FDA agreeing to fast track their typical review process for the drug last fall, tirzepatide could win approval as an obesity treatment as soon as late 2023.
Other candidates that have their own advantages over these two are expected to reach the public within the next decade. And with over 40% of adult Americans estimated to be living with obesity, all of these drugs could see widespread use. At the same time, it's unclear whether any of them will be truly affordable for the foreseeable future.
Unconventional wisdom:
What we're waiting for:
People to follow:
Companies to watch:
A longshot bet:
The future of FDA-approved psychedelic medicine could be here sooner than later. Clinical trials in recent years have continued to find that talk therapy paired with psychedelic drugs like psilocybin and MDMA can provide substantial mental health relief, even in patients who haven't responded to other treatments. Last summer, the Intercept revealed government documents indicating that the Biden administration expects approvals of these therapies to arrive within the next two years. Likely to be first on the list? MDMA-assisted therapy for people with post-traumatic stress disorder.