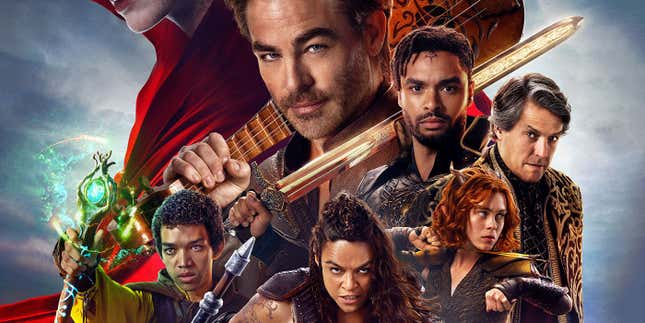 Ever since it was first shown off to the world, there's been plenty of curiosity about Dungeons & Dragons: Honor Among Thieves. At a time when the TTRPG is more popular than ever, and with that 1999 movie basically wiped from the general populace's minds, it only makes sense that Hollywood would capitalize on that with big-name actors like Chris Pine and Regé-Jean Page. Now after some delays, and the actual D&D game getting caught up in its own separate controversy, it turns out that Honor Among Thieves is...pretty good?

Gillian Jacobs Reacting to Her D&D Character Sheet From Community | io9 Interview
Yes, that appears to be the general consensus among those who've seen it at South by Southwest in Austin, TX! Critics and audiences have called the movie from Jonathan Goldstein and John Francis Daley a pretty good time with a game cast and a delightfully fun energy. And for those who've worried about the film in regards to its source material, some of those impressions have noted that it captures the spirit of the games quite well. And by the accounts of those who've seen it, it doesn't sound remotely ashamed of itself in the slightest, which is even better.
Which glowing praise as seen above, Paramount's definitely going to be bragging about those quotes in the weeks before D&D's release. The studio had a very strong year with films like Top Gun: Maverick and Scream 5, plus surprise hits like Smile and The Lost City. Between D&D and this weekend's Scream 6, Paramount's starting off 2023 pretty strongly ahead of later releases like Mission Impossible: Dead Reckoning and Transformers: Rise of the Beasts.

Dungeons & Dragons: Honor Among Thieves hits theaters on March 31. We here at io9 weren't at SXSW and didn't get a chance to see it—but we'll hopefully have a review of the film closer to its release.
---