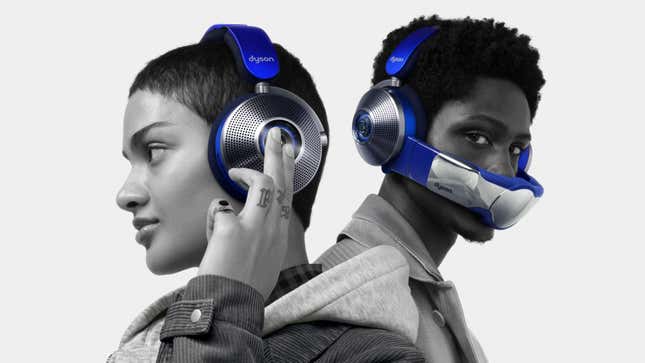 Initially revealed over a year ago, Dyson's first audio product, a pair of noise-canceling headphones called the Zone that still manages to incorporate the company's expertise with cleaning and purifying air, officially goes on sale today in the US with a price that's as expensive as both Apple and Sony's premium wireless headphone offerings, combined.
Dyson has made a name for itself with cleaning products that offer some of the best performance and most innovative designs on the market, and the Dyson Zone headphones continue that reputation. Featuring oversized ear cups packed with 40-millimeter neodymium drivers, the Dyson Zone offer active noise cancellation powered by eight microphones to detect and reduce the intensity of environmental noises around the user by up to 38 decibels, and an extra pair designed to acoustically camouflage the Zone's most unique feature: an air filtration system powered by 10,000 RMP electric motors also located in each ear cup.
Paired with filters that need to be replaced every 12 months or so, the air purifying motors promise to remove particles like pollen, dust, bacteria, and even unwanted gases like sulfur dioxide, with the clean air sent to the user's mouth and nose through a removable face mask. Battery life is rated up to an impressive 50 hours even with ANC turned on, but drops to a problematic 1.5 hours with the air purifying set to full power.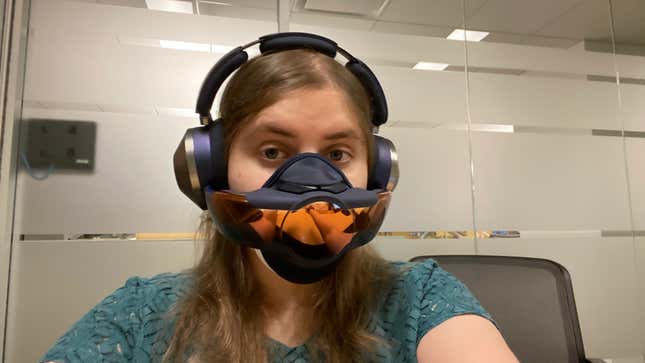 Last December, ahead of demos of the product at CES 2023, Gizmodo had the chance to try out the Dyson Zone headphones in our offices in New York, and we walked away both impressed and hesitant as many of our concerns about the headphones were validated. For starters, they're heavy, weighing in at 670 grams with the visor attached, which is heavier than both the Sony WH-1000XM5 and Apple AirPods Max wireless headphones combined.
The visor, which is made of flexible plastic so that it can adapt to heads of various shapes and sizes, was also a challenge to attach and remove. Installation requires the earcups to be pulled away from each other, which is most easily accomplished by putting them on. But that then requires users to attempt to slot each side of the visor into each earcup without seeing what they're doing, which we found to be a bit frustrating. The visor did deliver a welcome breath of fresh air without feeling like our faces were being blasted by a fan, but the Dyson Zone requires an additional N95 mask to keep Covid at bay.
The Dyson Zone's price tag remains its biggest downside, however. Dyson's vacuums feel like an obvious improvement over the competition when you use them, with impressive suction and solid battery life that helps justify their premium pricing, but the Dyson Zone don't necessarily feel like an upgrade over Sony's WH-1000XM5 headphones or the Apple AirPods Max. The air purification undoubtedly works as well as Dyson claims, but it's hard to say if it's an added feature worth $949, or closer to $1,000 if you opt for the premium version which includes a leather carrying case. If you think it does, starting today, you can grab a pair from Dyson's website, at one of the seven Dyson Demo Stores across the country, or from Best Buy's website.