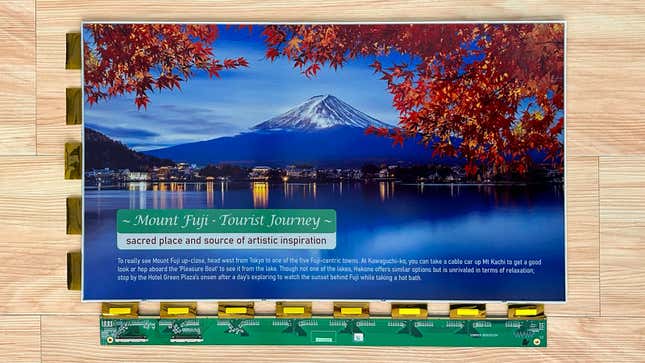 With the first E Ink devices having debuted almost two decades ago, it's been a long road transitioning the technology from black and white to color. But yesterday, E Ink revealed some tantalizing details on its latest color electronic paper panels, Spectra 6, with color reproduction that looks almost as good as what you can get in LCDs.
It's Magic: LG's Rollable OLED TV
Color e-paper has actually been around for quite some time, but the earliest versions could only display a very limited palette of solid colors and were mostly used to display static images and signage. If your grocery store has upgraded to those electronic price tags with text that switches from black to red to indicate a sale price, then you've already experienced E Ink's basic color electronic paper technology.
E Ink's development of its color electronic paper has had a trickle down effect when it comes to where it can be implemented. I can remember seeing an E Ink demo at CES years ago of a poster-sized e-paper panel displaying full color pieces of artwork. It looked great, but it took 10 to 20 seconds for the panel to completely refresh and display a different piece of artwork, making it all but useless for consumer devices like e-readers and e-notes, where page turns are now expected to be more or less instantaneous.
So while color E Ink devices have been available to consumers since 2020, their color performance doesn't quite reflect the true capabilities of the technology, or how good color E Ink can really look. That's soon going to change, with more devices adapting E Ink's Kaleido 3 and Gallery 3 color panels, which can display 4,096, and 50,000 different shades, respectively.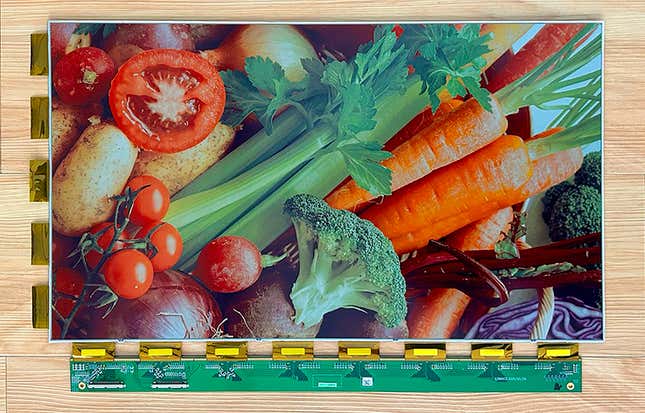 But if you really want to see how good color E Ink panels can look, you need to look at the technology the company is developing for static signage, where it doesn't really matter how long it takes to change the image on screen, because it doesn't change that often. Spectra 6 won't be showing up in consumer devices any time soon, but it promises to be a big step forward for digital signage, where imagery can be occasionally swapped out and easily updated without the hassle of having to get something physically printed.
E Ink hasn't revealed the full technical specifications of Spectra 6 just yet, but it will be available in a variety of sizes with a contrast ratio of 30:1 and resolutions up to 200 pixels per inch. Where Spectra 6 improves on Gallery 3, which is capable of reproducing over 50,000 colors using a four particle ink system, is a bump to six different color particles in each microcapsule. E Ink has yet to divulge just how many colors the new Spectra 6, six ink system can reproduce, but the samples it shared alongside yesterday's announcement look almost as good as an LCD screen.
It will be quite a few years before the Spectra 6 technology trickles down to consumer devices. Among the details E Ink didn't share yesterday was how long it takes to refresh a Spectra 6 panel. However, the company did point out that the panels can create a "partial image flashing effect" to make messages or advertisements more dynamic and eye-catching.
---
Want more of Gizmodo's consumer electronics picks? Check out our guides to the best phones, best laptops, best cameras, best televisions, best printers, and best tablets. And if you want to learn about the next big thing, see our guide to everything we know about the iPhone 15.