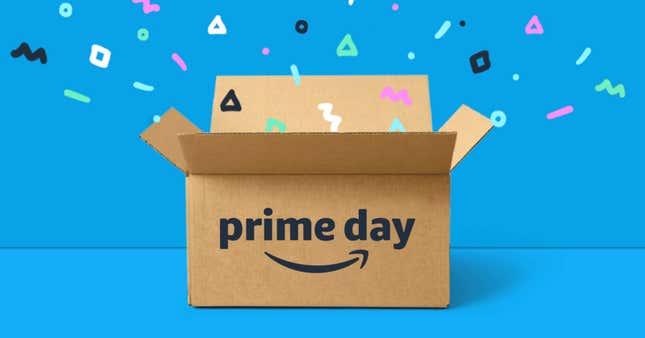 The annual Amazon Prime Day event runs from July 11-12 in 2023, but many of the best early deals are already available, if you're an Amazon Prime member.

Top 5 Shopping Tips for Amazon Prime Day
Amazon Prime Day was created for one reason, to get people to sign up as Amazon Prime subscribers. But the mini-holiday, which I've been covering since it launched in 2015, has succeeded far beyond its original intent. It has given birth to an entirely new shopping season for Amazon and for its many retail competitors, both online and brick-and-mortar. Target, Walmart, Best Buy and other stores have their versions as well, so there will be a lot of comparison shopping for savvy buyers to do.
One of the big secrets of Prime Day is that many of the best deals start weeks early for Prime Members. Lots of those early deals are on Amazon's own products, from brands like Kindle, Fire TV, Ring, Eero, and Echo, but sometimes early deals on Apple or Samsung products, video games, and other items slip in.
Based on my years of experience as a tech reporter and product reviewer, some of the better early deals are below. Note that Prime Day deals, both early ones and ones that will run the 48-hour Prime Day window, can unexpectedly change or even vanish, so we'll update this list periodically as needed.
---
Fire Tv Stick 4K Max
Amazon's version of a Roku device, this streamer is becoming increasingly popular as a built-in smart TV app, especially in Amazon's own Fire-brand TVs. But if you have an older set or one without decent smart TV software, this 4K add-on is a steal at $25.
---
Amazon Fire HD 10 tablet, 10.1", 1080p
Even the most basic iPad is over $300, so the Fire HD line has always been a favorite for a cheap tablet with a large, fairly decent screen. On sale for under $100, this 10-inch tablet is mostly great for video streaming, and makes a great device for kids.
---
Amazon eero Pro mesh WiFi router, $150 (usually $485)
Amazon's own version of a mesh WiFi system, this is a great deal for three units, which should be enough to cover even a large home.
---
Expired: Apple Watch Series 8, $359 (usually $429)
The latest Apple Watch, note that it gets down to this price periodically if you're patient.
---
Anker MagGo, $70, after a 30% off coupon (usually $100)
Anker makes some of my favorite accessories. This is a combo power cube and phone charger, with both USB-A and USB-C ports. Make sure to click the checkbox on the product page for the 30% off automatic coupon.
---
Samsung Galaxy Buds 2, $89 (usually $150)

This is the lowest price I've seen on these pretty good AirPods alternatives.
---
The Legend of Zelda: Tears of the Kingdom, $52 (usually $70)
Yes, the latest Zelda game is already discounted. Note this is for the physical version of the game, however.
---
Amazon Fire TV 50" 4-Series 4K UHD smart TV, $289 (usually $450)
When you need a 50-inch 4K TV, but don't want to spend more than about $300, it's hard to go wrong with Amazon's Fire TV brand, especially as it includes Fire TV software, which saves you the trouble and expense of buying a separate streaming media box.
---
Amazon Fire TV 75" Omni QLED Series $879 (usually $1,100)

LG and TCL are my usual go-to TV brands, but if you're not going to spring for an expensive OLED TV, this QLED (which sounds the same, but isn't) model has local dimming, HDR support, and built-in Fire TV software, all at a very good price for a 75-inch set.
---
When is Amazon Prime Day?
Prime Day officially starts on July 11 at 3 a.m. EST and will continue for 48 hours, through July 12. That said, early deals are already available, and some deals will continue after July 12.
Do you have to be an Amazon Prime member?
To get these Prime Day deals, yes – and that's the main purpose of Prime Day, to get you to sign up for the $140 per year subscription. One helpful hack, you can sign up for the 30-day free trial and cancel afterwards. Just watch out, because it can be tricky to cancel if you're not careful.
Will other stores have Prime Day deals?
Yes and no. Since Amazon started Prime Day in 2015, competitors have held suspiciously similar sales on overlapping days. Target, Best Buy, Walmart and similar shops, both online and real-world, have had their own special days with names like "Black Friday in July." In 2023, Target is holding Target Circle Week from July 9-15, and Walmart is holding Walmart Plus Week from July 10-13. It makes sense to comparison shop between these different stores to get the best price.
Top 5 Shopping Tips for Amazon Prime Day
Top 5 Shopping Tips for Amazon Prime Day
More on Amazon Prime Day:

Originally published June 25, 2023 and updated periodically.