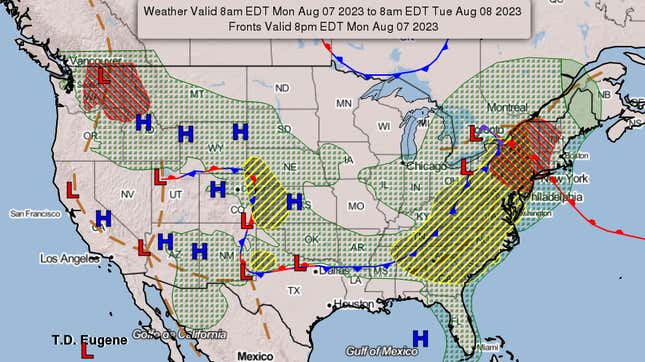 More than 100 million Americans living on the East Coast are on the lookout for severe weather conditions that could form this week beginning Monday afternoon.
Arctic Blast to Send U.S. into Dangerous Deep Freeze, Imperiling Holiday Travel
A storm system has moved east past the Great Lakes and will reach a cold front that's sitting around the Mid-Atlantic sometime this afternoon, according to an alert from the National Weather Service (NWS). This is likely to create several concerning weather conditions "containing the potential for tornadoes, damaging straight line winds, large hail and flash flooding." In all, some 120 million people live in the areas under severe storm watch.
TheMid-Atlantic, especially around Washington D.C. and Baltimore, are at higher risk of seeing especially severe weather. Most of that area is currently under a 4 out of 5 moderate risk for thunderstorms later today, according to the Baltimore-Washington NWS station. Tornadoes and large hail could occur in the region along with damaging winds that could reach over 60 miles per hour, CNN reported.
"Some perspective: This is the first moderate risk for severe weather in at least 10 years for much of our forecast area," the NWS Baltimore-Washington station tweeted earlier today.
"The greatest risk for all of these hazards will be across the northern Mid-Atlantic region, but the severe storm and flash flood threats will extend across a broad region covering the Upper Ohio/Tennessee valleys into the Southeast, Mid-Atlantic and Northeast," the alert explained.
The region from Atlanta, Georgia to Binghamton, New York is under a 3 out of 5 "enhanced risk" for the incoming weather, the Associated Press reported. Most of that region is expected to see heavy rainfall and potential flash flooding.
The severe weather has messed with this summer's already hectic air travel. "The FAA is re-routing aircraft around the storms heading to the East Coast as much as possible," the Federal Aviation Administration tweeted this afternoon. "Soon we will likely have to pause departures in and out of East Coast airports including NYC, Philly, DC, Charlotte and Atlanta."
More than 1,000 flights have been canceled today, and over 3,000 flights have been delayed, according to data from FlightAware. Major airports throughout the coast are already seeing a lot of the delays and cancellations. The Hartsfield-Jackson Atlanta International Airport is experiencing more than 300 delays for incoming flights, and more than 200 incoming flights have been canceled.
Communities across the midwest and central plains are recovering from the line of storms that will affect the Atlantic coast today. There were 10 reported tornadoes that swept through multiple states including Iowa and Illinois this past weekend, ABC News reported.
Want more climate and environment stories? Check out Earther's guides to decarbonizing your home, divesting from fossil fuels, packing a disaster go bag, and overcoming climate dread. And don't miss our coverage of the latest IPCC climate report, the future of carbon dioxide removal, and the un-greenwashed facts on bioplastics and plastic recycling.