PayPal and eBay, two brands that were best friends forever for like 15 years or so, are destined to be platonic besties no longer.

Per Recode, eBay announced on Wednesday that it plans to stop using PayPal as its back-end services provider, and when their contract expires the online marketplace will switch to a long-term deal with Amsterdam-based company Adyen. That means Adyen, not PayPal, will begin processing all transactions on the site, and PayPal will be relegated to second-class status:
After the existing eBay-PayPal agreement ends in 2020, PayPal will remain a payment option for shoppers on eBay, but it won't be prominently featured ahead of debit and credit card options as it is today. PayPal will cease to process card payments for eBay at that time.
Ebay's interest here is in controlling more elements of the checkout process in order to make the user experience more hassle-free like Amazon—and the money on the table highlights the stakes.
Per Recode, Adyen registered just $178 million in 2016 compared to PayPal, which made $11 billion that year. In other words, Adyen hit a potential jackpot if all goes well; it's heading for an IPO this year. All this counts on eBay turning around from a rough couple of years that's seen competitors like Amazon and Alibaba steal much of its turf.
G/O Media may get a commission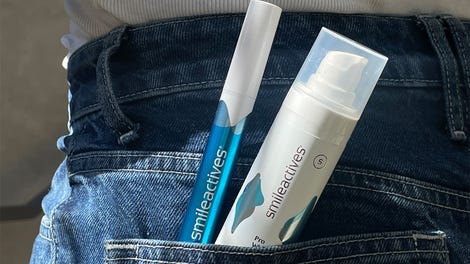 58% off
Whitening Powerhouse Pen & Gel Duo
"We believe that we can offer a more seamless experience while giving buyers and sellers more choice for payment and payout options," eBay CEO Devin Wenig told analysts, the Wall Street Journal reported.
PayPal has been eBay's main payments provider since 2003 and from 2003-2015 was a subdivision of the company. In mid-2014, around the time PayPal was beginning to eclipse eBay in value, the latter company provided more than 30 percent of PayPal's profits and 50 percent of its revenue, per Recode.
So this breakup has got to sting a little, even if PayPal has long since moved on to sowing its wild oats across the rest of the e-commerce industry. According to CNBC, stock in PayPal fell 10 percent on Wednesday, though the Journal noted its executives are trying to paint eBay as simply not a profitable enough focus:
[Ebay] executives added that PayPal's eBay volume was growing slower than its non-eBay volume. They said that trend would get a boost from recently-signed agreements for PayPal to be a payment option at large retailers including Walt Disney Co. , Dillard's Inc. and QVC Inc. for the first time.
PayPal will be fine, however: It earning reports say profits rose 59 percent in the last quarter of 2017 compared to the prior year.