This week at TreeHugger: We review High Tech Trash, the book that advises against kissing or otherwise licking your computer or electronic device, no matter how much you love it. Now that summer is officially here, we take a peek at three power-sipping gadgets that will stretch your batteries when the heat is on and the air conditioning is out. We're still waiting for a dearth of non-toxic computers and other electronics to hit the market with the RoHS Directive going into effect next week (though we are having fun watching products fly off the shelves as a result of the legislation that has been pending for years). Lastly, we issue a challenge to readers near and far: build us a solar-powered air conditioner! It's not getting any cooler around here.
The press material for High Tech Trash say that it "is a wake-up call to the importance of the e-waste issue and the health hazards involved," which is kind of a high-tech way to say "don't chew on your motherboard, and don't put your computer in the gutter (or even the trash) when you're done with it. It's gross on so many levels." The book gives an overview to the full range of product life cycle issues for consumer electronics, with a focus on the human toxicity issues stemming from byproducts, emissions, leachate, and solid waste (here's a hint at the outcomes: none are pretty). Sadly, the book is still a bit light on solutions, leaving us to wonder if the books readers will still be using their old CRTs as bookends when they're done with this tome.
Here's one for you: a cooler, a fan and a lantern walk into a bar. The bartender says, "Hey, are you guys the band?" The three gadgets say, "Only if you'll let us play unplugged!" Ha! Get it? Seriously though, check out these three power-sipping, battery-powered gadgets that will help keep your food cool, help keep you cool, and help you look cool all summer long.
G/O Media may get a commission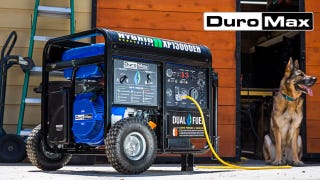 Black Friday Sale
DuroMax Generator Sale
July 1 is less than a week away, and you know what that means: that's right, the Restriction of Hazardous Substances (RoHS) Directive is almost in effect. As a result, we're on the lookout for a bevy of new electronics proudly displaying their non-toxicity at the behest of the European Union's attempt to keep lead, mercury, cadmium and other undersirables from our consumer electronics. Some Apple products that won't be on the shelves in Europe starting next week (because of their non-compliance) are Apple's iSight, AirPort Base Station With Modem, AirPort Base Station Power Over Ethernet & Antenna, iPod shuffle External Battery Pack, and all versions of the company's eMac. Fruit and heavy metals: not such a good combination.
Lastly, we continue to be fascinated by the idea of a solar-powered air conditioner; it just makes so much sense. Solar power=sun, sun=heat, heat=sweat, sweat=turn-off to the ladies, which means we need more air conditioning when the sun comes out. We're pretty sure we aren't the only ones with this problem, so we challenge you: build us a solar-powered air conditioner! Beware the dangers of ammonia, and hop to it. The gauntlet has been thrown, loyal EcoModo readers. Dare to dream!
TreeHugger's Ecomodo column appears every Tuesday on Gizmodo.