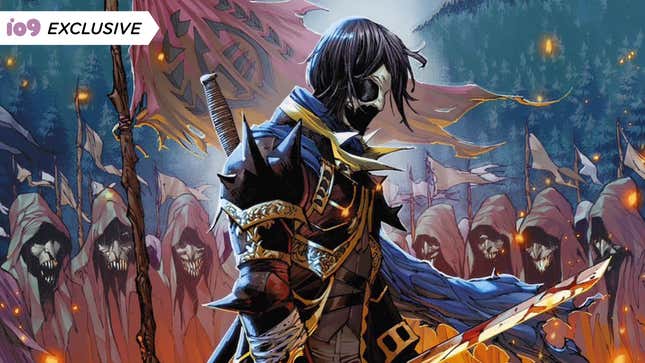 After working with writer Scott Snyder on the dark apocalyptic horror of Nocterra, artist Tony S. Daniel is taking on both writing and art duties for his next creator-owned comic—a fantastical war for the safety of America between witches and demons.
Featuring colors from Marcelo Maiolo and being published by Image Comics, Edenwood follows a young man named Rion who finds himself thrust into the unlikely role of a hero after he kills a power demon capable of crossing dimensions. But with America itself being torn apart by infernal warfare, will he be able to stem the tide and save what's left of humanity?
"I am so excited to return to the world of creator owned comics. First, having co-created Nocterra with Scott Snyder and now my latest and biggest endeavor by far, Edenwood," Daniel said in a statement provided to io9. "There's been a lot of multiverse stories in comics. But a horror, fantasy comic about a multiverse war between demons and witches? That's something entirely different."
Check out how Daniel sets up the world of Edenwood in this description from the writer/artist himself, and then click through to see a small preview of the first issue!

In Edenwood, the interdimensional war between demons and witches has spread to Earth. Twenty years ago, the Midwest was taken over by the demons. Now the demons rule what's left, which is called Necronema, and they're at war with Edenwood, the witchcraft-controlled land that acts as a barrier against the war zone and the rest of the United States. Within the magical woods of Edenwood lie many paths to different places, dimensions and times, paths created by witches to dispose of hapless demon soldiers. Only the most skilled demon killers, bestowed with enchanted armor, can navigate the many, seemingly endless paths of Edenwood. This series is very high concept—yet its characters remain relatable and grounded in reality—all while we have an epic, large-scale battleground of demonic tanks, floating battleships and demon soldiers pitted against witchcraft-infused weaponry and armored soldiers.

At the heart of the story is Rion Astor, a teenage street urchin who is lost in the magical forests of Edenwood, while searching for his missing girlfriend, Adelai. Summoned by the Witch War Council, Rion must assemble an elite team of demon hunters tasked with infiltrating Necronema with a list of targets to annihilate. The men and women he selects happen to all be the most famous and revered demon hunters of all time, dating back to the 1700s. But Rion has his sights set on a young and powerful witch being held prisoner deep within Necronema.

Along the way Rion becomes the squire of one of the world's greatest demon killers. Rion must find his teenage friends and battle demons if he is to find Adelai, and to stay alive long enough to become a great demon killer himself.
Edenwood #1 will be available in at your local comics store physically and digitally through everywhere comics are sold from Wednesday, September 27.