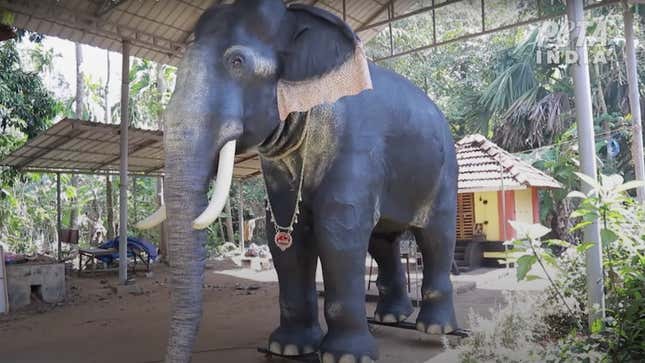 A robotic elephant was donated to an Indian temple to replace having a wild creature living in captivity. PETA India donated the elephant named Irinjadappilly Raman, to the Sree Krishna Temple in Kerala to "help conduct ceremonies at the temple in a safe and cruelty-free manner," the animal rights organization said in a press release.
Rare Polar Bear Attack in Canada | Extreme Earth
The robotic elephant stands at 10 feet and six inches tall, has large moving fan-shaped ears, and roving eyes, and "took about six months to build," Khushboo Gupta, the director of advocacy projects for PETA India said in an email to Gizmodo.
Raman's introduction to the temple comes at a time when there's an estimated 2,454 elephants in captivity in India, 664 of which are captive, while 85 are in zoos, 26 are in circuses, and 96 are in temples, the Indian Express reported. These animals are generally considered peaceful, according to the South African National Parks site, but keeping them in captivity can cause them to develop abnormal behavior.
"As a result of their abuse, captive elephants often exhibit signs of severe psychological distress, such as swaying, head-bobbing, and weaving. Unsurprisingly, many lash out in frustration, injuring and even killing nearby humans," Gupta said. According to the Heritage Animal Task Force, captive elephants killed a reported 526 people in Kerala over a 15-year period, PETA said in its press release.
The head priest of the Sree Krishna Temple, Rajkumar Namboothiri, said in a press release video, "Real worship is to protect all forms of life created by God. Allowing elephants to live in nature should be the real way of revering the elephant god, Lord Ganesha."
Lord Ganesha is the Hindu God of new beginnings, wisdom, and knowledge. This God has an elephant head, which signifies the animals' ability to walk around obstacles and is representative of the importance of the spirit moving in harmony with nature, according to the Hindu American Foundation.
Many elephants held in captivity are reportedly trained through harsh ways and often deprived of "adequate food, water, or veterinary care," as they are kept from their natural environment, according to PETA.
Raman was created as a way to save the animals from unnecessary hardship and allow them to roam free in the wild, and Gupta said Namboothiri "has pledged never to use any real animals in the temple ceremonies because he agrees with PETA India that animals deserve kindness, and considers the mechanical elephant a safer option for devotees."