Disruption is a core tenet of the tech industry. Presumably, this is why billionaire entrepreneur and SpaceX CEO Elon Musk has embarked on a new project to disrupt solid ground. Over the weekend, Musk began digging a big-ass hole on SpaceX properties to start testing out how to build a high-speed tunnel underneath Los Angeles.
It all began in December, when Musk took to Twitter to complain about Los Angeles traffic. "Traffic is driving me nuts," he wrote. "Am going to build a tunnel boring machine and just start digging... I am actually going to do this." And unlike the rest of us, Musk follows through on his Twitter promises.
G/O Media may get a commission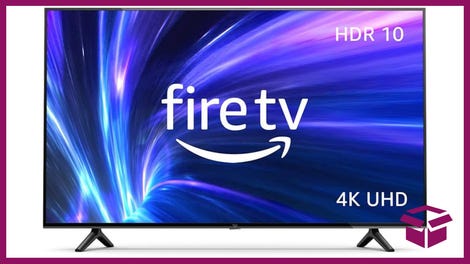 42% Off
Amazon Fire TV 50" 4K Smart TV
But as any good mole person could tell you, boring a tunnel is no simple task. "We have no idea what we're doing—I want to be clear about that," Musk said at a SpaceX hyperloop design competition on Sunday.
Musk has been in publicity mode over the last week, actively using his Twitter account to support Rex Tillerson for Secretary of State, DM with journalists, and crowdsourcing suggestions on how to amend Trump's "unlawful" immigration ban.
Last week, Musk told The Verge that "without tunnels, we will all be in traffic hell forever," calling his idea to bore tunnels underneath Los Angeles "the key to solving urban gridlock."
He told WIRED, "If you think of tunnels going 10, 20, 30 layers deep (or more), it is obvious that going 3D down will encompass the needs of any city's transport of arbitrary size."
On Sunday Musk elucidated on the concept of "going 3D down":
You have tall buildings, they're all 3D, and then everyone wants to go into the building and leave the building at a same time. On a 2D road network, that obviously doesn't work, so you have to go 3D either up or down. And I think probably down.
Is 3D down the future of tech?
Some urban planning experts aren't quite on board with Musk's twisted underground vision. An urban planning researcher at UCLA told WIRED, "Our recent experience with tunnels in the US is that neighbors worry, you run up against various environmental laws, and you just never know what's underneath the Earth."
But Musk maintained, "better tunneling tech improves everything: road, subway, Hyperloop."
As of now, Musk's boring tests are restricted to company property, meaning an underground Los Angeles superhighway won't happen in the near future. If Musk wants to build a high speed tunnel to LAX, as he's previously suggested, a spokesperson for the LA Department of Public Works told WIRED that it would require approval from the LA City Council.
If Musk's tunnel dream never gets realized, he need not worry. Since Trump was elected, things have been going pretty well for the tech god. He'll be fine!
[WIRED]