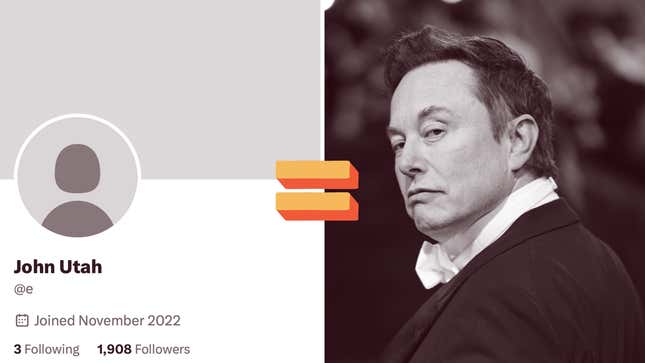 Can you truly have an alt account if everyone in the world knows about it? The best answer may come from Twitter CEO Elon Musk, whose second alt account was revealed on Tuesday.

The Elon Musk Twitter Saga, Part 1 of Who Knows?
As news of Musk's suspected alt account continued reverberating through Twitter on Tuesday, the Platformer newsletter revealed that the Twitter CEO had another alt account. Platformer stated that Musk's second alt account is the handle "@e," one of Twitter's rare and highly coveted one-letter usernames, which goes by the display name "John Utah." However, according to the newsletter, Musk purportedly used his power as Twitter's owner and CEO to take the handle from another user on the platform shortly after he bought Twitter last year.
"NEW: Elon Musk has another alt account, @e, that he had Twitter transfer to him shortly after the takeover," Platformer managing editor Zoë Schiffer tweeted on Tuesday afternoon. "I'm told the person who owned the account did not want to hand it over (the account had been hacked and suspended before due to the high value handle, and the previous owner wanted to keep it)."
There isn't much information on the @e account, which has not published any tweets. However, there are some indications that it could be Musk. The account is currently following three people: Musk (@elonmusk), NASA, and LAist. It's a known fact that Musk likes to interact with himself—he frequently responds to his own quotes posted by fan accounts like "Musk University," which is not an actual school, or "Elon Musk Quotes & Parody"—and that he's a big NASA fan and collaborator.
@e's profile page states the account was created in November 2022. It currently has 1,908 followers.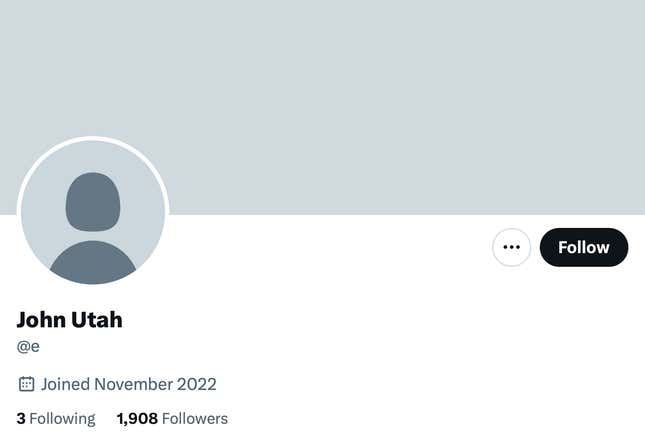 It also makes sense that Musk would want a rare Twitter handle considering he paid $44 billion for the social media platform. One-letter handles are normally claimed by early adopters of a social media platform and can carry a huge amount of clout. Some people are even willing to pay thousands to buy the handle from others. Back in 2014, Naoki Hiroshima published an op-ed in Gizmodo where he said he had been offered $50,000 for his username, @N, and was extorted into giving it up. As of today, Hiroshima appears to have regained control of the handle.

Musk's Twitter has considered selling high-value usernames in recent months in an attempt to make money, the New York Times reported in January, although plans to do so haven't been enacted yet. In December, the Twitter CEO said he wanted to delete inactive accounts to free up 1.5 billion usernames.