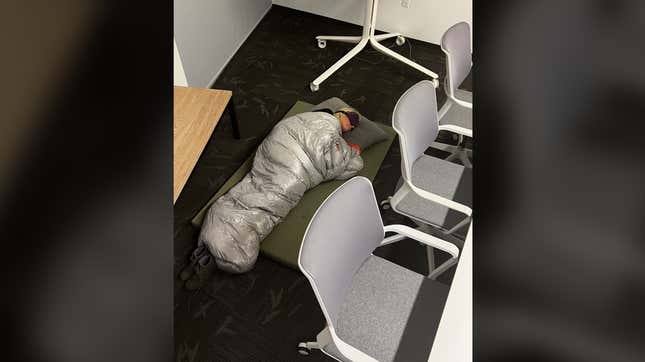 Twitter CEO Elon Musk has a message for employees: Loyalty means nothing. Over the weekend, Musk laid off more than 50 employees at the social media company, including one of his most vocal supporters, product head Esther Crawford.
Crawford famously made headlines back in November when she quote-tweeted a photo of herself sleeping at the office days after Musk took over Twitter in order to meet his crazy deadlines. Despite criticism from folks who said Musk was making Twitter employees work round the clock to prove themselves, Crawford took it in stride, stating at the time that "doing hard things requires sacrifice." The Platformer newsletter first reported Crawford's dismissal.
After Musk took over the company in late October, Crawford began to look for bigger opportunities at Twitter, The Verge reported. She introduced herself to the new CEO and pitched him new ideas on how to improve the company. Pretty soon, Musk tasked her with relaunching Twitter's Blue subscription product, which had a disastrous debut.
Crawford confirmed her departure from Twitter in a post on Saturday night.
"The worst take you could have from watching me go all-in on Twitter 2.0 is that my optimism or hard work was a mistake," she said. "Those who jeer & mock are necessarily on the sidelines and not in the arena. I'm deeply proud of the team for building through so much noise & chaos."
Crawford wasn't the only high-level employee laid off. Martijn de Kuijper, the founder of Twitter's axed newsletter platform, Revue, said shortly after midnight on Sunday that he figured he was laid off when he got locked out of his email.
"Waking up to find I've been locked out of my email. Looks like I'm let go. Now my Revue journey is really over," De Kuijper tweeted, adding the saluting face emoji popular among Twitter employees leaving the company.
The Wall Street Journal reported that some employees seemed to have been laid off via email on Saturday, which informed them that their role had been eliminated after a wider review.
"Today is your last working day at the company," the email stated, according to the Journal.
Since he took over Twitter, Musk has carried out at least four rounds of layoffs, per The Verge, leaving the company with less than 2,000 employees. Twitter had more than 7,500 workers when the billionaire took over.

Musk may not be showing support for his most vocal supporters, but that apparently hasn't stopped him from defending Dilbert creator Scott Adams from backlash against a recent racist rant, in which the cartoonist advised white people to "get the hell away from black people."