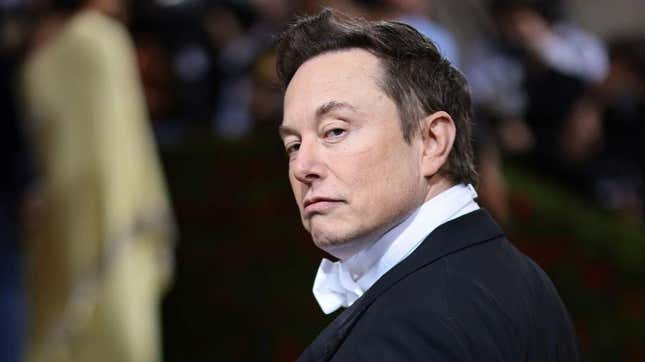 Twitter CEO Elon Musk voiced his outspoken support for cartoonist Scott Adams who received criticism for posting a racist rant on YouTube last week. Adams has since been fired from news outlets after calling Black people a "hate group" adding, "I don't want to have anything to do with them."
Musk defended Adams' video, claiming it is the mainstream media that is racist, not the cartoonist. "For a *very* long time, US media was racist against non-white people, now they're racist against whites & Asians," Musk wrote in a Twitter post. "Same thing happened with elite colleges & high schools in America. Maybe they can try not being racist."
In an email to Gizmodo, Adams said, "No comment," while Musk did not immediately respond to Gizmodo's request for comment.
Adams created the widely popular Dilbert comic strip seen in newspapers across the U.S., many of whom dropped the comic after Adams posted the YouTube video. He attempted to support his claims by quoting a right-leaning Rasmussen Reports poll which stated that 53% of Black Americans agree it's "it's okay to be White," while claiming that 76% allegedly agreed "Black people can be racist too."
"Lots of people are angry, but I haven't seen any disagreement yet, at least not from anyone who saw the context," Adams told The Washington Post, speaking about the cancellation of his Dilbert comic strip. He continued, "Some questioned the poll data. That's fair."
Adams' YouTube video continues to receive backlash and substantial criticism for saying, "... Based on the current way things are going, the best advice I would give to White people is to get the hell away from Black people … because there is no fixing this."
In additional tweets on Sunday, Musk replied "Exactly" to a Twitter user who stated Adams' "comments weren't good," but had "an element of truth."
Musk's open support for Adams' comments coincides with other controversial moves by the Twitter CEO. Since taking over Twitter, Musk has reinstated the suspended accounts of neo-nazis and anti-semitic groups regardless of the backlash from civil rights leaders and even as at least 70% of advertisers pulled back from the platform, Reuters reported.
Updated at 3:56 p.m. to include Scott Adams' response to Gizmodo's request for comment.