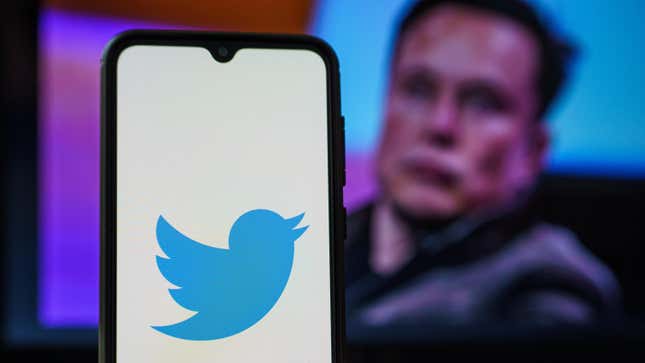 As Twitter under Elon Musk's rule continues to take shape, the platform has decided it apparently doesn't need trans people to feel safe on its app. Twitter has reportedly removed a stipulation against misgendering and deadnaming from its policy on hateful conduct.

Twitter Investor Sues Elon Musk Over Sneaky Stock Purchases
As detailed by GLAAD in a press release, Twitter's hateful content policy previously read: "We prohibit targeting others with repeated slurs, tropes or other content that intends to dehumanize, degrade or reinforce negative or harmful stereotypes about a protected category. This includes targeted misgendering or deadnaming of transgender individuals." GLAAD says that that last sentence was quietly removed from the policy on April 8, 2023, according to the Wayback Machine. Twitter first enacted a policy targeting deadnaming and misgendering on the platform in 2018.
"Twitter's decision to covertly roll back its longtime policy is the latest example of just how unsafe the company is for users and advertisers alike," said Sarah Kate Ellis, GLAAD President and CEO, in the press release. "This decision to roll back LGBTQ safety pulls Twitter even more out of step with TikTok, Pinterest, and Meta, which all maintain similar policies to protect their transgender users at a time when anti-transgender rhetoric online is leading to real world discrimination and violence."
When asked for comment on the policy, Twitter's press office told Gizmodo "💩."
The move is on brand for this new chaotic Twitter, which Musk has been hellbent on making a crucible of "free speech" despite having no clue what free speech is. Twitter recently reinstated nearly 12,000 banned accounts on the platform according to data from GitHub, and some of those accounts belonged to known anti-semites and neo-Nazis. Musk has infamously made his opinions on misgendering known, with a tweet mocking those that list their pronouns in their bios and another taking a stab at both pronouns and, oddly enough, Fauci.