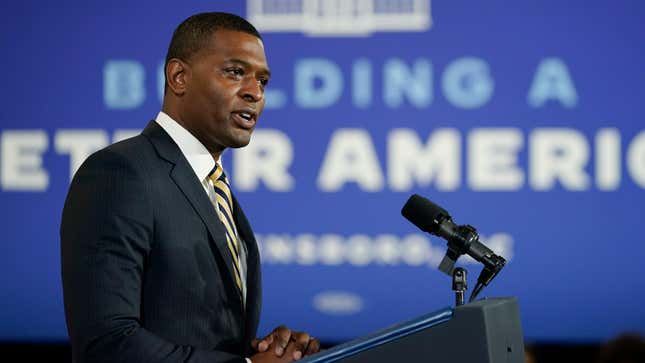 The U.S. Environmental Protection Agency announced a proposal that would limit the amount of forever chemicals allowed in the nation's drinking water to the lowest levels that can be detected on tests. The move will address rising concerns about how widespread PFAS exposure contributes to health concerns like liver disease, birth defects, and cancer.
What Is Carbon Capture? With Gizmodo's Molly Taft | Techmodo
PFAS, which are per- and poly-fluoroalkyl substances, are commonly called 'forever chemicals' because they do not break down in nature or in the human body over time. The umbrella term describes a group of over 12,000 chemicals that are used in many everyday products, including food packaging and water- and stain-resistant coatings. Groundwater can be contaminated with PFAS from firefighting activities, factories, and landfills. Some states have placed limits on PFAS in drinking water, but there is currently no official federal limit.
"Communities across this country have suffered far too long from the ever-present threat of PFAS pollution. That's why President Biden launched a whole-of-government approach to aggressively confront these harmful chemicals, and EPA is leading the way forward," EPA Administrator Michael S. Regan said in a press release. "EPA's proposal to establish a national standard for PFAS in drinking water is informed by the best available science, and would help provide states with the guidance they need to make decisions that best protect their communities."
The proposal would regulate PFOA and PFOS, which are two common forever chemical compounds, at 4 parts per trillion. This is the lowest level that can be reliably measured. The proposal also seeks to regulate four other types of PFAS chemicals. If the proposed regulation is finalized, public water systems will have to monitor for the chemicals. The regulation will also require systems to notify the public about the detected PFAS levels. According to the EPA, this regulation could prevent thousands of deaths and reduce instances of PFAS-attributed illness for potentially tens of thousands of people in the U.S.
PFAS exposure has become a growing concern for public health. The chemicals are ubiquitous in both industrial settings and homes; they can be found in waterproof cosmetics, non-stick cookware, and fracking sites. Researchers have linked exposure to these chemicals to cancer, infertility, and even liver illness. The chemicals can contaminate the air and soil and travel via water. A study released in October 2022 found that there are potentially more than 50,000 sites in the U.S. that could be contaminated with forever chemicals. Researchers behind the study said that this could be an undercount, due to how little federal data there is on PFAS.
Some large companies have begun removing PFAS chemicals from their items—late last year, manufacturing giant 3M said it would stop producing forever chemicals by 2026, and last month, outdoor retailer REI said it would ban all PFAS from its cookware and clothing by 2024.
But removing the chemicals from our water supplies may prove challenging. Methods like reverse osmosis, a water-treatment process that removes contaminants from water, can be used to remove PFAS from drinking water. Checking for PFAS and filtering water will require new equipment for some water utilities, which could be a financial burden for smaller towns that have fewer resources to make changes.