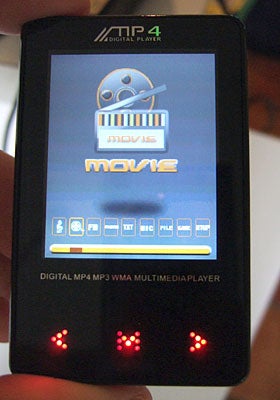 In addition to the cute little matchbox-sized Epoq FT826 mp4 player we showed you yesterday, Epoq has released the FT804, another player that's nearly the same but comes in black and adds a trio of nicely backlit controls on the front. The FT804 has a slightly smaller touchscreen than its brandmate, a 2.2-incher rather than the 826's 2.4-inch screen, and its resolution is just 220x176 instead of the 320x240 of the 826.
It shares most of its other specs such as 25fps MP4 playback, miniSD card slot, an FM tuner, voice recording and the ability to view photos simultaneously with music. The little player also shares that slight drawback of only being able to play back audio for eight hours and video for just three hours, but we're not sure you'd want to watch video for longer than even three minutes on this tiny 2.2-inch screen. Check out the gallery below, and find out about pricing and our complaints, after the jump.
We're also wondering why Epoq released this model that's almost identical to the other one. Pricing is similar, too—this 804 model one will run you $125.95, while the 1GB 826 is $100 (2GB $140). and both are available now. What's the point? Why not just release one player with a great design, deciding between these two nearly identical configs. And why does this one have a lower-rez screen? It's inexplicable.
Anyway, it gets to the point where a player is almost too small, and this one, at 2.6" tall by .43 inches thick, is scarcely larger than a matchbook, and that's just too damn small, especially for watching video.
Product Page [First to You]